So I made this post not too long ago with some J-Rock goodness. 'sold a bunch too. But not everything.
So i've decided to slash some prices as well as add a couple REALLY rare and special things:
- Starlight Yoshiki (Red Rose) 1991 Takara Doll (Still in Box!)

- Miyavi
- LM.C
- Malice Mizer
- Moi dix Mois
- Dir en Grey
- Phantasmagoria
- The Candy Spooky Theater
- SADS (Fan Club ONLY DVD!)
- Cure & Purple Sky Magazines
Come on..... all the cool kids are doing it :)
Sorry about the quality of the pics, my cam sucks :(
If there is no title next to the item, then it's in Japanese or I can't remember what it was called (lol). Items in pictures are the items you will be buying.
I accept Paypal only and am not looking to ship internationally. It's too much of a pain and i've been burned before.
EDIT: It's Christmas. I AM willing to ship internationally. But there will be a delay in when it's shipped so that I can take care of all international orders in one trip to the post office.
If you wish to purchase anything or inquire about anything, reply here. First come, first serve. List your e-mail and what you'd like. I will then e-mail you with my Paypal address and total.
*If an item is placed on hold, you may still inquire and place an order. If the person who asks for the item to be held doesn't pay in the allotted time, it will then go to the next inquiry.
Same idea applies to items marked "Sales Pending".
- Starlight Yoshiki (Red Rose) 1991 Takara Doll (Still in Box!) - $60

This doll is 18 years old and is ridiculously rare! It usually fetches anywhere from 100-200 on eBay!
- Lareine "Imperial Concerto" RARE Singles Collection CD - $35
(SOLD)

This is a greatest hits of sorts from the band that brought fame to Kamijo (Versailles). This wasn't in print long and is being sold for face value.
12012 - not obtain+1 - $10
The Underneath - Moon Flower (US Edition) - $5
Acid Android (Tofu Records Edition) - $8 (SOLD)
High and Mighty Color - Goover (Tofu Records Edition) - $5
Sulfuric Acid - $5
Psycho le Cemu - Best (CD/DVD Set) - $15 (SOLD)
Due le Quartz - $8 (SOLD)



Cure Magazines - $5 each (Comes with poster)
Purple Sky Magazines - $5 each (Out of Production)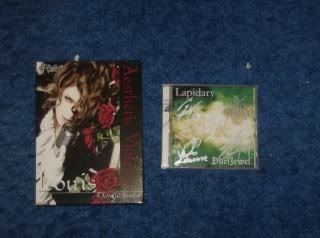 Versailles - Aesthetic Violence (Kamijo: Louis Type) DVD & Perfume - $25
(SOLD)
Duel Jewel - Lapidary (Autographed in Silver by ENTIRE BAND!) - $20 (SOLD)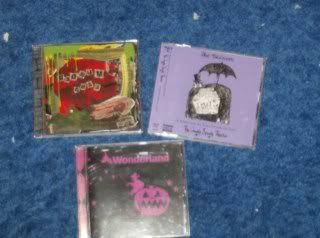 The Candy Spooky Theater CD's - $10 each
Mana's Mon+Amour Madousho Fanclub Binder (w/ 11 2004 and 2005 Pamphlets!!) - $60
(SOLD)
Moi dix Mois - Nocturnal Opera + Singles Collection (German Only Import) - $20
Malice Mizer - Bridal of Rose Movie DVD - $30 (SOLD)


Dir en Grey - Dozing Green Limited Edition Single (w/sticker) - $10
Moi dix Mois - Lamentful Miss First Press Single/EP - $10
Miyavi w/Sugizo Limited Edition CD/DVD Single - $10
LM.C - Bell the Cat CD/DVD Single - $10


SADS - Inner Film 02.12.25 Ebisu The Garden Hall DVD (ORIGINAL Fan Club Only!!) - $25 (SOLD)
D'espairsRay - Murder Day DVD - $40 (SOLD)
Gackt - Redemption Single CD/DVD - $15 (SOLD)
Phantasmagoria - Survivor's Guilt DVD - $15 (HOLD)
Kisaki Post Card Book with DVD - $15
(SOLD)
Kisaki with Kalen Post Card Book with Kalen Last Live CD - $15 (SOLD)
Phantasmagoria Post Card Book - $10 (HOLD)
Chariots (Riku or Phantasmagoria's new band) - Son DVD - $15
Remember, reply here. First come first serve basis. Any questions? Don't be afraid to ask :)