I'm letting go of the majority of my anime, manga, and jmusic collection, so please take a look. I have a ton of stuff up for sale, a lot of it that I got while I was in Japan as well.

-Anime
-Manga
-J-pop, J-rock, and J-fashion magazines
-Figures
-J-pop and J-rock concert DVDs
-K-pop concert DVDs
-Gloomy Bear
-Cosplay patches




from top left: X Volume one with Box $10
Mad Capsule Markets concert DVD $5, Versus $15, Witch Hunter Robin I and II $7 each
Hellsing I - IV $7 each
Magical Shopping Arcade Abenobashi I - IV $7 each
Descdents of Darkness/Yami no Matsuei I - IV $7 each
Trigun I $7, Puni Puni Poemy $10, Weiss Kruez I, $7 Shinhwa concert DVD $15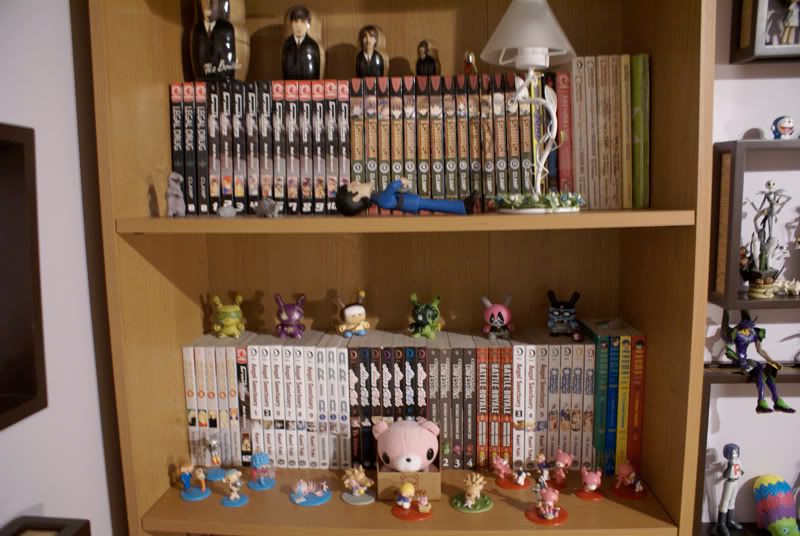 $5 each for everything
from top left: Legal Drug I - III, Gravitation I - 12, Tsubasa: Reservoir Chronicle I - 14, Magical Shopping Arcade Abenobashi I, Ayashi no Ceres 1 - 4 old school versions
Mars 1 - 5, Angel Sanctuary 1 - 9, Alice 19th 1 - 7, Confidental Confessions 1 - 4, Battle Royale 1 -3, Ayashi no Ceres 5 - 8, Ranma 1/2 1 - 4 old school versions



from top left: Fool's Mate January 2004 $10
Arena37 November 2003 $10
Fool's Mate October 2003 $10
Russh April 2008 $10
Nylon May 2008 $10



from left: L'arc~en~Ciel Light my Fire tour $15, Shiina Ringo Electric Mole tour $30



from left: Puni Puni Poemy patch $5, Hellsing patch $20



Aria blind box toy with Alicia $10



Gloomy Bear solar-powered head bobber $25



Gloomy Bear hoodie up to a size 8 for sale on my Etsy here: http://magnavox.etsy.com

shipping will be from Florida, USA and will be calculated according to your postal code. I accept (and prefer) paypal and money orders.

feel free to ask me any questions or if you need better/more pictures.

thanks for looking!