Anime Expo looms nearer, and I still have cosplay stuff to pay for. Oh, the doom! Check out my stuff, buy things you like for CHEAP! Prices are semi-negotiable, just ask. Shipping is NOT included in the prices.
*I'm not looking to trade for anything right now that's not on my trade list. If you have something on that list, though, I'll jump at the chance to get it.
All of this is also posted to my trade journal
butterfli_trade
.
English Manga ($5 each)
-Pretear vol 1 & 2
-Under the Glass Moon vol 1 & 2
-Mars vol 1 - 9, 12-15 & Horse with no Name (buy the whole thing for $60 and I'll throw in the prequel for free).
-
Sailor Moon Super S vol 2
*HOLD*
-Confidential Confessions vol 1 & 4
-Mouryou Kiden vol 1
-
Passion vol 2 $7
*HOLD*
Japanese Manga
-Revolutionary Girl Utena vol 1 - 5 *Whole Series* $5 each or all for $16
-Combination vol 1 & 2 by CLAMP $4 each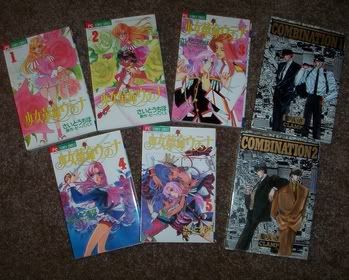 DVDs & VHS
-Fushigi Yuugi Seiryuu Box Hong Kong subbed $20
-Fushigi Yuugi OVA Box Set Oni + Eikoden $15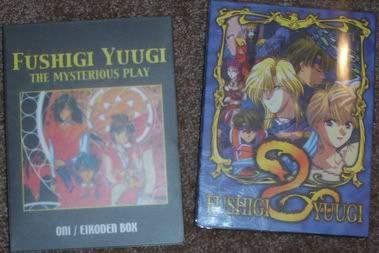 -Rurouni Kenshin vol 1 & 2 (Region 1 - US Release) $10 each
-Vampire Princess Miyu OVA $5 for both tapes
-Sorceror Hunters vol 2 $2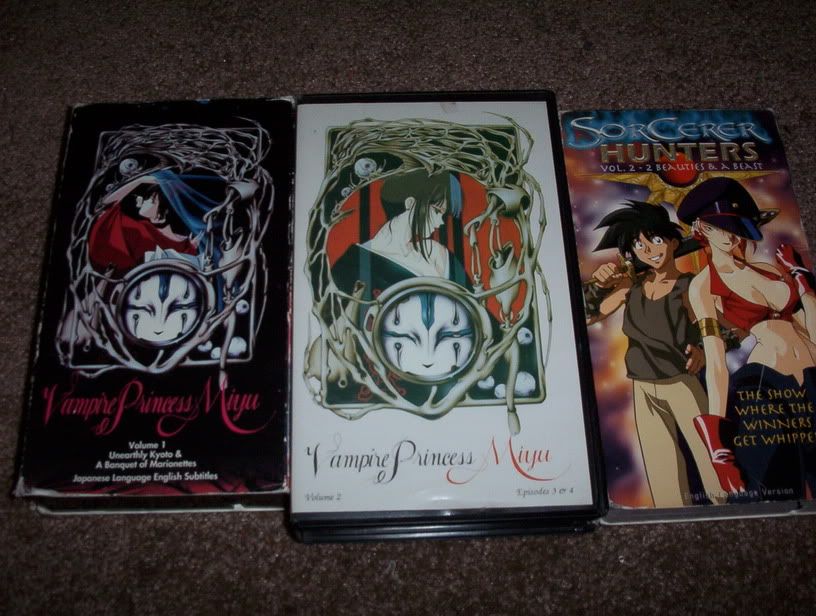 Posters
-Fullmetal Alchemist Roy & Ed poster (just a wee bit slash-y) $2
-Revolutionary Girl Utena Black Rose Saga poster from Newtype $1
-Emily the Strange poster (big, has to be shipped rolled in a tube) $3
-Evanescence Amy Lee poster (this is brand new, I never hung it up and only unrolled it to take this picture. It's BIG, and will have to be shipped in a sturdy tube) $5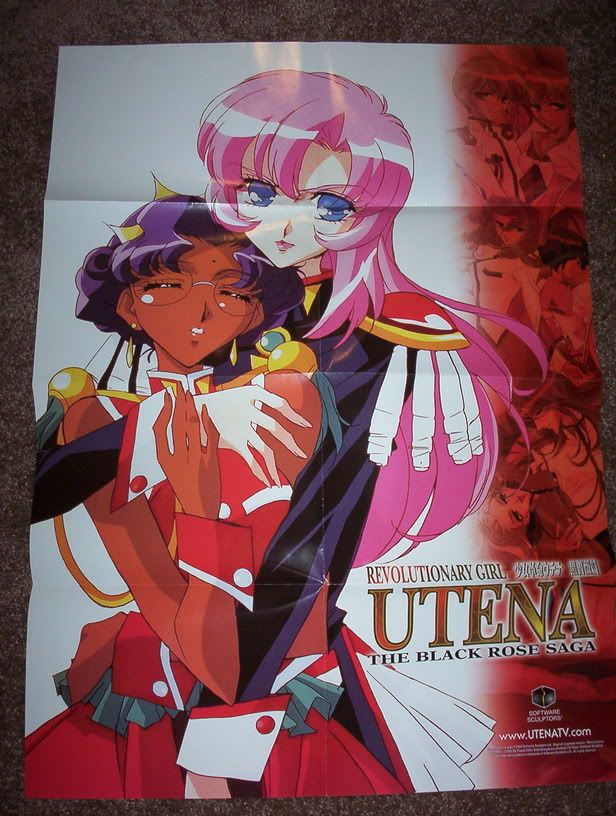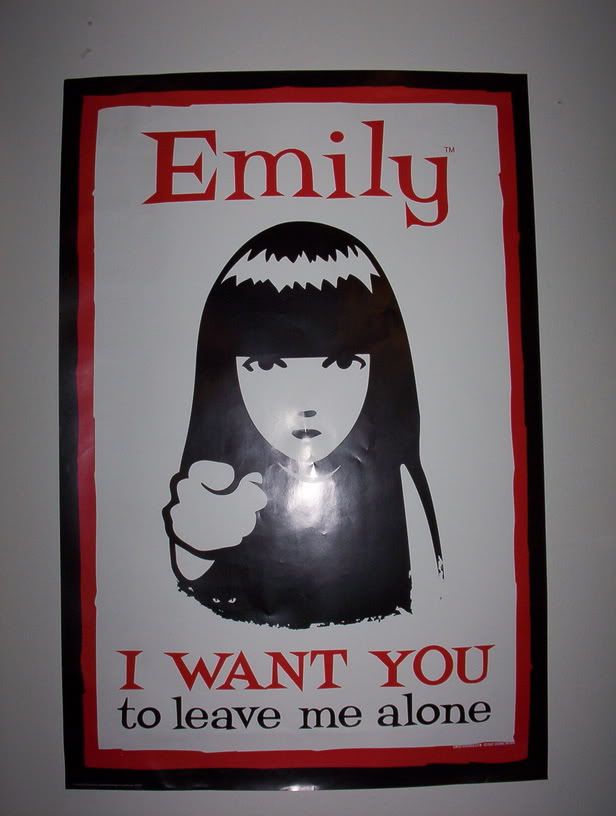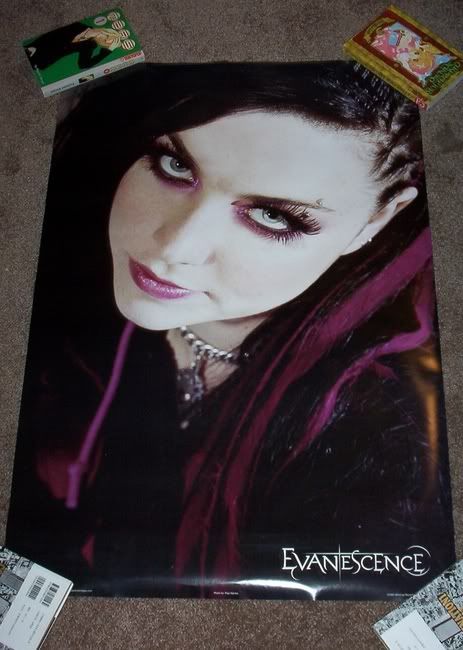 Doujinshi
*ALL ON HOLD*
Chobits $5
Super cute artwork that looks so much like CLAMP's it's uncanny. A little bit of novel, not much. No hentai.



Final Fantasy 7 - Nature $5
Follows a storyline similar to the game. Lovely artwork.



Final Fantasy 7 $5
Super cute chibis! The pictures are just adorable! Aeris on a Chocobo, cactaurs, chibi Vincent and Cloud! It's so cute, I hate to let it go. But I need the $$.

Misc. Things
Magazines are $2, and are missing their posters and dvds.
-Newtype Dec '03
-Newtype Mar '03
-Newtype Aug '03
-
Zak from FF7 trading arts figure $6
*HOLD*
- 2005 Azumanga Daioh calender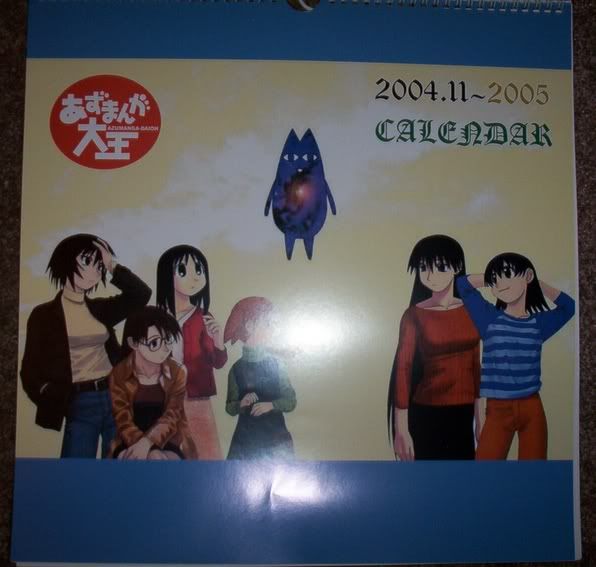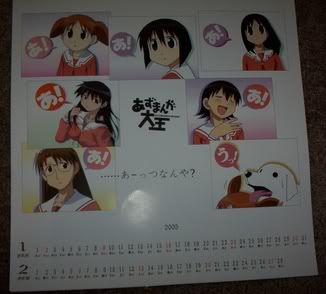 -
Sailor Moon comic book $1
*HOLD*
-Gamers catalog from Japan, with Galaxy Angel art and other Broccoli things $1
-Tenchi Muyo button w/ washu and the 3 goddesses $1
-
Little Girl from an anime that I can't remember (is a hanging plushie with a magnet in her head) $1
*HOLD*
-Tea Society of a Witch plastic fan (other side features Hourglass of Summer)
-Haibane Renmei fan
-Gungrave fan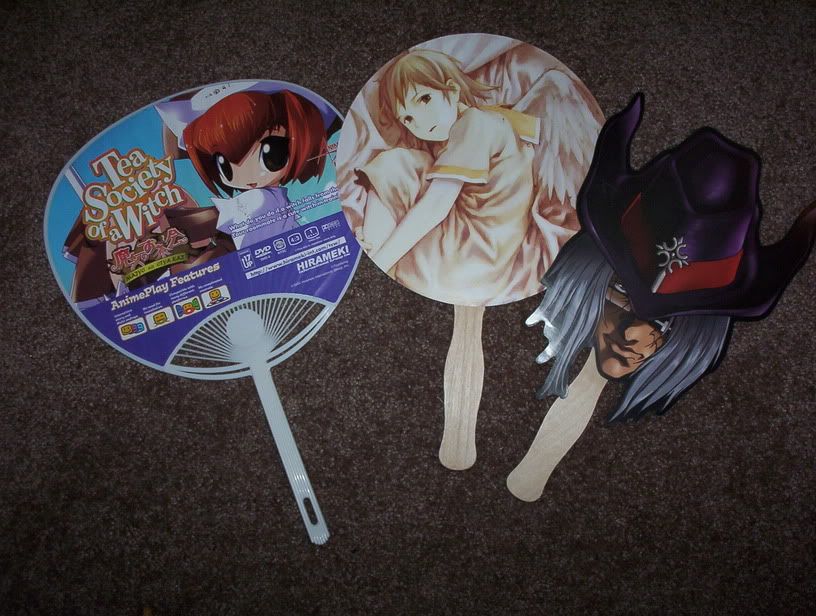 -
Sailor Moon trading sticker $0.25 each or $2 for all of them
*HOLD*
-
Inuyasha trading card from the new card game
*HOLD*
*I bought these with the intention of starting to play, but never did. They're in mint condition. $0.25
each or $3 for all of them.
Non-Anime Goods
Chinese Style Dress
-I bought this about a year ago at a vintage store, and it no longer fits me. It's about a size 12-14 (I can get you specific measurements if you want). It's in good shape, the only thing is that the closures are a bit worn and might need to be replaced or cleaned. Asking $25, but I might be able to go a little lower.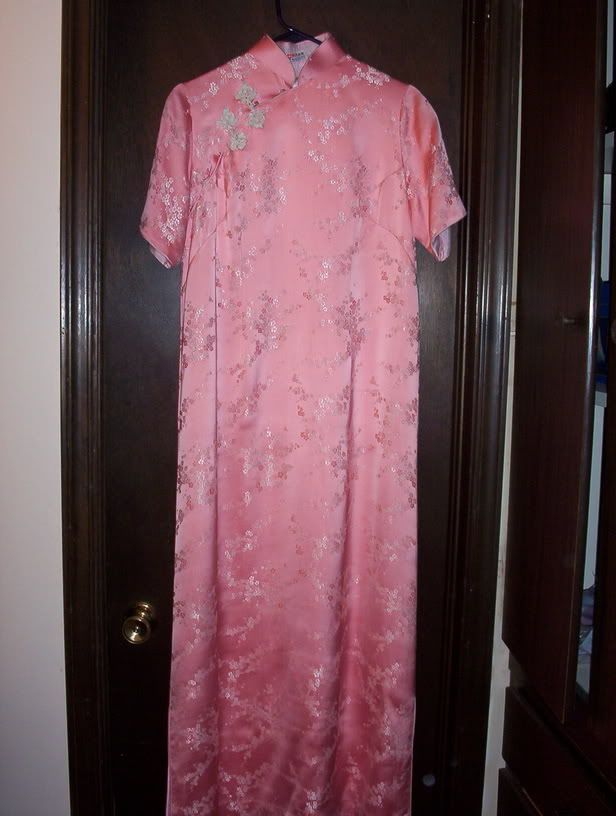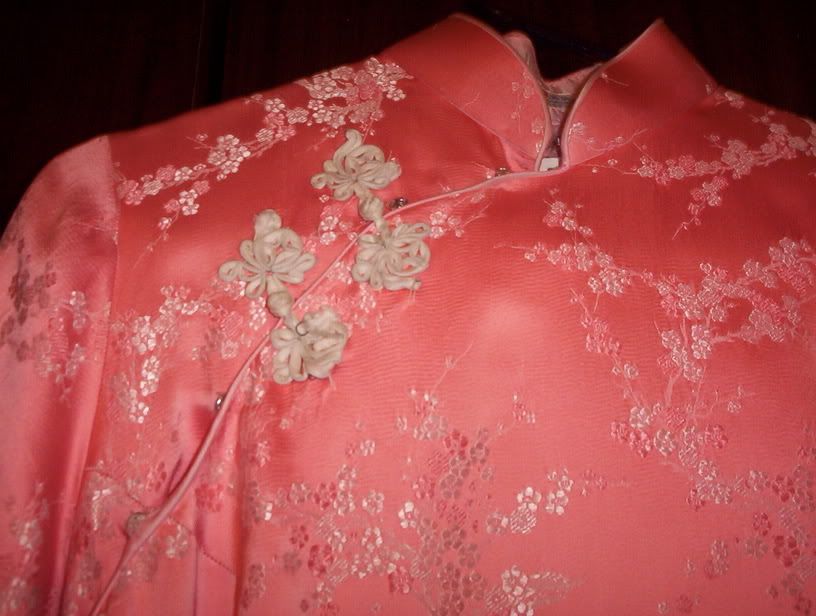 Fruitsy hats/shoes
Hats $3 each
Shoes $4 pair (size 9 US)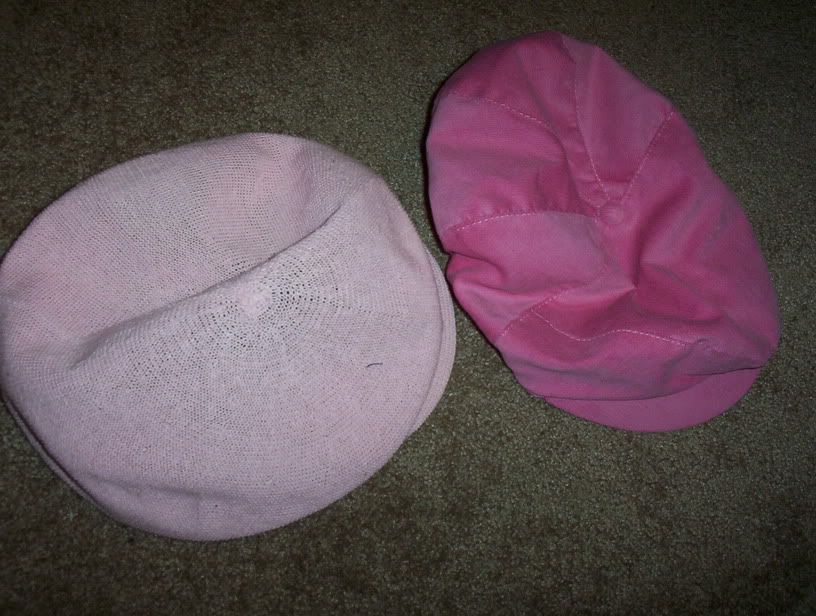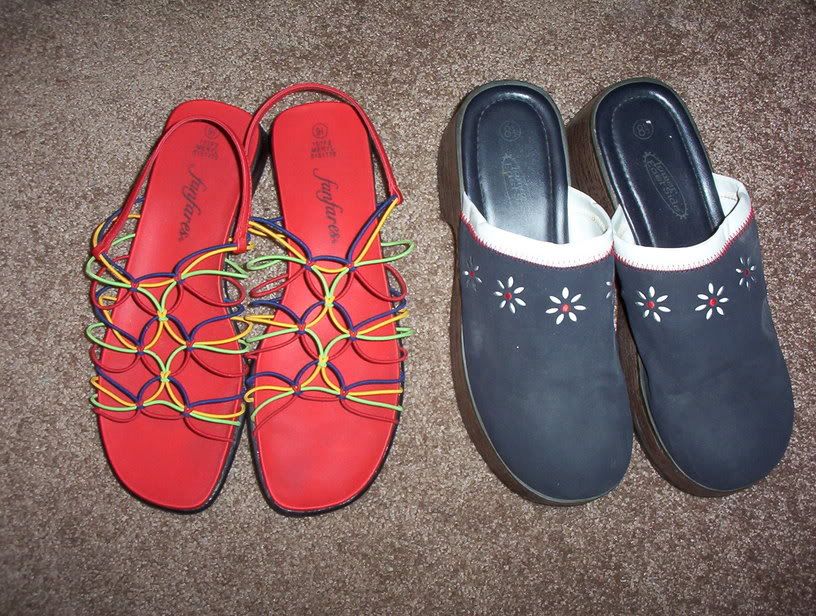 Gizmo from Gremlins plushie $10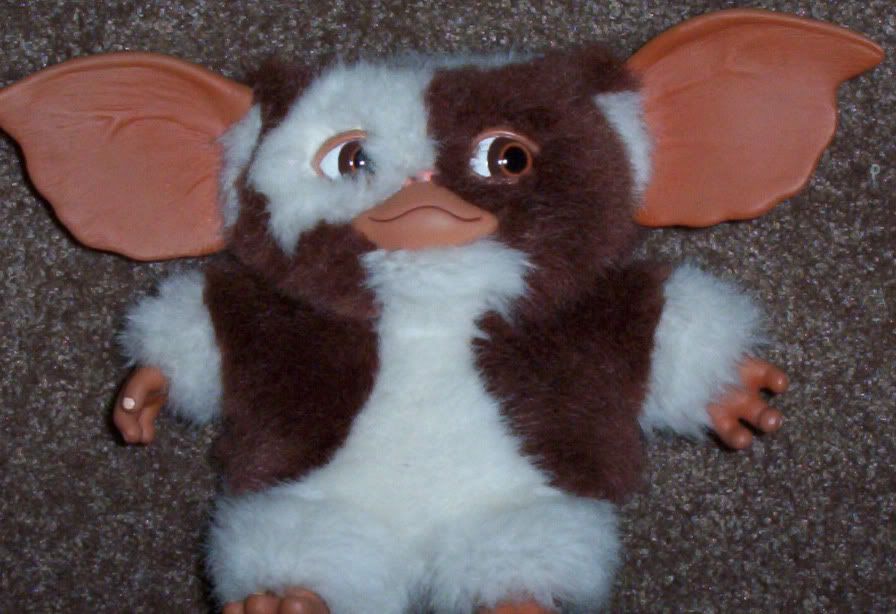 Other plushies & Beanie Babies $2 each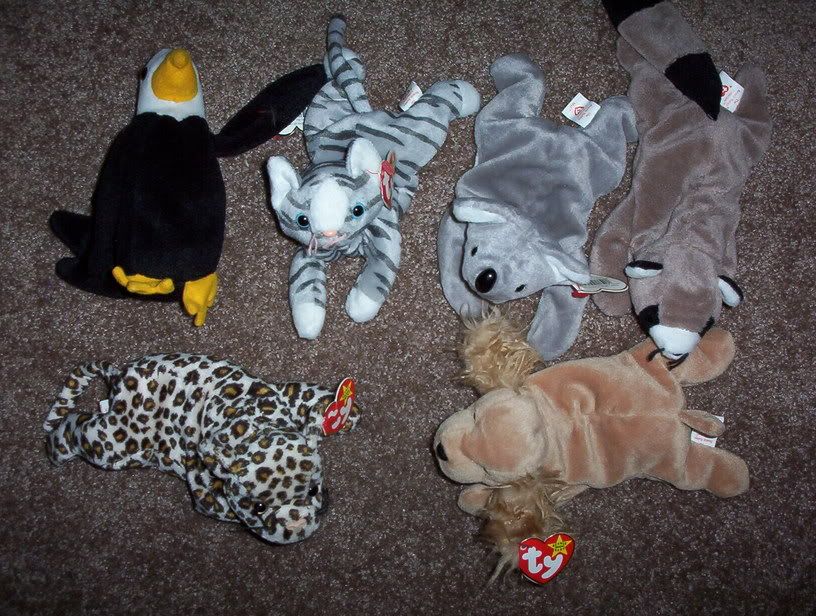 Powerpuff Girls pillow (double-sided) $5
Hello Kitty keychains $1.50 each or $5 for the set
Dear Daniel in a car $1 (free is you buy the Hello Kitty Keychain set)
Neopets electronic Mynci (moves, talks, all that nifty stuff) $5
Cell phone covers with buttons (Nokia) $4 each
Angel comic book $1
I have 2 of the "1 <3 Zack" (from Saved by the Bell buttons)... $1 each or free with another purchase
I have a lot of these old Archie comics, which I'll sell for $1 each or $10 for all of them.
Any of the computer games (original The Sims, all the expansion packs, and an old X-files game) $10 each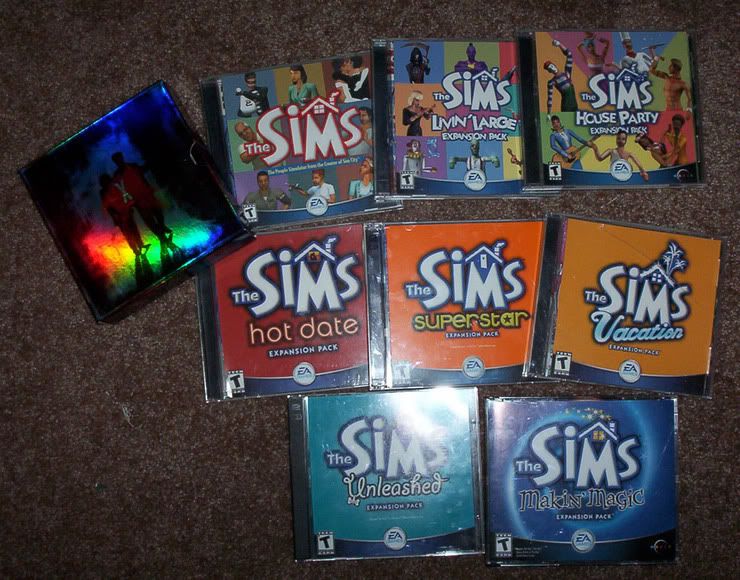 Tarot card deck $4 (small, not the huge kind, and comes with an instruction book)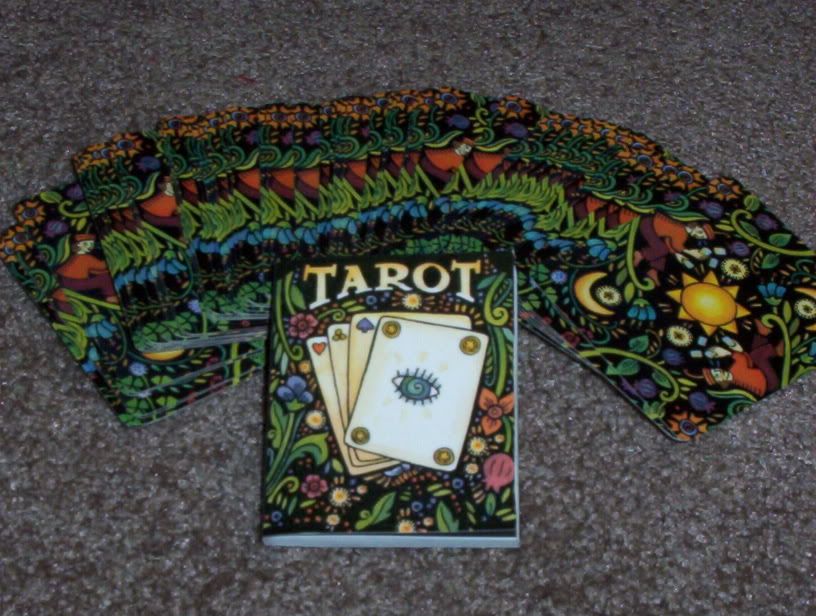 Things I'll Trade for
English Manga:
- DNAngel vol. 2+
- Descendents of Darkness vol. 2+
- Hot Gimmick 7
- Card Captor Sakura, Master of the Clow vol. 1-6
- Ceres, Celestial Legend vol. 8+
- Fushigi Yuugi vol. 4+
- Paradise Kiss vol. 5 *new cover*
- Angelic Layer vol. 1 - 5
- X/1999 vol. 11+
Region 1 DVDs:
- Descendents of Darkness
- Chobits 1, 3-5, 8
- Pretear 2+
- Boys Over Flowers 2+
- Fruits Basket 1
- Risky/Safety 2
- His & Her Circumstances 2+
Also, I have this manga display that I got from the place I work and I'm debating as to whether or not to sell it. I'm currently just using it to hold manga, and it's just taking up space. I do love Tokyo Babylon so much though...
Here's a picture (ignore the messy bedroom), and if you're interested, let me know. I'm going to get a feel as to what I might be able to get for it before I make a final decision. A few facts: It's cardboard, and can be broken down and folded so it will ship easier. It's a Tokyopop display that was available last spring/summer.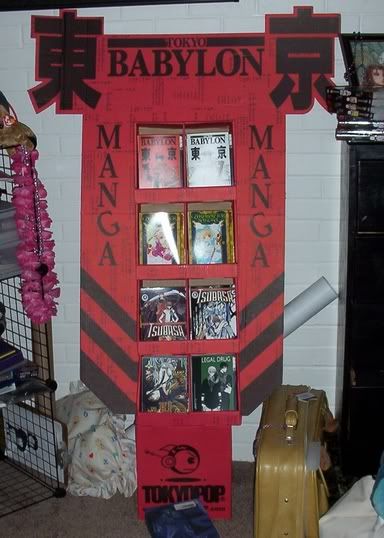 Thanks for looking!