Hi! I have got lots of stuff for sale

***Click here to Go to My Journal***
MAGAZINES




CDS

-jrock/pop,cpop,kpop& more to come
Official Artbooks

CLAmp No Kiseki

Posters


Manga

-

$3

*

HAVING A SALE SPECIAL until the 21st of JANUARY !!! Buy 4 get one !!!!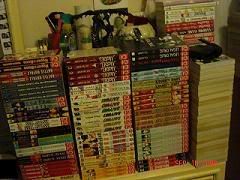 Also I am looking for

Dj Max

Games for the
Psp.

Any of the ones below is fine.
(Even if it does not have case or booklet I will consider it.)
-Mainly looking to buy from US Or Canadian sellers Cause shipping will be a little easier on the pocket book
-I Can pay by
non
cc Paypal or money order or Trade if you see some thing you like here @ my
Journal
-When you comment please post a picture(s)of it.

-I have feedback both as a buyer & seller here if that helps:
yukifairy.livejournal.com/1802.html
-Don't get mad If i decide not to buy your Item Because I am going to try to get the best Offer i can get.
-You Can Also Email me if you don't want to leave a comment here or send me a PM:
Weisskreuzlover1@yahoo.com