Buy my stuff, please. ;-;

Manga $5 each, or best offer
Under the Glass Moon 1 + 2
Model 1

DVD $15 each, or best offer, unless otherwise noted
X - The Movie
Card Captor Sakura - The 1st Movie
Neo Ranga 1
The Legend of the Dog Warriors: The Hakkenden - Boxset (complete) - $40 or best offer

Other Stuff Price noted or best offer.
Yukata - white with pastel blue, pink, and purple flowers. Very pretty. Fits most sizes. $75
Afro Ken clock (clock side) - Very cute; takes 1 AA battery. Also has an alarm. $10


I spent ~$250 on this dress, if I recall correctly. It's made of stretch velvet and very nice lace, and is heavily inspired by THIS dress Shinya of Dir en grey wore.
Worn to Otakon, 2004. That's it. Comes with a headdress and choker (the headdress in the picture is NOT the same it comes with).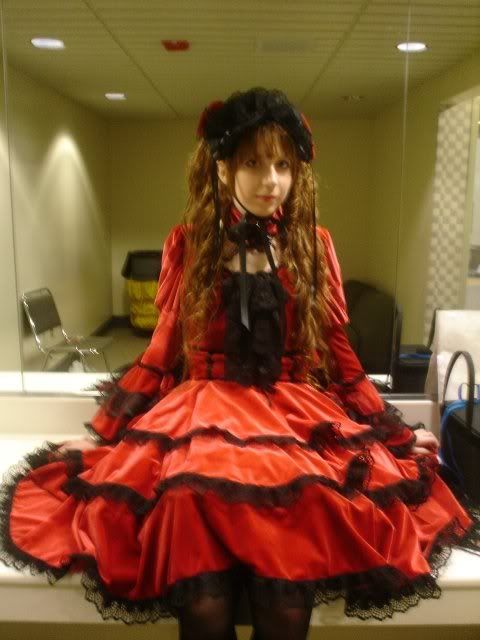 (I look like crap in this picture -- so I cut my face out :D)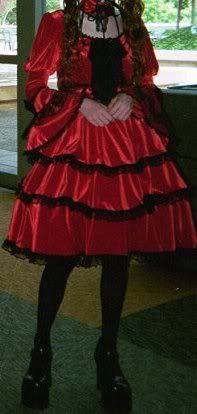 It was made for (if I recall correctly) ~34" bust and a ~25" waist. It has a "corset"-like tie-up back, in case anyone needs a few extra inches, not to mention the fabric does have a bit of stretch on its own. It looks best with a fairly poofy petticoat/crinoline/whatever. The color of the dress in the second picture is the closest to the "real life" color.
The dress has a very nice sheen to it and is very soft.

THERE ARE A FEW FLAWS WITH THIS DRESS:
READ CAREFULLY: Someone went sew-happy on the sleeves after Otakon (they decided to take the sleeves in a bit... -_-;...) so I had to take all of that thread out. The result was a few lines that "split" the outside of the fabric (the "fuzzy side" -- the ... fuzzyness was split... wtf?).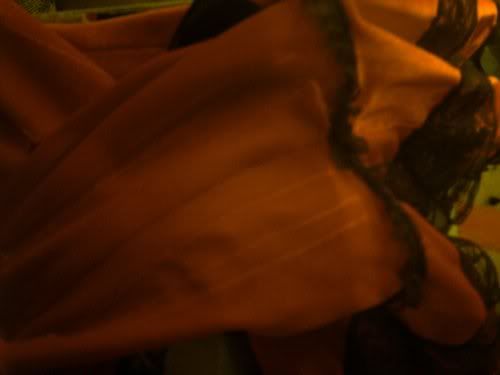 There are two lines on the one sleeve and six on the other. These are on the inside of the sleeve, so you can't see them 90% of the time. They are also not very noticible unless you're looking for them.
I am doing my best to "fix" these lines, and I'm having some progress, but I can't make them "disappear" completely.

This is a BEAUTIFUL dress and I love it very much, but it is too big on me now and I desperately need money. If anyone is interested in this dress then make an offer and I will consider it.

I do not pay shipping.

Contact: ilaena_daen @ yahoo dot com