Okay, so I am slowly going through everything I have from the old sales site and new items I found while cleaning. This is going to take some time, but I'll hopefully have an organized list ready to go soon!



NOW ACCEPTING *REASONABLE OFFERS* BUT DO NOT TRY TO LOW-BALL ME. I WILL NOT STAND FOR THAT.
I am leaving the prices up so you can see what I was hoping to get. PLEASE MAKE OFFERS ACCORDINGLY.





--- SPRING CLEANING SALE! ---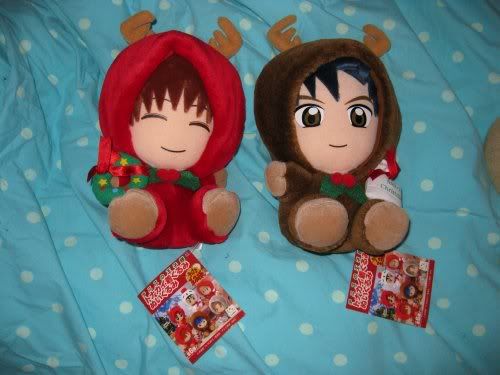 I'M CLEANING OUT MY ROOM AND FOUND SOME GOOD STUFF! PICTURES, PRICING, AND SHIPPING ARE LISTED. I AM A U.S. SELLER AND PREFER PAYPAL. INTERNATIONAL SHIPPING CAN BE ARRANGED. PLEASE HAVE A LOOK AND BOOKMARK THE ENTRY, AS I WILL BE UPDATING PERIODICALLY WITH MORE GOODIES! :3

--- ITEMS INCLUDE: DOUJINSHI, MANGA, ANIME, MAGAZINES, PLUSHIES, YAOI-RELATED COLLECTIBLES, MISCELLANEOUS ANIME/MANGA-RELATED COLLECTIBLES AND MERCHANDISE, MUSIC CDS, A YAOI GAME, ETC! ---

--- SERIES INCLUDE: PRINCE OF TENNIS, NARUTO, KUROSHITSUJI, LOVELESS, DOLLS, SWITCH, SAIYUKI, COWBOY BEBOP, MUSHI-SHI, KYO KARA MAOH!, GUNGRAVE, RANMA 1/2, SHONEN ONMYOJI, ETC! ---

I also have a collection of about 27 E-PLUS Prince of Tennis doujinshi (I don't have them listed on the sales page, but I am going to have them available...just trying to see if anyone's interested.) Feel free to email/message me for more info.


Click on the photo above or CLICK HERE TO GO TO THE POST IN MY SELLING JOURNAL!