I'm selling a ton of flyers of indies and some major bands. The earliest date back about 5 years and are up through the present. I'm offering these in packs of 25 for $10 or 50 flyers for $15. Shipping is not included, but shouldn't be too much. If you're interested I can let you know exactly how much shipping will be. I can only accept payment through paypal. You can either email me at spring_la@yahoo.com or respond here.


I don't have a list of all of the bands (there's just far too many for it). Some of the ones I'm positive of though are (in rough alphabetical order):


176Biz
12012
Aikuru
AnCafe
Alibi
Alice9
And (アンド)
Ap(r)il
AsMilk
Billy
Bagi Bogie (バギーボギー)
Bis
Cellt
Daizy Stripper
Dolly
DoremiDan
Danger Gang
D
Duel Jewel
Girugamesh
Guys Family
Gazette
Juliette
Kagrra
Kiteru Band
Kra
Kurt
Kyokutou Girlfriend
Liz
Miyavi
Merii (メリー)
Mask
Megamasso
Metronome
NoGod
n'Dool
Neu
Nightmare
Nega
Oz
Oshare Dorobo
Phantasmagoria
Pure Q&A
Rentrer en Soi
Serial Number
Screw
SectMa
Sug
Sadie
Soroban (そろばん)
Sana
Sugar
Tokyo Michael
Vanessa
Velbet
Vidoll
Wizard
Zoro(ゾロ)
Zipper

And many, many, many, many, many more.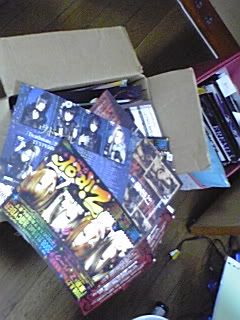 I've got two of these boxes filled with flyers, to give you an idea of what I mean by all those manys.


If there's a band in particular that you want, let me know and I'll find as many of them as I can to put in the packets. If there's not enough to fill the packet, the rest will be pulled at random. This is a first come first serve basis, so if someone else requests your band first, you may not get any of them. And if you have any bands you're interested in who I didn't list (tiny bands included, I've got tons of them as well) let me know and I'll see if I can find them.