SPRING SALE at my shop, CHYUKO ROCK!!!!

Most of the items I have listed below, we have for sale on the site, but please visit the site for MUCH MUCH more!

While you can order here on LJ, Please read our 'Order/Hold Info Page' and our 'Returns Policy' for useful information.

In a few days I will post CDs, Collectibles (Gloomy, Tarepanda, etc), Magazines and so forth.

Band Goods: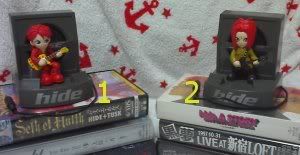 HIDE Computer/Small Music Player Speakers (Best Offer)

We have 2 Different speakers, Great size for computers or MP3 Players, approx 10cm T x 9cm D x 8.5cm W. Both tested on laptops from Japan AND the US and worked perfectly. 3 AAA batteries required (included), fits any standard 2mm speaker port. #1 Speaker is a seated HIDE with yellow heart guitar &; red outfit. #2 depicts an older style HIDE with tear-drop on his forehead, standing, gold shirt & black guitar. Both have flashing 'stage' lights that flash to the beat of the music. Can be sold together or seperately.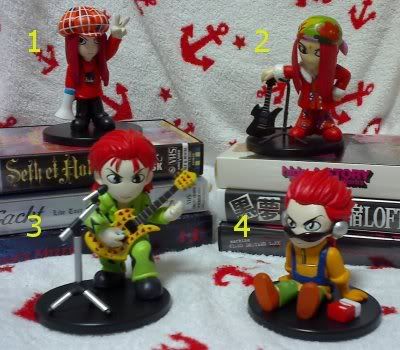 HIDE Medium Size Figures w/ Pedestal (2000Yea)
4 Types, each come with black pedestal and props.
#1 is an older style, long haired HIDE waving the 'V' PEACE sign; includes megaphone.
#2 is an older style HIDE with long hair & tear-drop on forhead; includes black guitar and black guitar stand.
#3 is a green neon outfit; include yellow w/ hearts guitar and mike/stand.
#4 is the only seated HIDE; includes carton of fake cigarettes and sunglasses that rotate up and down.
All can be removed from pedestals and some articles can be detached from HIDE.





#1 HIDE 1998 TRIBAL JaZOO Mobile Phone Strap (1000Y)

Approx 19cms in length, not including cord that attaches to keys or mobile phone. New, still in packaging. features a posed small HIDE charm at the top, blue nylon that reads 'hide with Spread Beaver' and ends with a pink charm that reads '1998 TRIBAL JaZOO'.
#1-5 HIDE Zipper Pull/Charms (600ea)

We now have the Complete set of 10 different Zipper Pulls/Charms (ONLY 1 each of them all though!!) Each chrams stands about 2.5cms, not including the metal lobster-claw hooks on top. Packages are original, but because of wear and age, tape has been applied to most and some of the strings on top of packages have been replaced. All are NEW and have never been used.
#1 green jacket, yellow shirt
#2 camoflage outfit
#3 sitting with sunglasses
#4 Orange outfit w/ guitar
#5 black outfit w/ sunglasses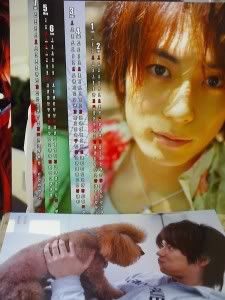 Kato, Keisuke/加藤慶祐: Giant 2009 Calender Set (1000Y)
Set of 7 large posters, approx. 43cm x 31cm; 6 Calender posters, an Extra Poster and a folder to hold them all. An actor & entertainer, He is best known for his roles as Ivory in TV Tokyo's "Happy Boys" drama and Nago Keisuke/Kamen Rider IXA in TV Asahi's tokusatsu series Kamen Rider Kiva. He is from Box Corporation talent agency. He was also one of PureBOYS group.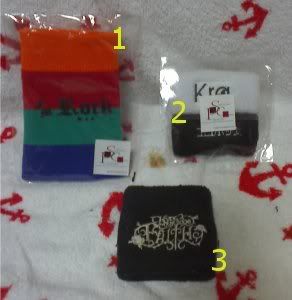 KRA wrist/sweat bands (800Y each)
#1 Orange, Red, Green & Blue stripes with Black lettering. Includes original packaging. Approx. 12.5cm long.
#2 Set of 2; white with black stitching; black with white stitching. Comes with original packaging. Approx. 4cm tall each.
Both Excellent condition, probably never used.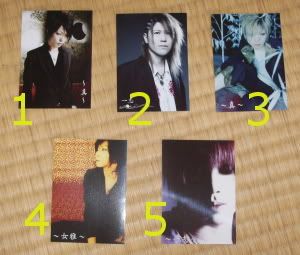 KAGRRA, Trading Cards (300Yea)
#1 真
#2 一志
#3 真
#4 女雅
#5 一志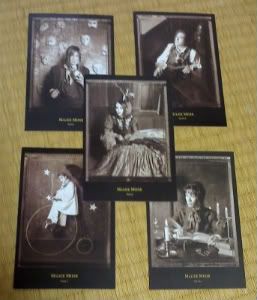 Malice Mizer- Bel Air Postcards (1000Y for all)
Set of 5 Postcards, 1 each member (Kami, Gackt, Mana, Kozi, Yuki). Sepia colored. 'Bel Air' short movie outfits.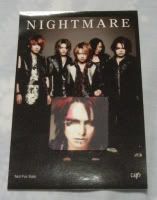 Nightmare Sticker and Seal- Band and Hizumi (500Y)
Medium sized band sticker approx. 10cm x cm with a smaller cloth Hitsugi Seal affixed to the front.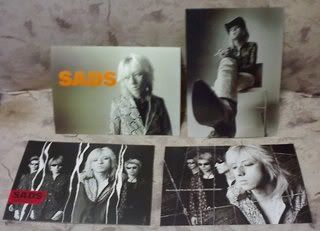 SADS Postcards (200Y each or 800Y for all)
Limited Edition Postcards released by the Japanese Rock Magazine NONSECT.


VHS: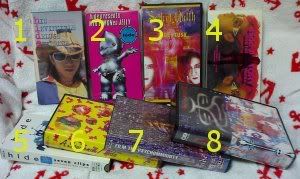 HIDE (X JAPAN) with Spread Beaver VHS
#1 His Invincible Deluge Evidence- (1500Y) [98.7.17] Approx. 60 min. 4 Track Video in soft case. Includes flier and large poster
#2 Mix LEMONeD Jelly- (1500Y) [97.8.21] Approx. 62min. Includes fold-out flier. Soft case
#3 SETH et HOLTH movie (3000Y) RARE Full Color VHS Cassette tape in a square clam-shell case. Approx. 45min, No subtitles. One pressing only, VHS & LD (Laser Disc). Includes Limited silver sticker, approx 15.5cm x 7cm.
#4 A Story- (1500Y) 1999 hide Last Works [99.12.08] Three PVs plus Documentary. Includes soft case, slipcover, mini poster/set list, advert and trading card.
#5 Seven Clips- (1200Y) [97.6.21] Presented by MCA Victor. 7 Tracks, Approx. 35min. Includes soft case and set list.
#6 A Souvenier- (1200Y) [94.3.24] Approx. 31min. Includes poster with lyrics on back (shown) [poster is of intestines; not safe for weak stomachs]
#7 Film of Psychommunity Reel 2- [94.11.23] Includes multi-page booklet. Minor stain on booklet.Clam-shell case. Approx. 68min.
#8 zilch Bastard Eyes- (1200Y) Large Clamshell case. VHS Approx. 10mins, large sticker and full Album remixed CD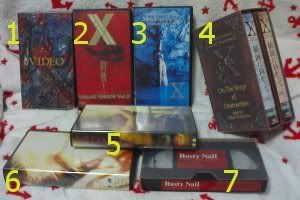 X JAPAN
#1 VIDEO Tokyo Dome 1991.1.07- (1200Y) 10 Tracks, Approx. 82min.
#2 Kurenai Visual Shock vol. 2- (1500Y) 11 Tracks, Approx. 60min. Clam-shell case. 1989.
#3 Say Anything Visual Shock vol. 3.5 X BALLAD COLLECTION- (1500Y) 3 Tracks, approx. 25min., 1991. Includes lyric sheet. Clam-shell case. Excellent condition. Yoshiki/hide/Taiji/Pata/Toshi.
#4 On The Verge of Destruction 1992.1.07 Tokyo Dome Live- (5500Y) Large, 2 VHS set plus hardback Photo Book and hard case. Approx. 19 tracks, 180min.
#5 Dahlia Visual Shock vol. 5 Part 1- (1500Y) 7 Tracks, approx. 40min. Clam-shell case.
#6 Dahlia Visual Shock vol.5 Part 2- (1500Y) 5 Tracks, approx. 41min. Clam-shell case
#7 Rusty Nail- (1000Y) erfect Best Special Presents: Rusty Nail PV. Special give-a-way, includes clear case.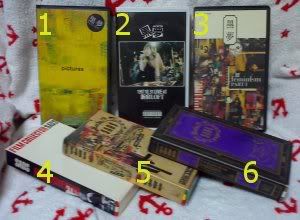 黒夢/Kuroyume VHS (1000Y each)
#1 Pictures- 6 Tracks, Approx. 32min. [95.12.13] Includes poster/lyric sheet and postcard, "signed" (most likely factory printed). Clam-shell case.
#2 Live at 新宿 LOFT- [97.10.31] 14 track Concert, Approx. 57min. Includes Lyric booklet/mini poster.
#3 Feminism Part 1- [95.9.27] 21 Tracks plus mini poster/set list. Clam-shell case.
SADS VHS (1000Y each)
#4 Film Collector- Approx. 51min. Includes soft case and sticker.
#5 The Introduction- Document of Welcome To My BABYLON Tour [00.8.05] Includes soft case and booklet.
#6 The Revenge- Conclusion of Welcome To My BABYLON Tour Osaka Castle Hall [00.12.07] Includes soft case and booklet. Approx. 18 Tracks, 91mins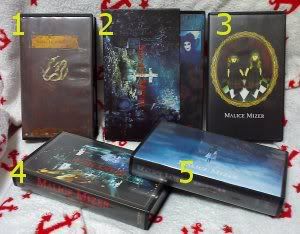 Malice Mizer VHS (varies)
#1 Bel Air~verte aile~- (2000Y) Movie approx. 30 mnts. Includes booklet. Clam-shell case.
#2 再会の血と薔薇- (1800Y) Approx 6min. Includes slip-cover over clam-shell case & beautiful photobooklet.
#3 Beast of Blood- (1600Y) PV approx. 5 minutes. Includes booklet. Clam-shell case.
#4 sans retour Voyage'derniere- (2000Y) Live Concert Shibuya Kokaido, Approx. 35min.
#5 虚無の中での遊戯~de l'image~- (1600Y) )In clam-shell case with extra picture booklet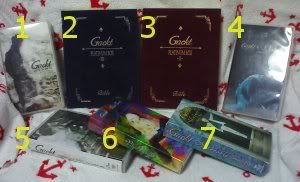 GACKT VHS (varies)
#1 再生と終鳶- [01.6.21] Includes lyric card & white cassette. Clam shell case.
#2 PLATINUM Bible #3- (3000Y) Includes large obi, ChaChamaru postcard, DVD & large, coffin-shaped picture frame in blue velvet 'bible' box. Approx. 43min.
#3 PLATINUM Bible #1 Special Edition- (BEST OFFER) Live CD & VHS [00.12.16] This Special Edition type is the larger, stylized version released at the same time as the Regular Edition. It is full-sized, with a soft, red cover andtooled inside. Dears Official serial #CRCP-10010
#4 Jyougen no Tsuki- (1500Y) 17+ Track Full Concert, [03.9.18], including special 'オレンギの太陽' from the movie 'MOON CHILD' starring GACKT and HYDE (L'Arc~en~Ciel). Clam-shell case, NO subtitles, full color.
#5 Mars Concert- (1200Y) Approx 28min. Clam shell case
#6 Vanilla- (800Y) Includes colorful slip-cover, special white VHS and silver soft case.
#7 Mizerable- (1000Y) Includes special box with 2 booklets, VHS and fold-out, attached face for 8cm maxi single CD.