Hiya *waves*
Got a pair of new Lolita Lola shoes to sell - ostensibly size 37 but I think they're more a 38 - too big for me anyway! Currently waiting on my new smaller pair and hoping to offset the cost a little ;)
Info under the cut
Size: 37 apparently but is more what I'd considered a 38! Anyway, the 37 for these is as an Australian 8 and measures 24cm inside. Apparently this equals a UK5 and a US 7 but check the measurement!
Colour: Black
Material: Wooden soles, black leather upper, black ribbon ties
Condition: Never worn, but there were some marks on the wood when they arrived - see photos for details
Price: I paid 95 US (+30 US postage) but as they're damaged slightly I'll let them go for 60 US + postage. If that's too much make me an offer!
Payment: Paypal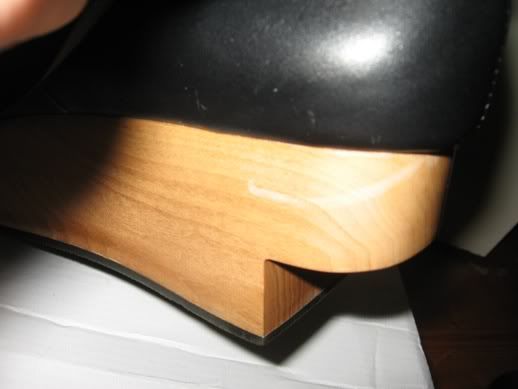 Note above mark is on the left side (inside side) of the right shoe
This is also the right shoe - as you can see the main mark curve round slightly. Keep in mind though these marks would be hard to see under most circumstances when being worn :)