If you consider purchasing anything,
PLEASE PLEASE PLEASE EMAIL/MESSAGE ME THROUGH LJ TO MAKE A PURCHASE
I am LOUSY with remembering to come back and check this thread so PLEASE email or message me through LJ.

Selling:
Manga (both regular and yaoi)
Anime DVDs
Posters
BJD clothing
Jrock Items
K-pop CDs




Guidelines -

x. I accept Paypal and unless you have a CC account, I have to charge the 4% paypal fees, sorry but I can no longer afford to keep eating that price. Any other forms of payment must be discussed
x. I don't do holds. Though on occasion, I will make exceptions
x. I'm in the US but I will ship internationally but please be aware it will cost more.
x. Shipping within the US will be 2$-3$ NO MORE. Unless Priority Mail is requested. *This means if you buy one or 2 manga not the entire set.
x. I don't do trades, I have enough things at the moment
x. Everything is in good condition unless otherwise stated
x. I have good feedback here at
garagesalejapan, eBay and DoA.
x. It's best that if you want to purchase something, please message me through LJ I sometimes don't check this entry
x. SERIOUS BUYERS ONLY. I've gotten a handful of people wasting my time. So please, PLEASE PLEASE don't make me calculate prices for shipping if you're not interested.


Yaoi Manga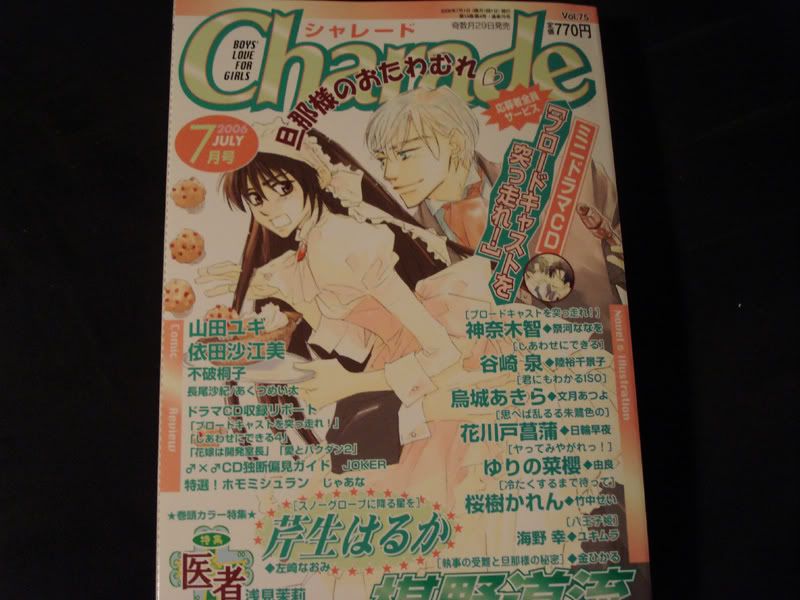 Charade
It's a yaoi manga collection type of magazine. Different mangas from different authors. All Japanese text
6$ plus shipping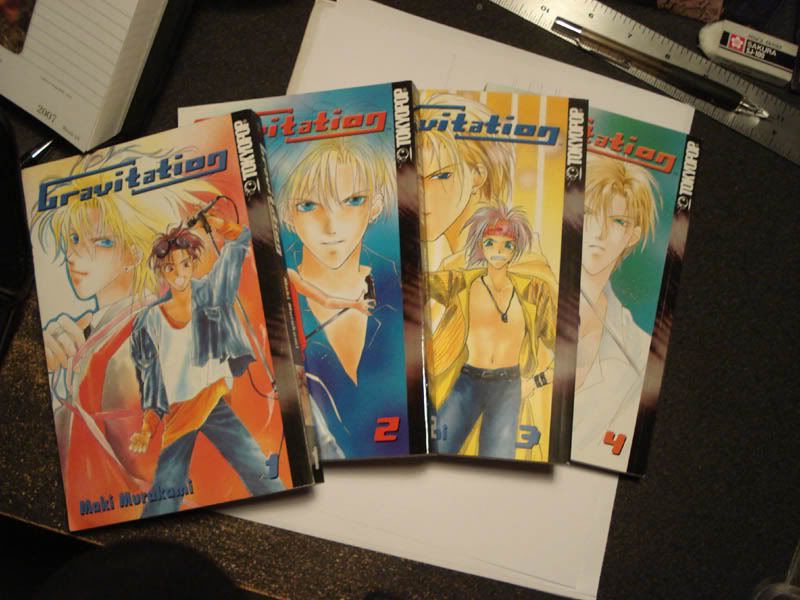 Gravitation 1-4
5$ for one, 20$ for all four plus shipping


Manga



DNAngel 1
5$ plus shipping



The World Exists for Me 1 + 2
5$ for one or 10$ for both plus shipping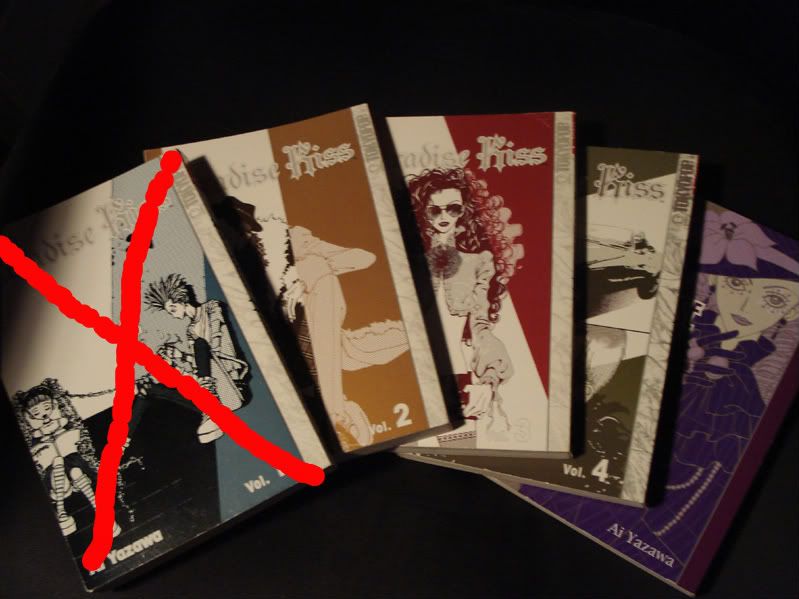 Paradise Kiss 2-5
5$ for each or 20$ for all 4 plus shipping
*NOTE - Para Kiss 1 has been sold!



Vampire Princess Miyu 2 + 3
Very old and rare Vampire Princess Miyu graphic novels.
8$ for one or 16$ for both plus shipping



Bleach 1-5
Stray Bleach volumes left over.
5$ for one or 25$ for all of them plus shipping
NOTE: volumes 11 and 13 are SOLD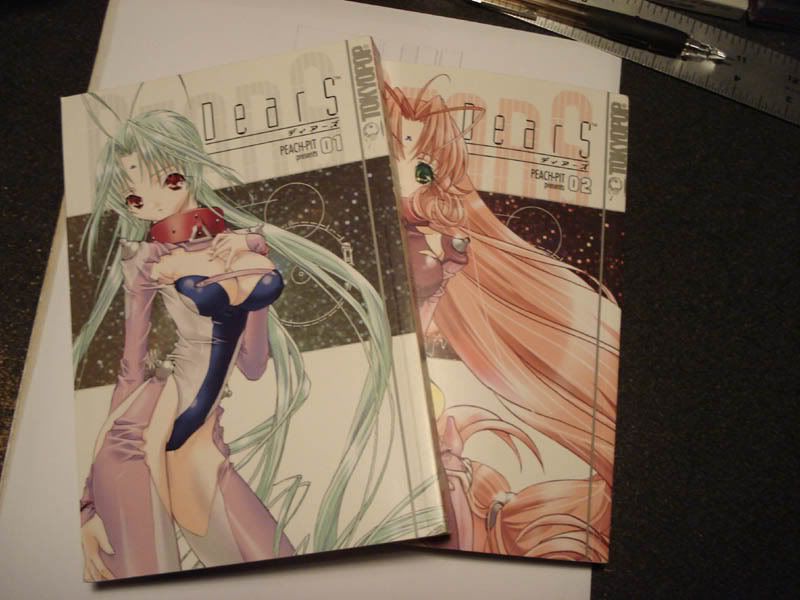 DearS 1 + 2
5$ for one, 10$ for both plus shipping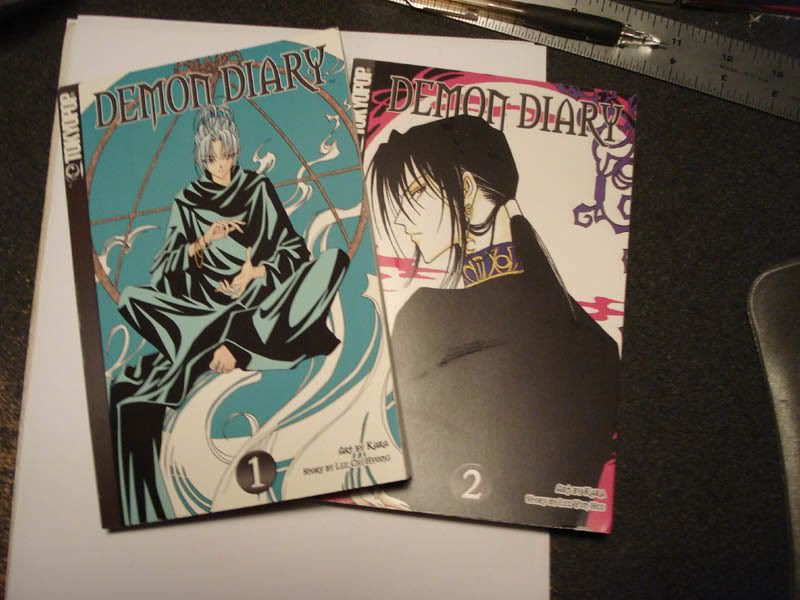 Demon Diary 1 + 2
5$ for one, 10$ for both plus shipping



12 Days
5$ plus shipping



Robot
DMP's Illustration book. it's really more like a collection of manga from different artists. It's a beautiful quality book and this one for sale is number 1 of the series. Unfortunately, the cover was ripped on the back so I only left it on for the picture, if bought, it will be shipped without the cover. It's priced normally for 25$ but I'm selling it for 15$ plus shipping. Please keep in mind it is a little heavy so shipping will depend heavily on where you are from.



Air Gear 1-10
6$ for one or 60$ for the whole set plus shipping



Saiyuki 1-9 and Saiyuki Reloaded 1-8
5$ for each or 85$ for the entire set plus shipping

Posters



Medium sized Takeo poster from ex- Pierrot. Comes laminated and in a plastic covering that is removable
7$ plus shipping


Misc.



(Sorry for the blurry picture I couldn't get the picture no matter how many times I took it over)
Kiyoharu's solo CD Poetry It's mint condition, in fact, I don't even think I listened to it but it was unwrapped and looked at then placed on a shelf. The CD itself slides out from the sleeve and everything is in mint condition.
10$ plus shipping



Fruits Basket DVDs 1-4
I have all 4 Fruits Basket DVDs that have only been watched once and then put back in their case. They're in mint condition and the only thing they're missing is the plastic wrapping they came in.
10$ each plus shipping


K-POP CDs


This is Hee Jun's first solo CD Alone. The marks on the CD are not marks, just part of the CD jacket underneath. The cover is semi-translucent. In mint condition.
10$ plus shipping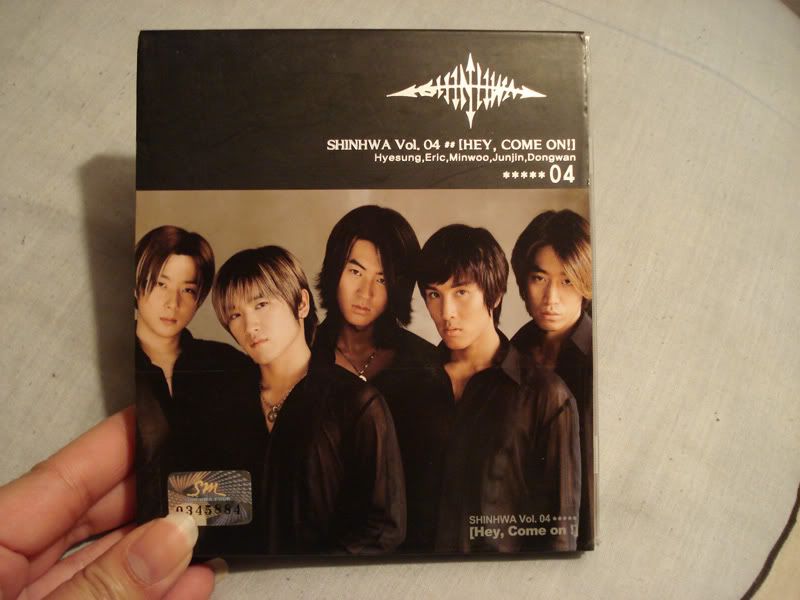 Shinhwa's 4th CD. In perfect condition, listened to only once, if even that I think.
10$ plus shipping



BJD ITEMS
(Please Note all BJD items are for SD sized dolls. I don't own anything smaller)




Sadol black and gold bow tie. From an unknown set. 3$



Commissioned short sleeved shirt from Vita Vera. Great quality, comes with a snap on the back so you don't have to remove the doll's head. Can fit SD girls, made to fit an SD boy. Fitted. 6$



From Sadol's New Yorker set. Brand new, never removed from packaging. 12$.



Dollmore Black messenger bag
10$ FREE SHIPPING


PLEASE PLEASE PLEASE EMAIL/MESSAGE ME THROUGH LJ TO MAKE A PURCHASE
I am LOUSY with remembering to come back and check this thread so PLEASE email or message me through LJ.

*Shipping within the US will be 2$-3$ NO MORE. Unless Priority Mail is requested.




Thanks for looking!