The dredges of my manga collection....2$ each.
Ao House 1-2
Black Cat volume 1
Ceres 2
Chrno Crusade volume 1
Cross Break volume 1
Death: At Death's Door
Hellsing volume 2
Melancholy of Haruhi volume 1
Under the Glass Moon 1

YAOI manga. 3$ each
Gakuen Heaven
Jazz 2
Our Kingdom 1
Secret Moon (light novel)

Other manga (new titles, unread) 3$ each
Happy Happy Clover
Takeru: Opera Susanoh Sword and Devil

Official Release Code Geass CDs. 8$ each.
Code Geass OST 1
Code Geass Sound Episode 1
Code Geass Sound Episode 2
Both Sound episodes 15$

Misc. items. 4$ each.
Death Note pencil board
SEQUENCE memo-book
LE Witch Hunter Robin clear cell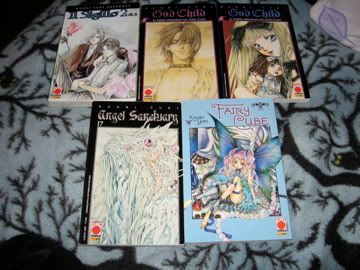 ITALIAN MANGA. 4$ each
Count Cain : Sign of the Red Ram 2
GodChild 7
Godchild 9
Angel Sanctuary 17
Fairy Cube 1
*Please note that Kaori Yuki titles are numbered differently in Italy. Godchild is 11 volumes (all slightly shorter) And don't mind Mary on the cover of 9. Godchild is half an inch away from straight-out yaoi.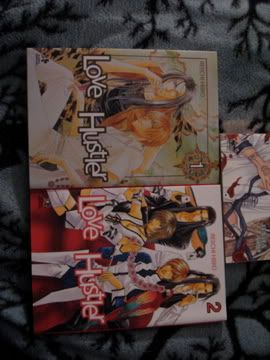 ITALIAN YAOI MANGA.
Love Hustler 1 and 2.....set only.......12$


Prices negotiable. I will work out exact shipping and handling when you tell me what you are purchasing and where you live. I will warn you now that my car met an unfortunate demise last month and shipping may take a few days to get out.

Will trade for Full Metal Alchemist or Nana manga I don't have, as well as Gundam 00 merch I don't have.

Can take Paypal or money orders. Any questions PM me.

IF YOU ARE INTERESTED IN AN ITEM THAT SOMEONE ELSE HAS ALREADY ASKED FOR, LET ME KNOW ANYWAY. I've been plagued by deadbeats lately and have lost a few sales because of them.