i'm selling my tokidoki 2008 carnival print sorriso bag. in great condition. no stains or visible leather wear on the straps. does NOT include qee. retails for $158.

asking price is $35 or BEST OFFER. BAG WILL GO TO THE BUYER WITH THE BEST OFFER & SALE ENDS IN ABOUT A WEEK AND A HALF.

i accept AUTHORIZED NON-CREDIT CARD paypal only. i will ship to the u.s., canada, and internationally. shipping and handling is not included and will be figured out after the sale has ended. i can try to give you rough estimates though. serious buyers only, kthx. winner will need to provide me with a feedback page or ebay profile with at least 5 positive buys/sales. otherwise the bag will go back up for sale.

for pictures and info, please check out the post by clicking on the following picture. PLEASE COMMENT ON THE FOLLOWING PICTURE LINK'S ENTRY WITH YOUR BEST OFFER/COMMENTS/QUESTIONS. thanks for looking.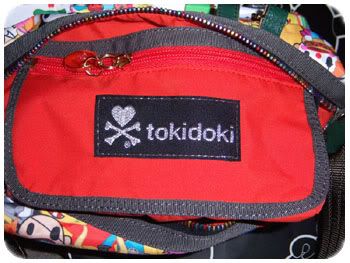 for more items (locked selling comm! pm me or comment to this post with your ebay/feedback page and i'll send you an invite to the community) please check out
bented. the bag is just a special sale on my personal journal because it messes with the flow of my posts over on my selling comm, haha. /bricked

so don't bother adding my personal journal if you're hoping to see anything else from me.