*Paypal only.
*Sorry, no trades or holds at this time.
*I live in the US.
*Willing to negotiate price.
*Also, be warned that I live in a house with a pet.
FEEDBACK: I have no feedback on gsl as of yet. However, I have a lot of positive feedback on the lolita/egl database (www.loligothdbs.com) under my lj username and on Ebay under xx_woaini.
Metamorphose temps de fille Red with White Polka Dots JSK - $150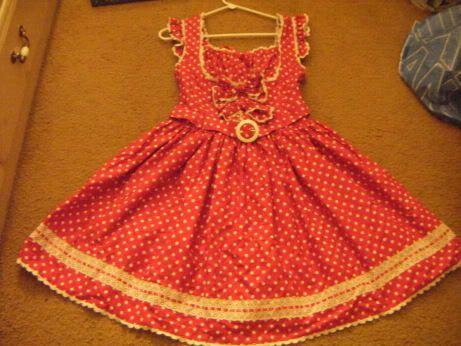 With flash
. 38" bust max. Never worn by me. The breast piece and belt is removable.
Anna House Pink Skirt with Elastic Waist Band - $40

This skirt can fit a wide range of sizes due to its elastic waist band. Approximately 45" max waist, give or take a few inches. Worn once by myself.


Baby, the Stars Shine Bright Large Pink Bunny Bear - $150

I've only used her a few times. She's still in excellent condition!
The White Peacock White Venice Blouse - $25

Worn quite a few times by me. The tag says it's an XXXL. Max bust 38-40".
The GazettE STACKED RUBBISH (Limited Edition) CD + DVD - $45

In excellent condition.

Neo genesis vol 23 magazine (not including posters) - $15
Posters have been taken out. In excellent condition.
Please feel free to ask questions!