Hello again, garagesalejapan! This post is x-posted into vk_sales as well! :3

- I ship from Finland. The shipping is now included into the price!
- shipping is made without insurance or tracking unless the buyer requests them. They'll cost a bit extra.
- all the sales are final, no returns. I won't be responsible for lost or damaged packages.
- I have positive feedback here on LJ and on eBay!
- the items will be shipped within two days time from the moment I recieve payment.
- PayPal only, please!
- by all means do request more pictures! : )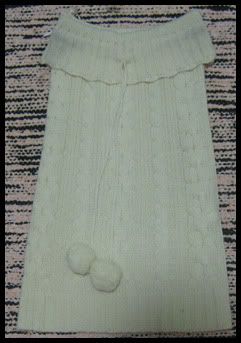 Proof for brand!
A beautiful sweater dress from Liz Lisa. It has cute pompoms in the front and will stretch from its measuremets without looking horrible. The width of the dress is 72cm measured unstretched, but can fit up to 92cm - and it goes a bit wider from the hips. It is about 67cm long, and that's pretty much the reason why I'm selling it - I'm too tall for it. :< The dress is cream colored, in a great condition. I would like to have 40€ shipped for it, as I paid over 50€ for it myself and it has been pretty much unused. Comes with a lining skirt!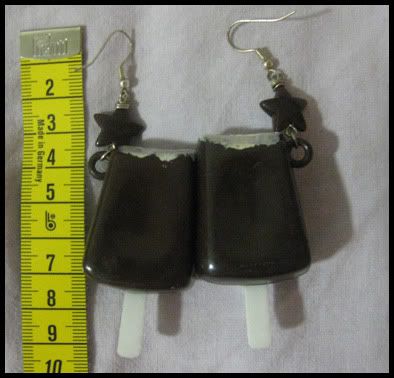 Detail picture!
A pair of "Funky Human Corpse" ice cream earrings - I have a few pairs of earrings from this brand and they've been great, these ones I just haven't ever used since they are the same color as my hair and can't be seen too well on me. :,D I paid 14€ for these, but would like to have 7€ shipped for them.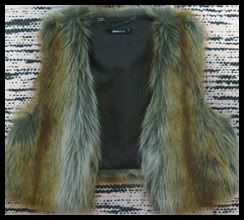 Back of the vest!
And finally, an offbrand fur vest I purchased over a year ago and wore to two parties, but haven't been using it since. It has just been stored away and it is indeed in a great condition. It is size M, but I'd say its a bit large to be an M - maybe a small L would fit it better? It closes from the front but can also be worn open. I paid about 29€ for this, and would like 15€ shipped for it.