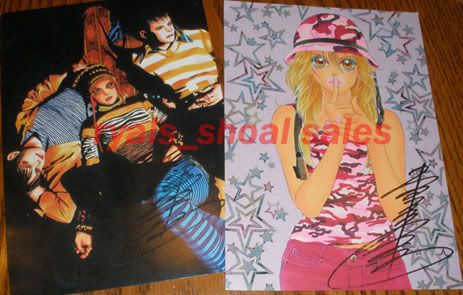 Featured Item:
AUTOGRAPHED
Miwa Ueda (Creator of
Peach Girl
) Promotional Postcards
JUST ADDED:
33 Rare Final Fantasy/Yoshitaka Amano Trading Cards
Up on my sale are doujinshi, figures, cards, pencilboards, keychains, manga, cels, Naruto Settei set, Trigun promo cards, promotional items and an autographed Johnen Vasquez's JTHM comic. I also have LOTS of Naruto items and figures as well!
Please follow the links to my journal if interested! I am willing to trade for certain Slayers items.
Slayers Doujinshi
Naruto Doujinshi
Misc. Doujinshi
Pencil Boards + Stationary + Misc.
Manga + Figures + Video Games
J-Rock & Games
Shipping & Information
Wanna Trade? Here's my
WISH LIST