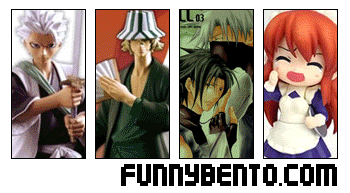 AUCTIONS ENDING IN 24 HOURS
Fate/Stay Night, Death Note, Otoboku, Bleach, Code Geass
CLICK HERE

DOUJINSHI SALE
yaoi, yuri, het, and general // G through 18+ ratings
Bleach, Death Note, Fruits Basket, Haruhi, Naruto, Lucky Star, Prince of Tennis, and MORE
CLICK HERE

GOTHIC AND LOLITA CLOTHING
Find tons of clothing at our web store!!
CLICK HERE

PLUS MORE AT OUR SALES JOURNAL
Petit Nendoroids, Figumates, plushies, and MORE!!

funnybento