Special repost just for this comm! ^^

Anime DVDs (region 1), VHS, manga (english & Japanese), doujinshi other goodies!
Series include Fushigi Yugi, Final Fantasy, Fullmetal Alchemist, Gundam Wing, and more!

I'm open to trading too. quick wishlist here. Outlaw Star stuff, Zack/Cloud doujinshi.

Doujinshi are in a separate post over here
I put the adult content filter on just to be safe. YAOI ABOUNDS.

Kept in a smoke-free environment. We do have cats, but they never come in my room, where all this has been kept. Even they respect the sanctity of good doujinshi. X3


SHIPPING
Shipping from US address. Will ship international if needed.
Prices listed are for domestic flat-rate.
Express (overnight) $17.50 - ENVELOPES ONLY
Other Express see chart (looks to be around $20-30)
Priority (1-3 days, may be longer for holidays)
envelops/small boxes - $4.95 <--- figures, games, tapes, dvds, manga
medium boxes - $10.35 <--- manga, doujinshi, most everything else
large boxes - $13.95
EDIT: they changed the sizes on me. x_X Small boxes are TINY. Added notes above to reflect.

I ship via domestic priority flat-rate in the smallest box reasonable unless you have some other request or arrangement.
Wanna send to a friend for the holidays? I'll ship to your friend's addy, up to $20. Anything beyond that, you need to get delivery confirmation for everyone's peace of mind. Depending on how close it is to the holidays, I can't guarantee it'll get there before then. That's up to the postal system.

PRICES
Some of the more obscure things may have a little wiggle room.
I've got a few things that, honestly, aren't in that good condition. I'll honestly take whatever you offer for them. I will note these items. I'm only listing them here on the off chance someone wants them.
If you feel something's a little to high, it can't hurt to ask. Don't expect me to haggle on everything though.

PAYMENT
PayPal only.

HOLDING
I'll hold on to your stuff for a week pending payment, unless we've made some other arrangements (like you need to wait for payday or something).
If you claim something, then I don't hear from you again, after a week, it goes to the next person.

OMAKE - with flatrate boxes only
A handful of demo games and anime previews, trading cards, and other misc japanese stuff. Tossing them in your order for free! =D If you don't want anything tossed in, say so.
(sorry, I won't be adding these to envelopes anymore since postage is based on weight) ORZ

YAOI manga and doujinshi - If you're buying it, you're agreeing you're 18 or of legal age in your community to purchase/own adult material. There's no way I can police it, so I'm just going to have to trust you. *cough*
Again, doujinshi is over here!


Anime Goods Section
All the non-doujinshi stuff! There's still some yaoi in there, though. X3
It's a pain to list the ISNB/SKU/UPC/etc for everything. If you want to know, just ask. I can give you the number, even a pic of the code from the actual item.
If you need additional images, just ask! ^^

MANGA - ENGLISH - $4/ea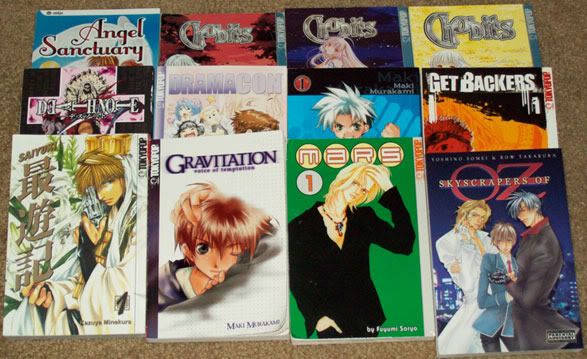 After School Nightmare 1 (not pictured)
Angel Sanctuary 1
Chobits 2
Chobits 3
Chobits 4
Deathnote 1 (never read)
Dramacon 1 (never read)
Gamerz Heaven (by Maki Murakami!)
Get Backers 1
Graviation - Voice of Temptation (eng. novel)
Mars 1
Saiyuki 1
Skyscrapers of Oz (YAOI 18+)

MANGA - JAPANESE - $3/ea



(I only wish I could read the titles)
ALL Yaoi, all from Be x Boy Comics/Biblos
BexBoy/Biblos - (blue cover) (Super BBC)
Play Boy Blues - Shuiko Kano (red)
The Forbidden Sweet Fruit - Haruka Minami (purple)
Kirai Kiraimo - Makoto Tateno (pink)


ANIME DVD/VHS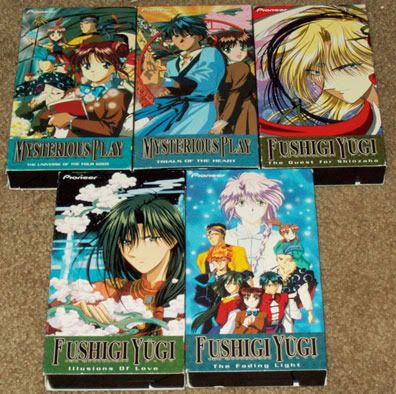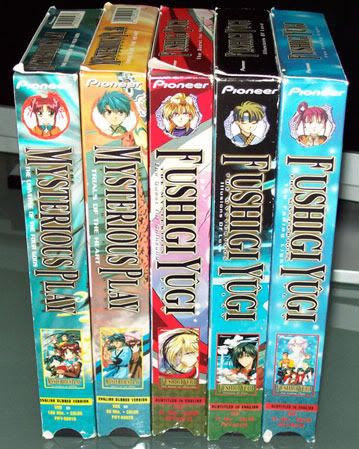 Fushigi Yugi VHS - $2/ea, $10/all
ALL legit. Perchased from Suncoast back when they were still around. (cat ears off and a moment of silence please.) Subs or dubs are all in English.
Boxes are all in ok condition. Corners are a little worn, but no tears, they still hold up, etc.

The Universe of the Four Gods - (eps 1-4) DUB
Trials of the Heart - (5-7) DUB
The Quest for Shinzaho - (34-36) SUB
Illusions of Love - (37-39) SUB
Fading Light - (46-48) SUB

FIGURES


DBZ figures - $2
Came as a 4-pc set. Box is long gone, they've been in a bin with some other figures. Some scuff marks and the paint from being jostled around.
SSJ Goku, Videl, The Great Saiyaman, Android 16

Final Fantasy Creatures Archive Chromium - trading for others, or selling
I'd really like to trade these for ones I don't have, but I'll also just sell them.
Trading specifically for other FF7 creatures in Archives series OTHER than Chromium, or other Chromium-series figures I don't have.
Figures were only released in Japan (now out of production?) in blind boxes. I opened all the boxes, but ones I got doubles of I left all the parts in the packaging.
All figures come with card and box, and are UNassembled.
Creatures in this series come in clear, metallic, and color variants, with color being the rarest.
Each Archives set has 9 figures and one secret figure. This series' secret figure is the highly sought-after and rare Safer Sephiroth. Like the other figures, he comes in all 3 variations.
NOTE - the assembled figures in the pics are for your reference. You get the unassembled figure of the same color variation as pictured.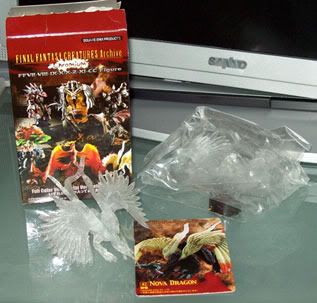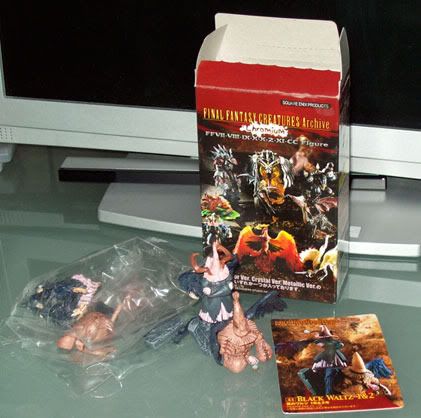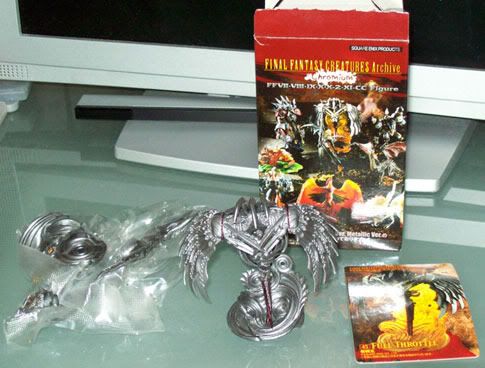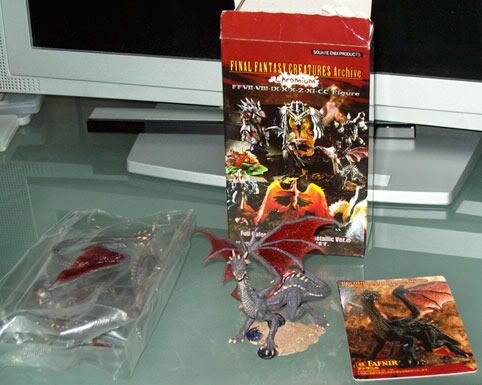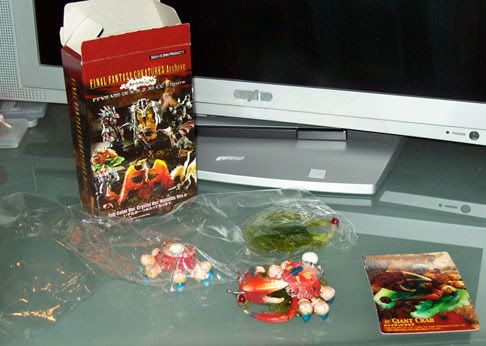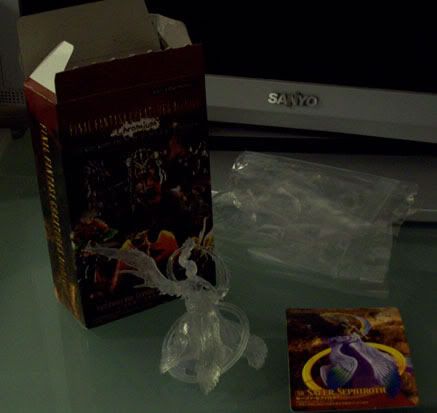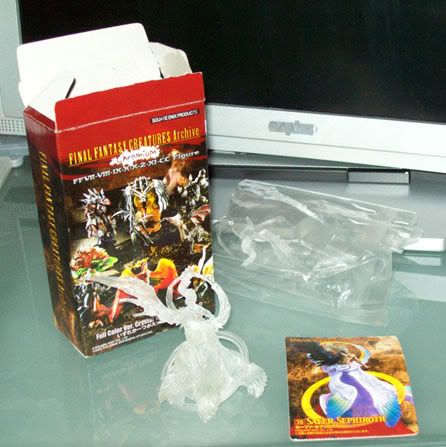 #42 Nova Dragon - clear - $5
#43 Black Waltz 1&2 - color - $8
#45 Full Throttle - metallic - $5
#45 Full Throttle - metallic - $5 (I have 2)
#48 Fafnir - color - $8
#49 Giant Crab - color - **some pieces missing due to factory sealing error =( - $any offer taken
#50 Safer Sephiroth - clear (SECRET FIGURE) - $25 HOLDING

VIDEO GAMES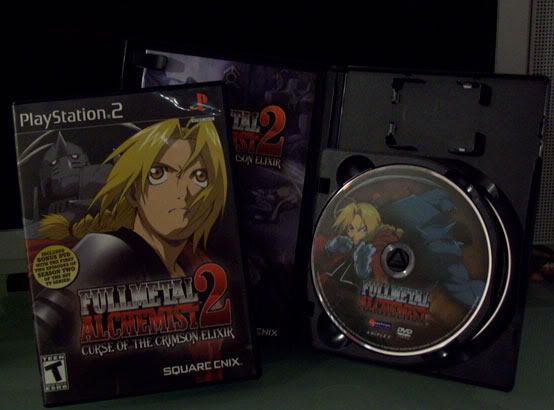 FMA 2 - Curse of the Crimson Elixir w/preview DVD (PS2 and region 1) - $10
*I have two copies, about the same condition. Both copies pictured, price is for ONE copy.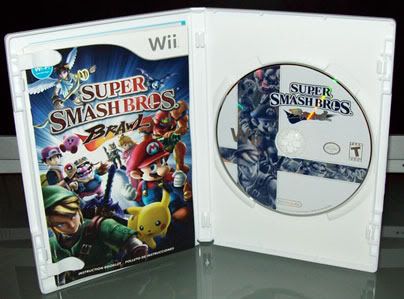 SuperSmash Bros Bawl - Wii - $20
Got new, played a few times. What can I say, I'm not a fan of fight games.
Works fine. Case and manual included. HOLDING

MISC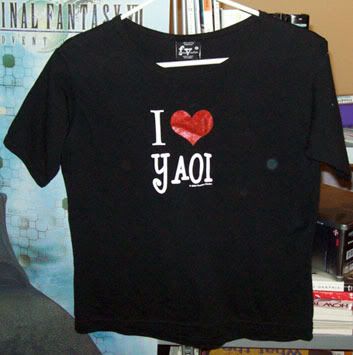 "I <3 Yaoi" shirt - $3
Bought at a con, never wore. Probably washed a few times. It says it's a Large, but I'm 99.999% certain that's a Japanese Large Probably women's at that.
It's been in my closet, away from the cats.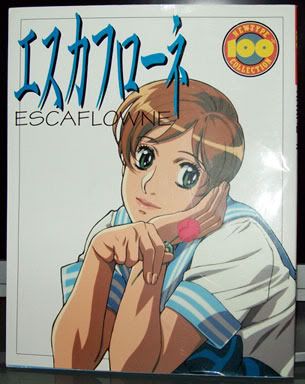 More 1 | More 2
Escaflowne artbook - $23
ISBN 4-04-853216-2
Japanese language
Illustrations, concept art, etc from both the tv series and the movie! ^^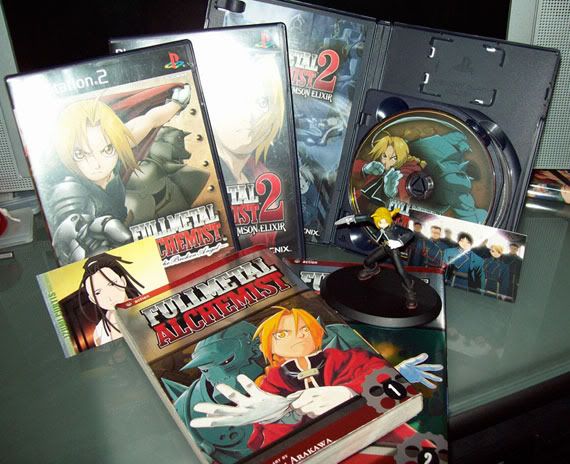 Fullmetal Alchemist fan bundle - $25
FMA and the Broken Angel (PS2)
FMA2 Curse of the Crimson Elixir (w/preview DVD) (PS2/reg. 1)
Manga volume 1
manga volume 2
(ooooh. shiiiiny)
Ed Elric figure
misc FMA trading cards (not all are pictured)
I had an Ed Elric iron-on patch that was part of this as well. If I find it, I'll mail it to you (no charge, of course)
*Note: this isn't an official bundle. I just thought I'd put it all together for the FMA fans out there. ^^



Duo Maxwell decal - $2 SOLD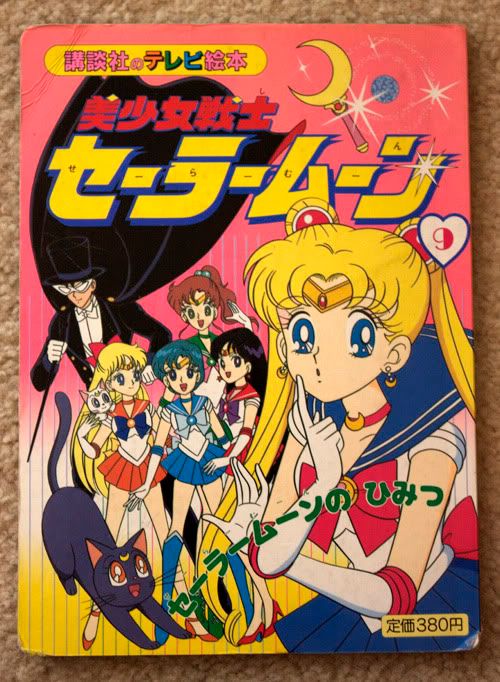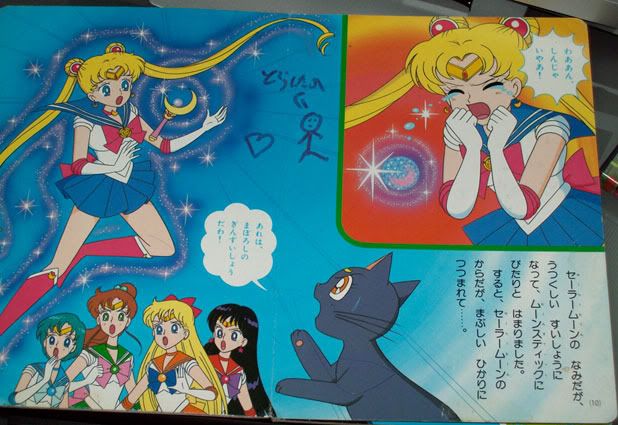 Sailer Moon Japanese children's book - $1 obo
It's got some writing in it and some scratches. Not for collectors, but good for SM fans practicing their Japanese. Everything's got furigana! ^^

Yugioh Cards - comment if interested
I have a LOT of Yugioh cards from the original series/game, both 1st and 2nd edition, US version. I also have a few authentic Japanese cards including Blue Eyes Ultimate Dragon - pulled them from packs myself (talk about luck!). For the record, I'm versed in spotting YGO fakes from these sets. ^^
All cards have been kept in card holder page thingies in a trapper keeper. It weighs around 10lbs, if that tells you anything. o_o

Escaflowne "Perfect Vision" tv series DVD boxset - OFFER?
Limited Edition. Figure has never been displayed, DVDs only watched a few times. Nothing missing. Kept everything in the set boxes - everything in great condition.
Ordered direct from Suncoast store in the States.
I still like the series, and it's not officially for sale, but I'll consider offers.
**I have an artbook that IS for sale!


There you go. Thanks for looking! ^^
Comment here or on the doujin post with what you want.
Questions or pic requests welcome.
PMs open!
^^