PLEASE MAKE AN OFFER!
(31+/0/0-) feedback here
http://angeliclolita.livejournal.com/943.html
EVERYTHING NEEDS TO BE GONE! I need money for college ;__; No Trades
-Only accepting USD
-I do own cats, I'll do my best to keep the clothes cat hair free :D
-I AM NOT RESPONSIBLE FOR LOST OR DAMAGED ITEMS
-Only accepting Paypal and Concealed cash
-PLEASE NO TRADES at the moment
-No returns or refunds
*Please leave me feedback if you bought something from me* :)
http://angeliclolita.livejournal.com/943.html
White Lacey Stockings
-New only tried on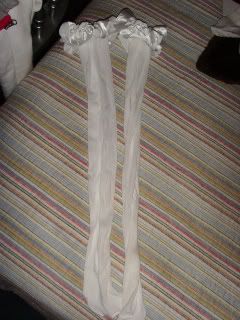 Angelic Pretty Knock off shirt
-Size small
-Tiny holes on the side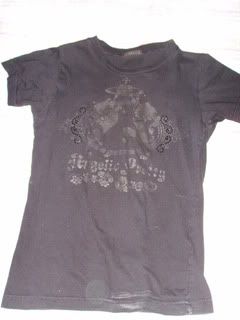 NANA Boots
-Size US 7
-with scuffs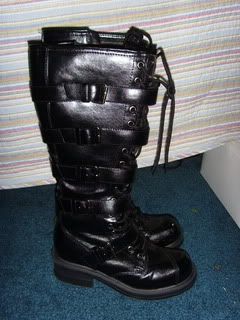 Scuffs:
http://i17.photobucket.com/albums/b59/HandMadienKumiko/Selling%20items/SSL24031.jpg
White Blouse with pinstripes
-Size Medium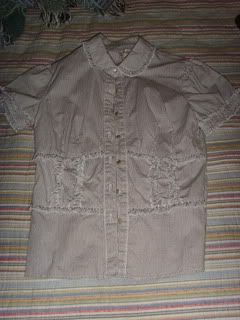 Black Ribbon Pumps
-Size 7.5
Baby Socks
Baby Heart and Crown Knee High Socks- $16 shipped
Brown Hoodie top
-Tank top included :)
-size large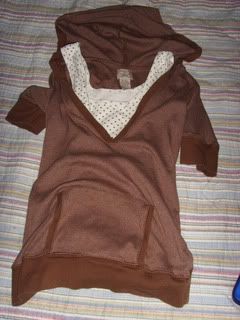 BlackxWhite short sleeved hoodie
-Size Small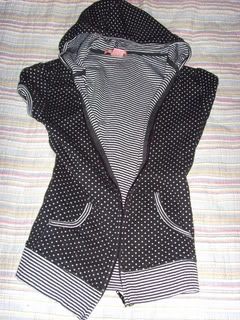 BlackxGray Sweater
-very warm
-Size Large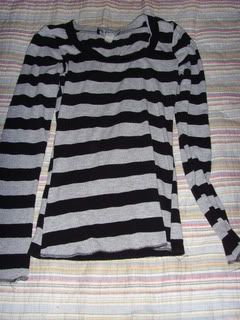 Joe Hisashi Signature Music shirt
-Size small
-Music notes have glitter
Close up
Back
Asian Girl shirt
-Size small (no tag)
-Recommend that you DON'T put it in the dryer, or it'll shrink a little drastically
Grey Blouse
Size Medium
-Worn once
-Includes with the ribbon :3
Green splatter shirt
-Size small
-Splatters on the back too
Purple Striped Vest Shirt
-Size Medium
-Never Worn
White & Red Skull Hoodie Shirt
-Size Medium
Black Mini Skirt
Camo shorts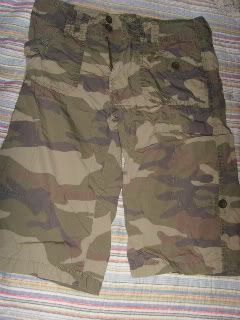 Pink Bunny Wallet
- Inside is clean, only coin pouch and the front is dirty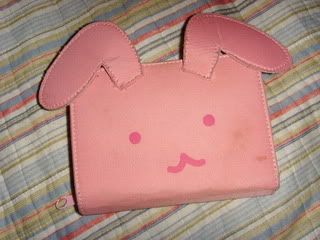 White Floral Headband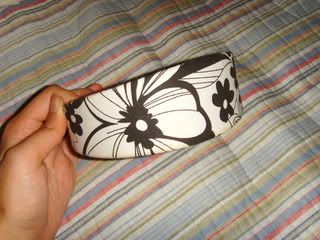 Blue Bow Headband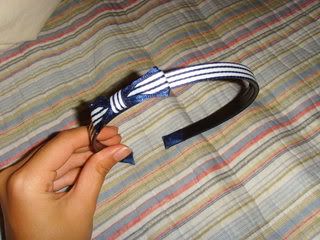 Naruto Keyholder
Make an offer
-used this a couple of times and has some wears
Cell phone straps
Freebies if purchased with an item.
*Edward and Roy Mustang are dirty and lost their color.
Left to right
-Sasuke fortune teller
SOLD
-FMA Edward
SOLD
-FMA Roy Mustang
-Ouran High School Host Club (Tamaki and Haruhi)
SOLD
-Tsubasa Sakura pout
Death Note notebook from the 2nd movie
-comes with the ring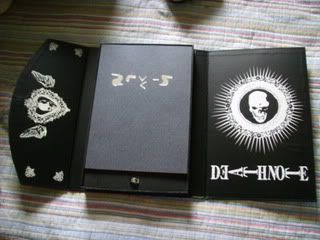 Roy Mustang Cosplay Outfit
*I recommend to early teens because I have to suck in my stomach to fit into the pants >__< *
-Size Small
-Got it from Japan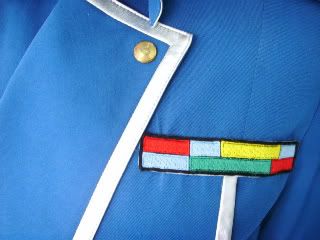 Pikachu Plushie
-Brand New
-Pikachu's cheeks lights up when you press his little hands and when you leave him alone he'll cry. Give him a good home :3
-4 AA Batteries included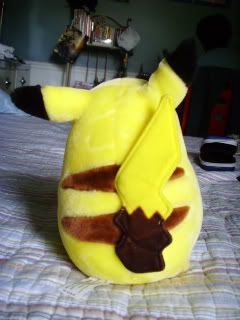 Bleach Poster
Naruto Wallscroll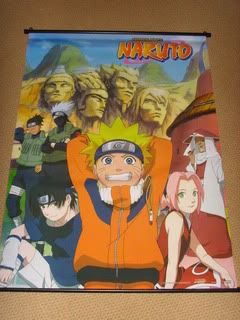 Trigun Wall scroll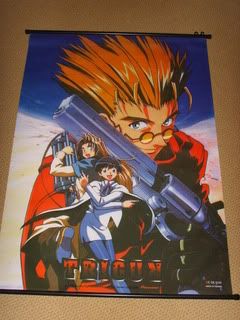 Naruto Wall Scroll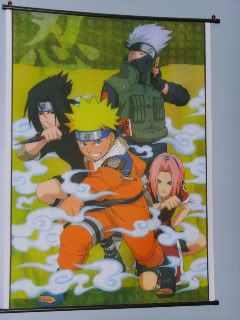 Naruto Art Book
-FREE POSTER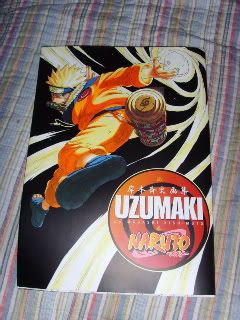 Front of the Poster
Back of the Poster
Naruto Wind Village Cosplay Headband
-Worn a few times
-Great for Cosplay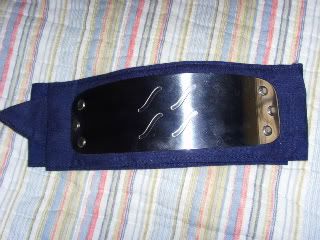 Mangas
Hello Kitty wallet
-Used
-Tiny hole at the bottom of the cash pocket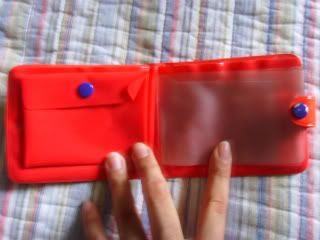 Hair Barrettes/comb
-Blue Polka Dot comb
- Purple Bow Barrette
SOLD
-White Bow Barrette
FREE Black Bow with a purchase of a bow
White Star Studded Belt
-HEAVY
-size 40
-Hole on the belt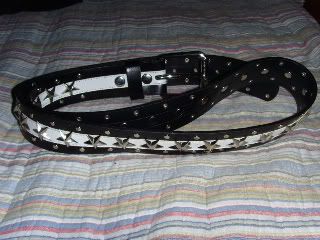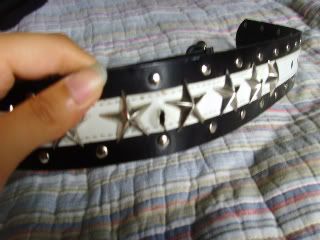 Cute Heart Skull Tote
-Used it a few times
-Pocket in the inside
-Roomy :)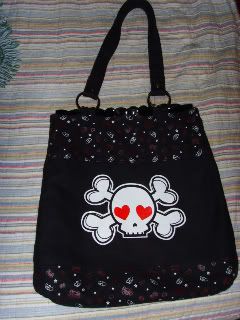 Balls Necklace
-worn for awhile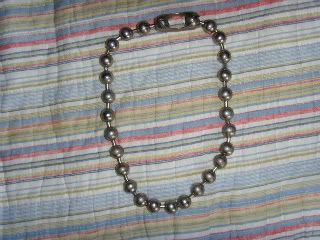 Stud Necklace
-Worn a few times
Spike Necklace
-Worn a few times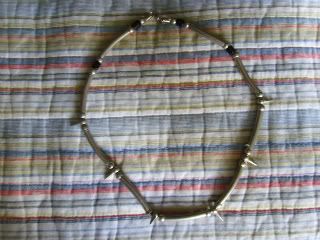 3 Hot Topic Pair Earrings
-Never worn
Glitter
-Used once; didn't like it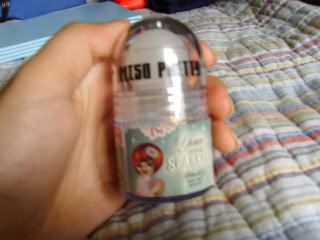 JPop & JRock CDs Each $7 shipped
-2 Pool Bit Boys (PB2)
-FLOW
SOLD
-3 Ayumi Hamasaki Singles
SOLD
-Folder 5
SOLD
-Changing My Life
SOLD
Other CDs
-Yu-Gi-Oh
-Relient K
-Sum41 (no case)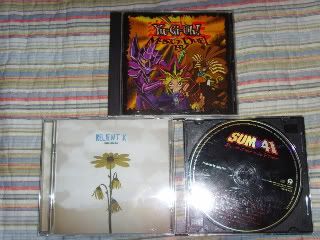 MusiQ? Magazine
-Vol.2 2006 Edition
-Comes with a free DVD (DVD comes with a case)
-Japanese Text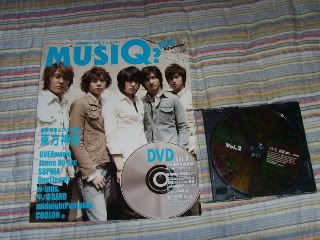 Newsmaker
-back side of the magazine lol (front side was a pic of W-inds)
-2006 Edition
-Japanese Text