Hi All! I'm moving and I have a ton of stuff that I need to get rid of. All prices are negotiable as well. All sorts of things from stationary to toys, CDs, and keychains. Below the cut is fairly image heavy.



All Items are in good condition, and most are in their original package. Any damage/issues will be mentioned for each item.
All prices are negotiable within reason. I'd also be willing to negotiate package deals if you want to buy large quantities.
Paypal payment only! Please don't use a credit card.
I will let you know when an item has been shipped, however, I am not responsible for items lost in the mail.
Shipping will be through the US Post Office, and will be calculated once you have chosen all your items for purchase. I'll package all of the items together to save you money.
My Ebay feedback can be found here I currently have a 100% Feedback :)
More shots of the items can be found in my photobucket folder.


Cherry Blossom Cell Phone Charm w/ Bell $4




Traditional Japanese Character Keychain $3, Kyoto Water Keychain $3




Sesshoumaru Bundle (Cell Phone Charm, Two Collector's Cards) $10




Snoopy and Winnie the Pooh Envelopes $3 Each




Hamtaro Envelopes $3 Each





Hamster Notebook and Pencil $5 (Very minor warp to the notebook, just needs to be under something heavy)




Hello Kitty Envelopes and Stickers $3




Japanese Paper Art $5 each for the first 3, $4 for the last one(I'm not entirely sure what they are, but they are awesome and incredibly gorgeous. If anyone has any idea as to what they're called, I'd be so grateful)




Origami Paper 60 Sheets, $5 Each, Large Origami Paper $4. All of this is completely unopened.




Hello Kitty Pouch $5 (This is another thing I'm not entirely certain on, but it is super cute. If anyone knows what the name is, I'd be very grateful. I've never opened it, so I don't really know what it is)




Purin/Popy Collector's Set $13 (Hiragana Chart, Unopened deck of cards, eraser)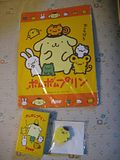 Miniature Geta $4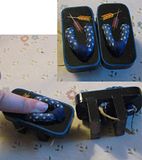 SID Autograph and Photo $40 (There is some damage to the frame (scratches on the glass) and a bit to the matting (small tear), but the Autographs are in pristine condition. There are more pictures of this item on my photobucket)



Sweet? Single $10 (Some scratches to the CD case itself, but the disks are in perfect condition and it includes the inserts)




Hosoi Koe Single $10 (Again, scratches to the CD case but the disks and inserts are in great condition)




Withering to Death $15 (Some very minor wear to the outside sleeve for the CD case, disks and inserts are in great condition)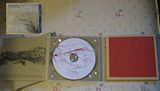 Glay Rare Collectives $25 (2 CD Set)