I added some new items for sale including SMW items, bento items, tins, etc~~

Here's a little preview of the new items:

Prices are in USD and do not include shipping. I am shipping from Canada. Paypal only.
I'm open to trades, pretty much anything Sailor Moon and Pokemon plushies too!
I have over 200 positive feedback as a seller at my

Etsy shop

.

If you're also interested in

other kawaii items from Sanrio, Disney, Kamio, Crux

, etc, visit my journal

for more items! :)





SMW Bento Flags - $8
From the small picture on the bottom, the flags show all the inner scouts & Neptune/Uranus/Pluto too!




SMW Child's Toothbrush - make offer
I'm not sure if it's brand new or not, but I took a close up pic so judge for yourselves!




Sailor Moon Tins - $5 each
Blue one includes a little ruler! These tins can fit band-aids and other small items.

Eternal Sailor Moon Tin - $8
I'm keeping one! Very sparkly & gold!



SMW Plastic Sheets - $4 each
These are small but the artwork is beautiful!

I might or might not sell these, but feel free to make offers!


Sailor Moon Pins

- some are new/sealed, others are in great condition
- all have sparkly gold backing
- pins in second pic are from my collection, shown for a clearer picture without glare from bag

Mars Heart Pin - $5 each
both Venus sold
Luna Pin sold



Venus/Mercury/Mars raindrop-shaped - $5 each
Star Fighter - $5
Venus ribbon - $5
Mars on the very left - $6


Molly / Naru Keychain - Irwin - $4 obo
- sealed, never opened
- a little of the cardboard is scratched off





Tuxedo Mask 6 inch Adventure Doll - Irwin - $10
- sealed, never opened
- top right corner of box is peeled off, besides that, box is in good condition





Sailor Mercury Excellent Model Figure 19 inches tall - Bandai - $100
- these are the most accurate & detailed figures Bandai ever made
- great way to start your Excellent Model collection!
- includes everything it's suppose to come with
- top right corner of plastic window on box is ripped, besides that, box is in good condition
- picture with Moon is for size comparison only, not for sale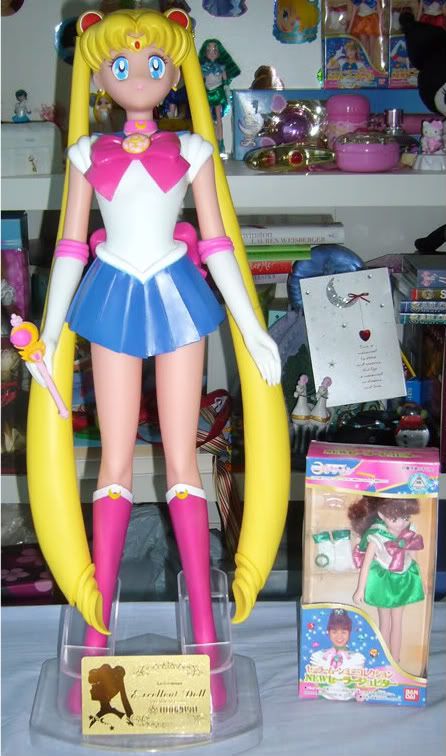 Sailor Moon Cards - $1 each or $4 for all
Sailor Moon North American Cards - $2 for the set obo