Crystal Dog Keychain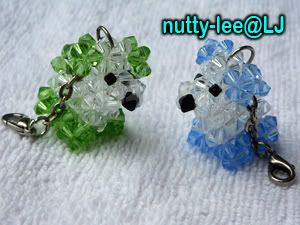 Cute
Crystal Dog Keychain
for your mobile or personal belongings made from nice Crystal. If you are looking for special gift for your special person, this is what you are looking for.
Price: 15 USDSize:
2.5 cms x 2 cms x 3 cms for the doll and 4 cms long for keychain
Option:
Green or Blue as shown in the sample picture...
Please follow the link to original post at my LJ~
[sale] Crystal Dog Keychain
There are more stuffs I have for sale, and pre-order at my LJ as follows,
SALE Post
[sale] J-web Photo Set: Kanjani 8 ~ Off-shot Spring 2008 Tour Concert Pamphlet
[sale] J-web Photo Set: Kanjani 8 ~ Live Spring Tour Concert 2008
[sale] J-web Photo Set: Kanjani 8 ~ Off-shot Summer Tour 2008 Pamphlet
[sale] J-web Photo Set: TegoMass ~ Off-shot PV Ai ai gasa
[sale] J-web Photo Set: KAT-TUN ~ Queen of Pirates Concert Live
[sale] J-web Photo Set: KAT-TUN ~ Live Queen of Pirates Concert in Osaka
[sale] K8 Summer Tour Concert Clearfile (Osaka) -- Shingo
[sale] Paparazzi Goods ~ Arashi
[sale] J-web Photo Set: NEWS ~ Off-shot PV Happy Birthday
[sale] J-web Photo Set: NEWS ~ Pamphlet Winter Diamond Party Concert
[sale] Flower Wire Bookmark
[sale] Sirotan Keychains -- Various
[sale] Handkerchief from Kyoto
[sale] Kitty Keychain ~ Thailand version
[sale] Stitch Bag
[sale] Papa Photo: Tegomass no Ai Concert
[sale] LEGO keychain -- Star Wars Collection
[sale] NYC Boys and Hey! Say! JUMP JE's Official Goods
[sale] Japanese CDs and DVDs :: Others
[sale] Japanese CDs and DVDs :: JE's
[sale] Hello! Project Official Photos
[sale] Papa Photo ~ Maki Horikita
[sale] Official and Papa Photos ~ Kame, Jin and Ryo
[sale] J-web Photo Set: Arashi ~ Dream-A-Live Concert Live
[sale] J-web Photo Set: Arashi ~ Off-shot Pamphlet Dream-A-Live Tour Concert
[sale] Sirotan Keychain ~ Japan Airline
Pre-Order Post
[pre-order] "Pure" Jelly
[pre-order] Animal Shape Paper Clips
[pre-order] Hannari Toufu Strap
[pre-order] Sirotan Keychain ~ Japan Local Cities Collection
[pre-order] Sirotan Keychains -- Bee Costume
PS. Thanks for the space~
Current Mood:
busy