offer me a price on these books!
Battle Royale Complete Guidebook
The best of the available reference material, with lots of color pictures and illustrations. Pictures and interviews of the stars, profiles of the characters, a timeline, design concepts, and a copy of the script (in Japanese).

Battle Royale
The original novel (in Japanese)

BR -> BRII Complete Guidebook
like the Complete Guidebook released in conjunction with the first movie, this book is a colorful visual "full report" on the sequel, PLUS updates on members of the original cast (In Japanese).

Battle Royale II Variations
A novella filling in the gaps between BR and BRII and taking us well into the sequel's events, seen through Shiori Kitano's eyes. Also includes a "Data File" with profiles of the students and a map of Wild Seven's island. The Data file has pictures of each student and their weapons. (in Japanese).

The Road to BRII
A behind-the-scenes photo book closely following the production from rehearsal to the beginning of photography to location shoots to the wrap of the production. Photobook-like. Many photos! Comes with OBI. (in Japanese)

Shuya Nanahara x Shikanotoride Jr. High Class 3-B: BRII White Paper and DVD (Kadokawa Shoten): An "ultimate visual Bible" and companion DVD complete with photographs from the movie, messages from and profiles of the cast, and images not found anywhere else (in Japanese)

Battle Royale
The translation of the original novel (in English)

Battle Royale Manga
vol 1-2 4-9(sealed)
Manga version of Battle Royale. Pretty good and graphic stuff. (in English)
prices are not set; feel free to haggle!
La'Mule - kekkai~Glass shinkei to jigakyoukai~ {WHITE VERSION, DigiPak} $10
Cure - Japanesque Rock collectionz
SHOCK JAM EDITION 2 [includes Shelly Trip Realize, KISAKI PROJECT, MASK, 12012, RusH, SCISSOR and しゃるろっと] {CD in hardcover book} $22
k@mikaze - 野球が殺した。 (Yakyuu ga koroshita) {pink cover, sealed} $10
Psycho le Cemu - Ai no Uta {+DVD} $10
L'arc en ciel - Snow drop $5 (will include sticker sheet w/ 6 l'arc stickers ^^)
Moi dix mois - dialogue symphonie $10
Malice Mizer - Saikai no chi to bara
Malice Mizer - Kyomu no naka de no yuugi
Malice Mizer - Gekka no yasokyoku
Moi dix mois - dix infernal $2
L'arc en ciel - winter fall {3 inch} $5
L'arc en ciel - HONEY {3 inch} $5
L'arc en ciel - DIVE TO BLUE {3 Inch} $5
L'arc en ciel - kisou (3 Inch} $5
Dir en grey - ain't afraid to die $5
Dir en grey - jessica {sealed} $5
Dir en grey - filth {sealed} $5
Dir en grey - -Zan- {3 inch} $5
hide - tribues {+sticker} $9
hide - hurry go round {3 inch} $9
Raphael - Last Graduation $5
Gackt - vanila (1st press, 3") + includes special flyers $5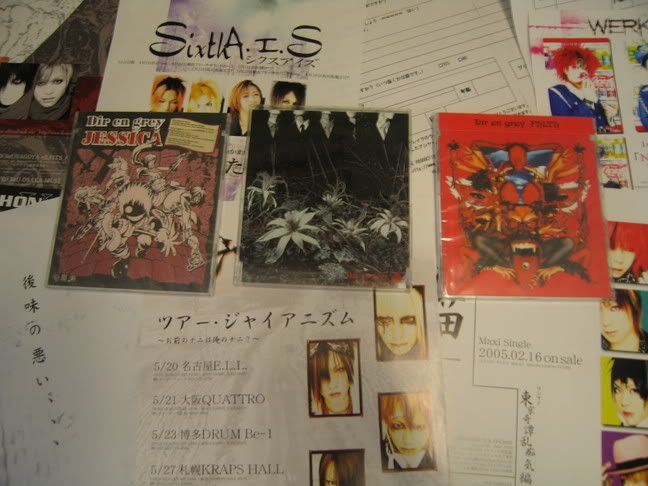 ayumi hamasaki - Daybreak $7 (still sealed!)
shiina ringo - Koufukuron [first press - 3inch] $10
shiina ringo - Koufukuron [second press] $7
shiina ringo - Mayonaka wa junketsu $7
shiina ringo - Gibs $7
shiina ringo - Kabukichou no joou $7
m-flo - tour 2001 expo expo 2CD {digi-pak- first pressing?} $20
m-flo - the replacement percussionists {digi-pak} $16
soulhead (j-urban) - reflection [2CDS; includes their best works]$10
soulhead (j-urban) - lover, knight, man $4
hitomi - h $10
hitomi - huma rhythm {first press} $11
AI (j-urban) - 2004 A.I. $11
tommy heavenly 6 - hey my friend $6
tommy heavenly 6 - love is forever $3
tommy heavenly 6 - wait till I can dream + DVD $6shiina ringo - Shouso Strip [first press] $21
utada hikaru - first love (3 inch) $6
boa - valenti + dvd $10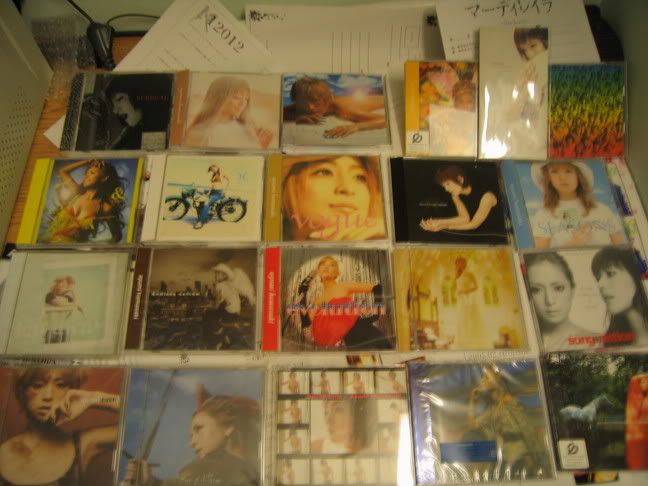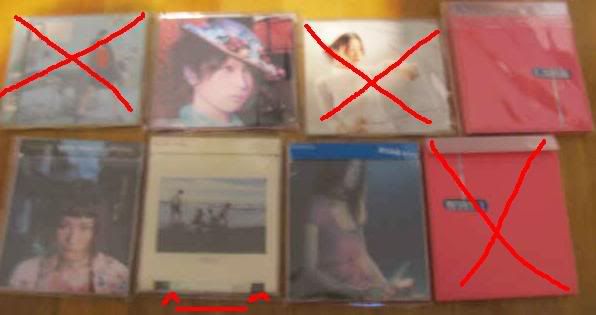 I accept paypal (highly preferred), concealed cash and MOs
mostly trying to get rid of these things, will do trades :X
I accept paypal (
highly preferred
), well-concealed cash (on your own risk) and MOs