First, does anyone have any Serial Experiments Lain stuff? DVD's, Wall scrolls, posters, anything at all?
Also, I have a Kingdom Hearts wall scroll I want to sell. Its huge, not sure of the demensions. Its new, never been hung, but when it was shipped one of the little caps on the bar fell off. the picture looks like this one: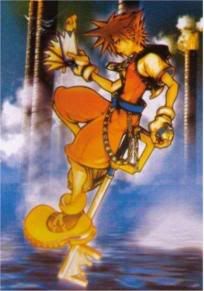 This isnt a picture of the wallscroll, but thats the picture *on* it. I'll take 12 *this includes shipping*, feel free to haggle and I have a feedback entry on the top of my journal. I take paypal, but if you can only do another method just let me know.
Ah yes, I also have a bootleg of Dir en Grey's Kisou album. I've never listened to it. The case and booklet look real, but its definatly a bootleg. Please take this off my hands. I paid 12 for it a couple weeks ago, but ill let it go for 9 *this includes shipping*
Now, about that Lain stuff? :P:P