Sirotan Keychain -- Japan Local Cities Collection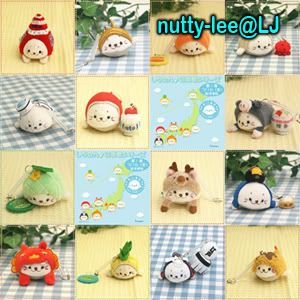 New collection of cute Sirotan Keychain for famous cities and symbols in Japan.
The price is
9 USD
for each.
* except Tokyo version is
11 USD
.
Under could be used for cleaning the mobile or LCD of digital camera.
There are 14 different styles to choose, so follow the link to see how cute they are~
* Please choose 1 more type as backup, in case there is none in the shop we go.
[pre-order] Sirotan Keychain ~ Japan Local Cities Collection
There are more stuffs I have for sale, and pre-order at my LJ as follows,
SALE Post
[sale] J-web Photo Set: Kanjani 8 ~ Off-shot Spring 2008 Tour Concert Pamphlet
[sale] J-web Photo Set: Kanjani 8 ~ Live Spring Tour Concert 2008
[sale] J-web Photo Set: Kanjani 8 ~ Off-shot Summer Tour 2008 Pamphlet
[sale] J-web Photo Set: TegoMass ~ Off-shot PV Ai ai gasa
[sale] J-web Photo Set: KAT-TUN ~ Queen of Pirates Concert Live
[sale] J-web Photo Set: KAT-TUN ~ Live Queen of Pirates Concert in Osaka
[sale] K8 Summer Tour Concert Clearfile (Osaka) -- Shingo
[sale] Paparazzi Goods ~ Arashi
[sale] J-web Photo Set: NEWS ~ Off-shot PV Happy Birthday
[sale] J-web Photo Set: NEWS ~ Pamphlet Winter Diamond Party Concert
[sale] Flower Wire Bookmark
[sale] Sirotan Keychains -- Various
[sale] Handkerchief from Kyoto
[sale] Crystal Dog Keychain
[sale] Kitty Keychain ~ Thailand version
[sale] Papa Photo: Tegomass no Ai Concert
[sale] LEGO keychain -- Star Wars Collection
[sale] NYC Boys and Hey! Say! JUMP JE's Official Goods
[sale] Japanese CDs and DVDs :: Others
[sale] Japanese CDs and DVDs :: JE's
[sale] Hello! Project Official Photos
[sale] Papa Photo ~ Maki Horikita
[sale] Official and Papa Photos ~ Kame, Jin and Ryo
[sale] J-web Photo Set: Arashi ~ Dream-A-Live Concert Live
[sale] J-web Photo Set: Arashi ~ Off-shot Pamphlet Dream-A-Live Tour Concert
[sale] Sirotan Keychain ~ Japan Airline
[sale] Stitch Bag
Pre-Order Post
[pre-order] "Pure" Jelly
[pre-order] Animal Shape Paper Clips
[pre-order] Hannari Toufu Strap
[pre-order] Sirotan Keychains -- Bee Costume
PS. Thanks for the space~
Current Mood:
amused