★ H U G E B L O W O U T S A L E★

plenty of anime/manga related goods below such as shitajiki (pencil boards), comics, a DS game, figures, doujinshi, CDs, stationary items, etc! also, j-pop/idol related items as well, ie CDs, promotional items and a vinyl record (Utada Hikaru). also a few misc goods such as Shiseido nail polish, one*way clear file and a mini school bag. series & big names including, but not limited to, Love Hina, Negima!?, Rurouni Kenshin, Sakura Taisen, Yuukyuu Gensoukyoku, Excel Saga, Fruits Basket, Lunar, Super GALS Kotobuki Ran, Sister Princess, Sailor Moon, Shin Tenchi Muyo, Digi Charat, Pokemon, Nana Mizuki, Megumi Hayashibara, Nonaka Ai, Morning Musume, Kumi Koda, B'z, m-flo, melody., BoA, Hirahara Ayaka, Ayumi Hamasaki, Maki Goto & more below the cut~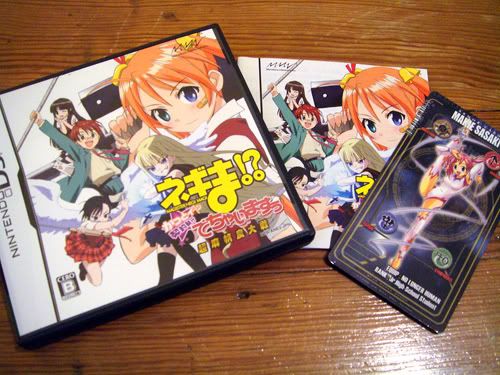 Important Information
~ although prices are listed for a reason, please feel free to make a reasonable offer. generally, i will not accept trades, but if you happen to have (japanese) dragonball, maison ikkoku, orange road or other 80s goods, i may consider.
~ i ship from zip code, 02907. US buyers preferred but international are still welcome to inquire. i charge shipping by weight: if you purchase many items i will combine shipping. if requested, i can ship via priority mail flat rate boxes when available.
~ b/c of a hectic work schedule, i ship parcels together on thurs-fri of each week.
~ paypal preferred, however money order or concealed cash may be considered on a case by case basis. buyer will pay paypal fees if applicable.
~ i took these photos smack dab in the middle o' the night so the lighting is poor. if you need a better pic, please do not hesitate to ask.
~ please leave a comment or e-mail (mariijane@gmail.com) with any questions.

lastly, freebies & goodies for all who order (^^
~ i have many more items to sell in the near future. all cds/goods come from a smoke free home & were kept carefully in storage for several years, dust free.

ANIME

Shitajiki

these are quite lovely 'lil collectibles with an useful function for class or the office. they're thin, flexible layers of plastic used under writing paper to avoid denting the rest of the pages. all shitajiki listed below have been stored in plastic sleeves, in an airtight book for somewhere between 10-12 years or so. many of them are double sided, all are authentic from japan. left to right-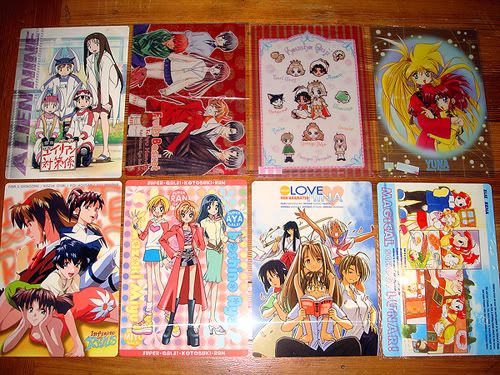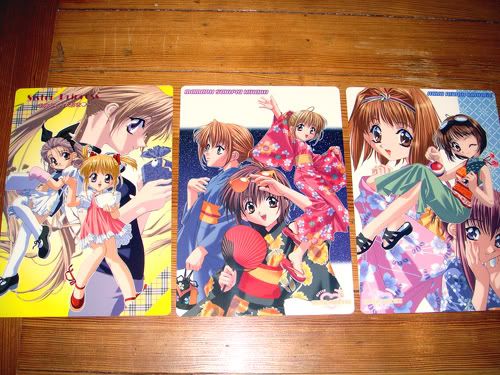 01 Alien Nine $5.00
02 Fruits Basket $6.00
03 Koucha Ouji $6.00
04 Yuna Galaxy Fraulein $6.00
05 Infinite Ryvius $5.00
06 Super GALS! Kotobuki Ran $5.00
07 Love HIna $5.00
08 Lunar $5.00
09 - 11 All, Sister Princess, $5.00 ea.

Books, Manga, Doujin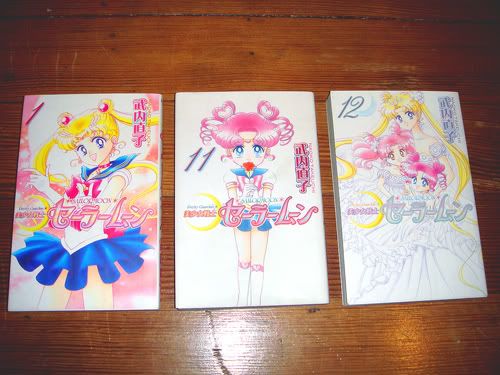 Sailormoon Manga, $5.00 ea., all in very good condition, only read once or twice.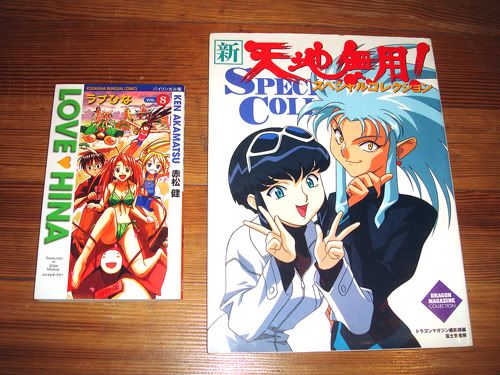 Love Hina Kodansha Bilingual Comics Ed., Vol. 8 $5.00
- this is a really cool ed. that kodansha was releasing a while ago. i had about ten volumes in total, but i can't find any of them. the comics are printed on high quality paper in both japanese & english. it's really quite special!

Shin Tenchi Muyo Special Collection $10.00
- i've held onto this for years. it's a cute, high quality "guide" to the shin season of tenchi with character bios, a pull out poster (still attached), original story, full colour art, interviews with the seiyuu & more.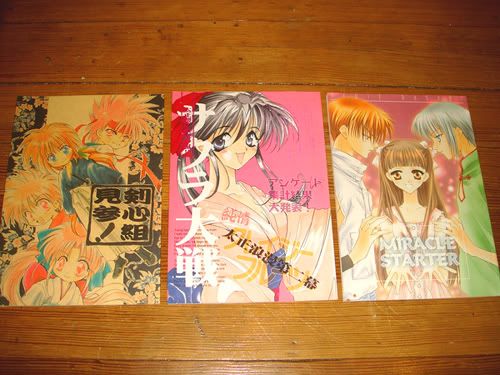 Rurouni Kenshin, Sakura Taisen, Fruits Basket - all doujinshi, $12.00 ea. none are adult.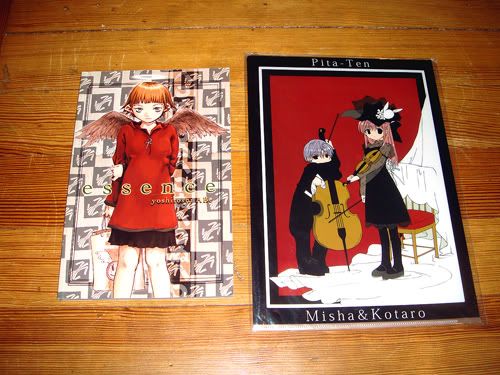 01 yoshitoshi ABe "essence" $12.00
- artbook by ABe of serial experiments lain, fame. very gorgeous art, including b&w line & cgi styles. notes are in english by the artist.

02 Pita Ten clearfile $7.00

Misc Goods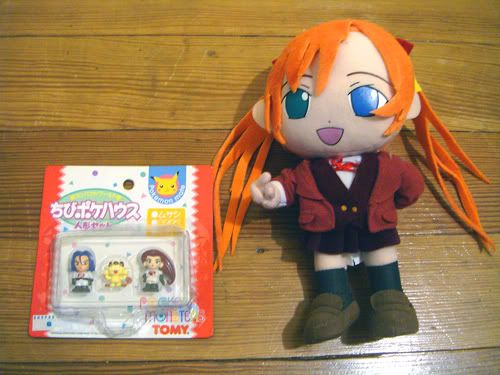 01 Tomy Pocket Monsters "Pokemon mate" $12.00
- these are tiny, very cute sets of mini figures. i've had this one since high school but i'm ready to part with it! brand new, sealed.

02 Negima UFO plushie $5.00
- very cute plush that stands on its own! the tag was clipped since it was originally placed in a less than good looking place ;;

Games, CDs, etc.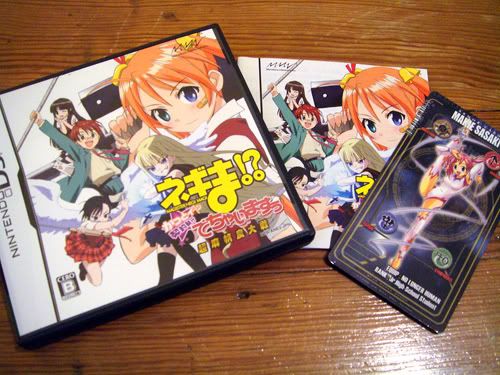 Negima!? Chou Mahora Taisen Kattorin, Keiyaku Shikkou Dechai Masou DS Game, *rare first pressing $35.00
- this is a really fun, adventure/RPG style game (similar to sakura taisen). i played through it twice, and found it enjoyable each time. i hate to part with it but it's gathering dust anyhow. first pressing comes with a character card. language is japanese, comes with booklet, inserts, card & cartridge.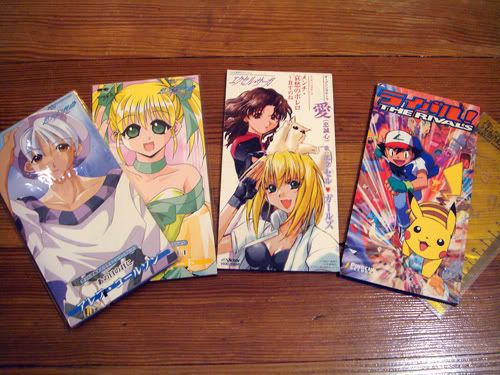 8cm singles
* note, Yuukyuu Gensoukyoku singles have a tiny slit cut at the bottom. otherwise, the discs are scratch-free.
01 Koyasu Takehito - Ano hi no Kimi no (Yuukyuu Gensoukyoku) $4.00
02 Sakura Tange - BRILLIANT CUT (Yuukyuu Gensoukyoku) $4.00
03 Ai (Excel Girls) - Menchi Aishuu no Bolero (Excel Saga) $5.00
04 Rika Matsumoto - Raibaru! (Pokemon) *1st press w/mini ruler $10.00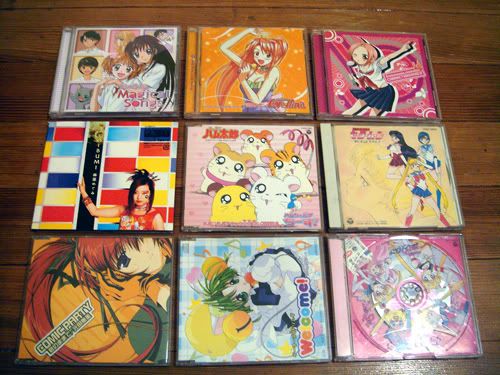 albums & singles
*all are japanese releases w/orig. obi unless otherwise noted

01 Ultra Maniac - Magical Songs (Geneon release w/romanized lyrics) $5.00
02 Love Hina - Hinata Girls Song Best (Geneon release w/romanized lyrics) $5.00
03 Sumomomo Momomo ~Chijo Saikyo no Yome~ - Character Songs $8.00
04 Megumi Hayashibara - KOIBUMI (Digipack vr) single $8.00
05 Ham chanzu - LOVE LOVE ATTACK Dai-Sakusen! *1st press. w/stickers & 8cm cd $8.00
06 Sailor Moon - Ai wa Doko ni Aru no? *orig. 1992 release $20.00
07 Comic Party (Emi Motoda) - Kimi no Mama de $5.00
08 Digi Charat - Welcome! Katou Hiroki Ver. *very rare, orig. GCF-001 ver. $20.00
09 Sailor Moon - Character Vision *unique. a small cd with a plastic ring around it featuring Usagi from each season. contains four theme songs. the disc is quite special to look at. $20.00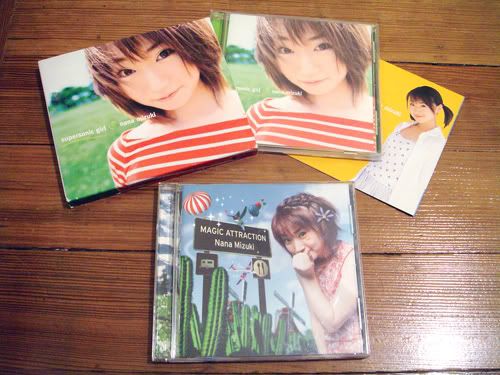 01 Nana Mizuki - supersonic girl *1st press album w/slipcase & 2002 fold calendar $18.00
02 Nana Mizuki - Magic Attraction $12.00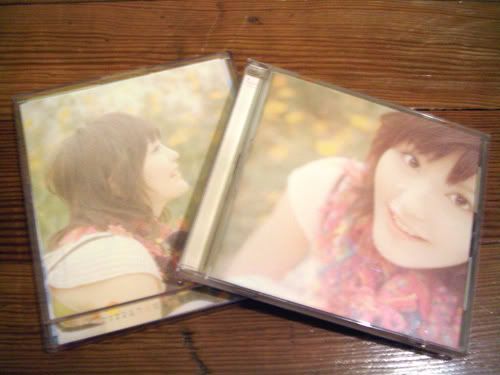 01 Nonaka Ai - Ai no Uta *1st press album w/2006 standup CD-size calendar & ~very thick deluxe booklet $18.00

J-POP/IDOL

MAGAZINES, MISC GOODS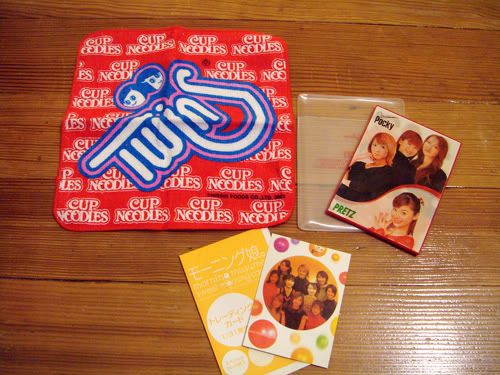 01 Twins (C-pop) terry-cloth tea towel *only unwrapped for photo $3.00
02 Hello! Project Pocky Girls Promo Mirror *quite rare now & still in plastic wrap this was a special promo item for the Glico groups. it has a holographic front feat. the three Glico units at the time, Pocky Girls, Mousse Pocky & Ayaya (Pretz). has case & plastic, unwrapped for photo $12.00
03 Morning Musume sweet morning card promo *2-sided, came in tear out pouch from CD Data $2.00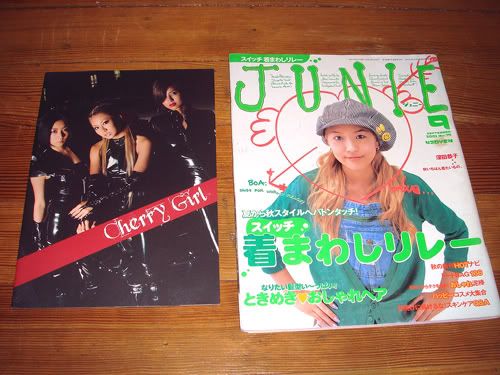 01 Kumi Koda "Cherry Girl" booklet *promo item for kuu-chan's short film feat. notes from kumi, character bios & full colour photos. $5.00
02 BoA "JUNIE" 09/2001, issue no.79 *fashion mag for girls feat. sweet BoA as the covergirl. remember when her brows never quite matched her hair? has a 4-page spread/interview for "Amazing Kiss." $3.00

Singles & Albums



Please note- i also have utada hikaru's "fly me to the moon" vinyl record (not pictured) for sale in its original sleeve for $50.00. e-mail if interested.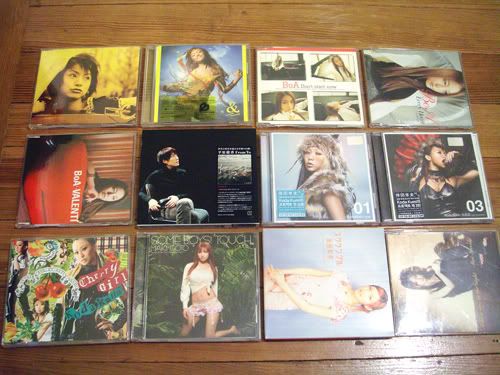 * all are legitimate. japanese releases w/obi unless otherwise noted.

01 Ami Suzuki - THANK YOU 4 EVERY DAY EVERY BODY *Sony Taiwan ver $4.00
02 Ayumi Hamasaki - & $5.00
03 BoA - Don't start now $5.00
04 BoA - Every Heart $5.00
05 BoA - Valenti $5.00
06 Hirahara Ayaka - from to *1st press album w/slipcase 15.00
07 Kumi Koda - you *avex korea ver $4.00
08 Kumi Koda - D.D.D. *avex korea ver $4.00
09 Kumi Koda - Cherry Girls *1st press w/sticker $8.00
10 Maki Goto - Some Boys! Touch $5.00
11 Maki Goto - Scramble *1st press w/slip case, deluxe photo/note book & clear sleeve $8.00
12 Mai Kuraki - Like a Star in the night $5.00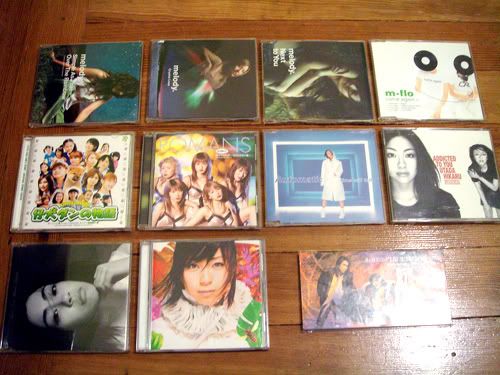 13 melody. - Simple As That $5.00
14 melody. - Crystal Love $5.00
15 melody. - Next to You $5.00
16 m-flo - come again $5.00
17 Morning Musume - Koinu no Monogatari *album from the idol's group's film $6.00
18 ROMANS - SEXY NIGHT~wasurerarenai kare~ *DVD single by the short lived H!P unit feat. two PV vers & behind the scenes. $5.00
19 Utada Hikaru - Automatic $5.00
20 Utada Hikaru - First Love $5.00
21 Utada Hikaru - Addicted to You $5.00
8 cm single -
22 B'z - Ai no Mama ni, Wagamama ni boku wa kimidake wo Kizu Tsukenai $4.00


Fashion, Stationary, Misc Goods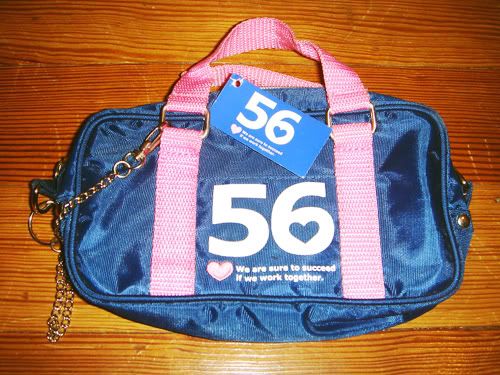 mini schoolbag purse by Kamio Japan *very cute & about as long as a pencil & a half. has a detectable clip-on chain you can use to fasten to your bag or keys. front has a tiny pouch for change or small things to hide. inside is spacious. only used once : tag included although not attached. $8.00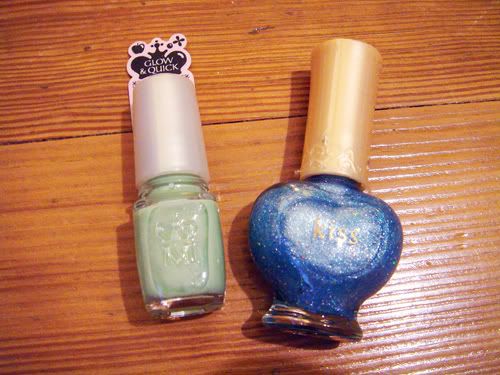 01 Shiseido Majolica Majorca gradation polish *GR140, very pale, beautiful green w/flecks of silver. never used, still has tag attached. $5.00
02 KISS Comestics nail enamel *blue #42, photo is much darker than colour actually is: same tone but a bit lighter. gorgeous, popular shade of steel blue for 2010 autumn. still in plastic wrapping. $5.00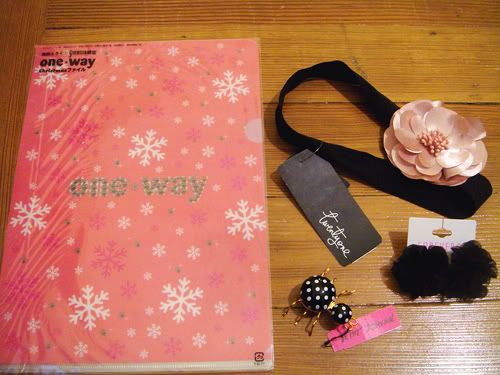 01 one*way x SEVENTEEN holiday file *very popular japanese brand, this was a winter themed clear file included in the dec/jan issue of SEVENTEEN in 2006. still in original plastic, unopened. $5.00
02 forever 21 hair wrap w/pink flower and tag attached $2.00
03 forever 21 puffy black flower earrings *never used or even tried on. $2.00
04 Betsey Johnson b&w ladybug brooch *purchased at retail price, tag still attached $15.00