Status At home.

Rules
-US and Canada Buyers Only
-Paypal Only
-Post your zip code in your comment so I can give you a shipping quote.
-Please be 18 and over. Some of the manga I have is of an explicit nature and I don't want to deal with angry parents.
-Pricing will be put under the heading of each category, unless otherwise noted on an individual item.
-I will post shipping calculations. For US I can do Media Mail, Parcel Post, Priority, and if you're willing to wait for me to go to the Post Office I can do First Class. Canada I can give you a quote for First Class or Priority.
-Please do not send the money as 'gift'. It voids whatever protection you have as a buyer, and I have as a seller.
-The first person to post for a specific item as first call on it. If that order falls through, then it will go to the next person and so on. Please do NOT try to 'outbid' another person. This is not an auction.
-Everything is in like new to mint condition unless otherwise noted.

Manga
Pricing for manga: $3 each. Buy 5 get 6th free. This means books 1-5 will be $3 each, book 6 will be $1.50, books 7-11 will be $3 each, book 12 $1.50, etc. This is NOT Valid on books I have already marked down.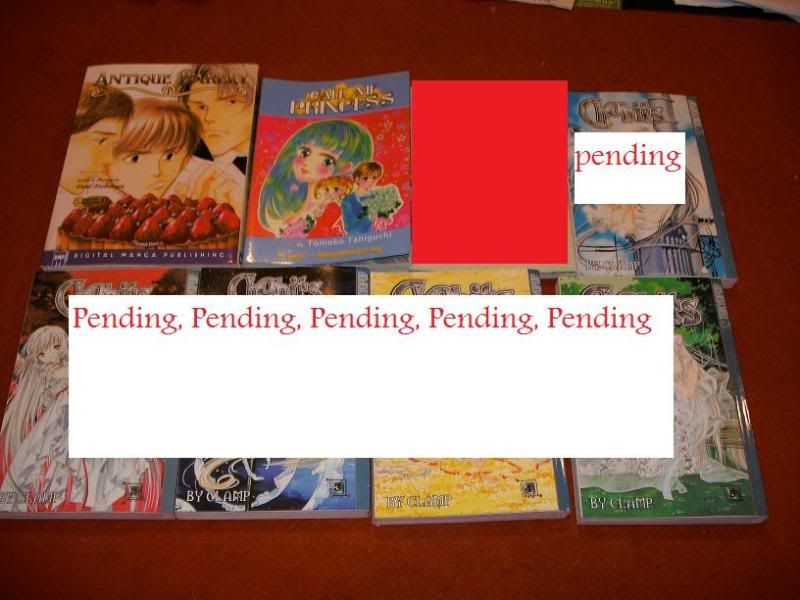 Antique Bakery (shonen-ai), Call Me Princess, Chobits 1-5pending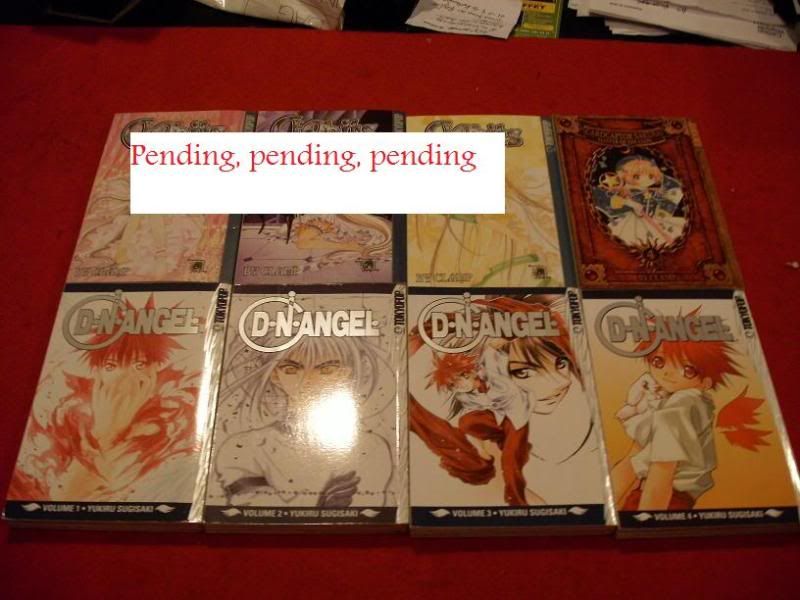 Chobits 6-8pending, Card Captor Sakura Master of the Clow 4, D N Angel 1-4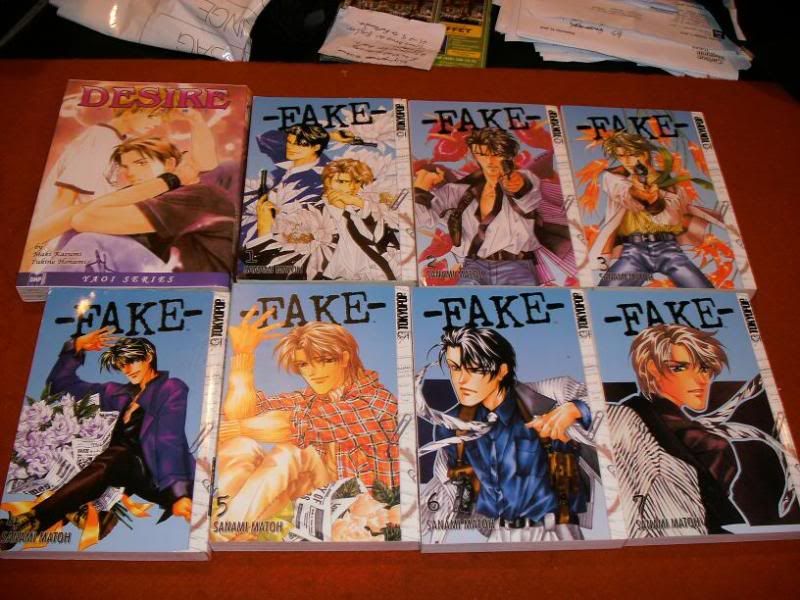 Desire (shonen ai/yaoi), Fake 1-7 (shonen ai/yaoi)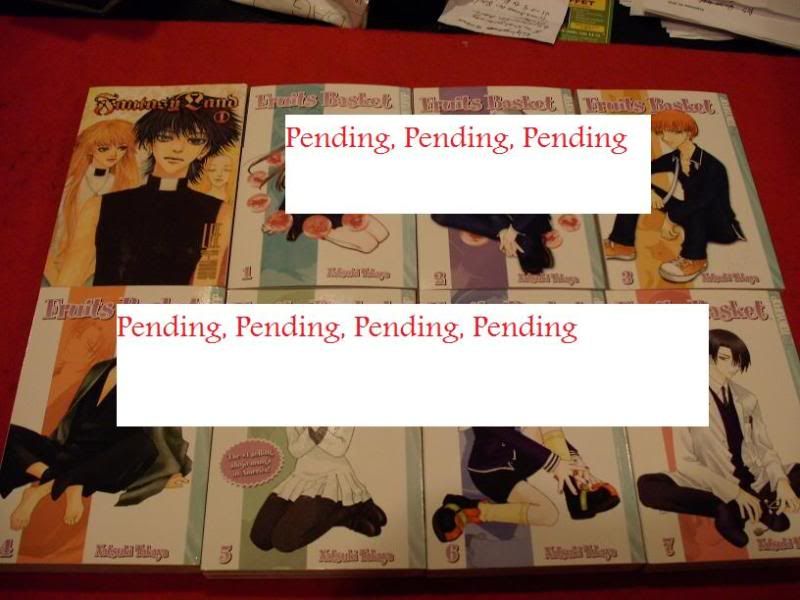 Fantasy Land 1, Fruits Basket 1-7pending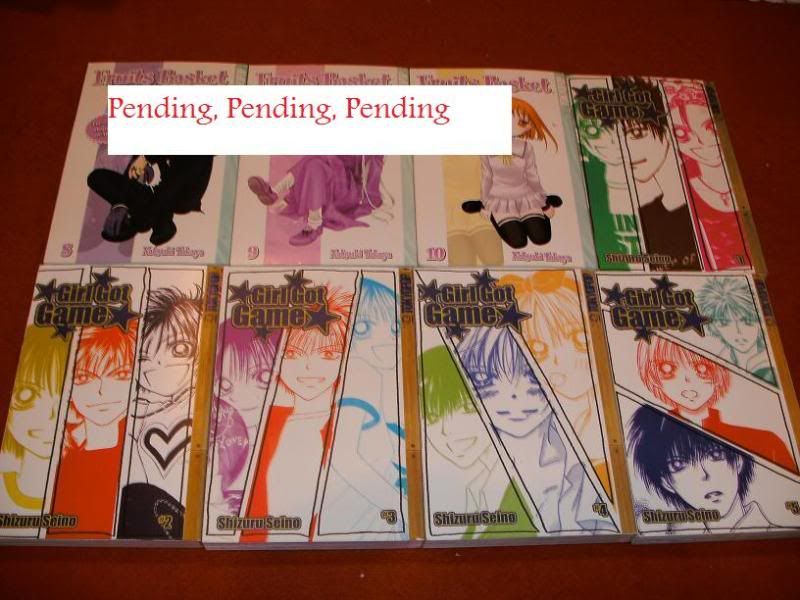 Fruits Basket 8-10pending, Girl Got Game 1-5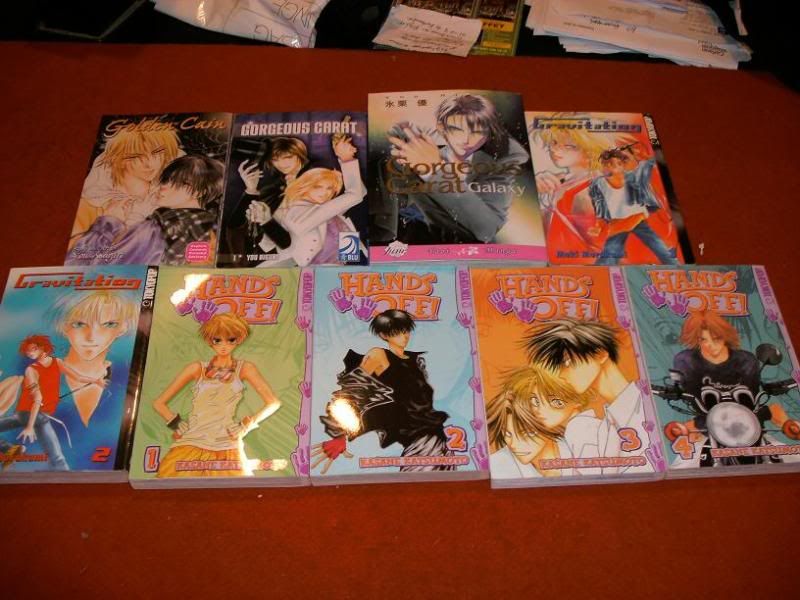 Golden Cain (yaoi), Gorgeous Carat (shonen ai/yaoi), Gorgeous Carat Galaxy (shonen ai/yaoi), Gravitation 1-2 (shonen ai/yaoi), Hands Off 1-4 (shonen ai)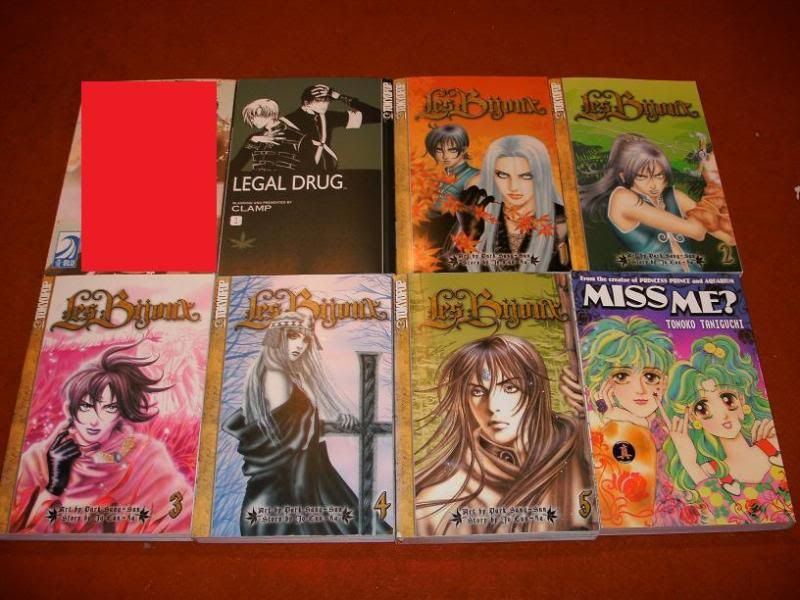 Legal Drug 1, Les Bijoux 1-5, Miss Me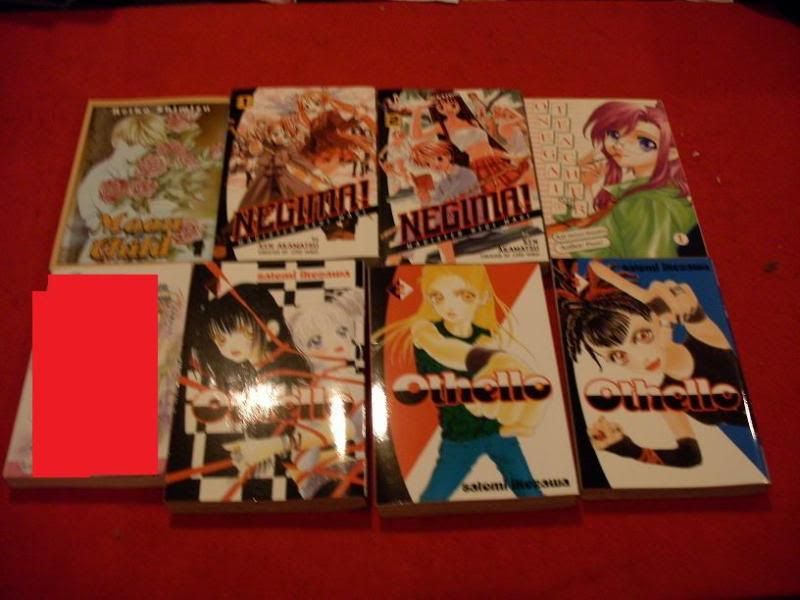 Moon Child 1, Negima 1-2, Onegai Teacher 1, Othello 1-3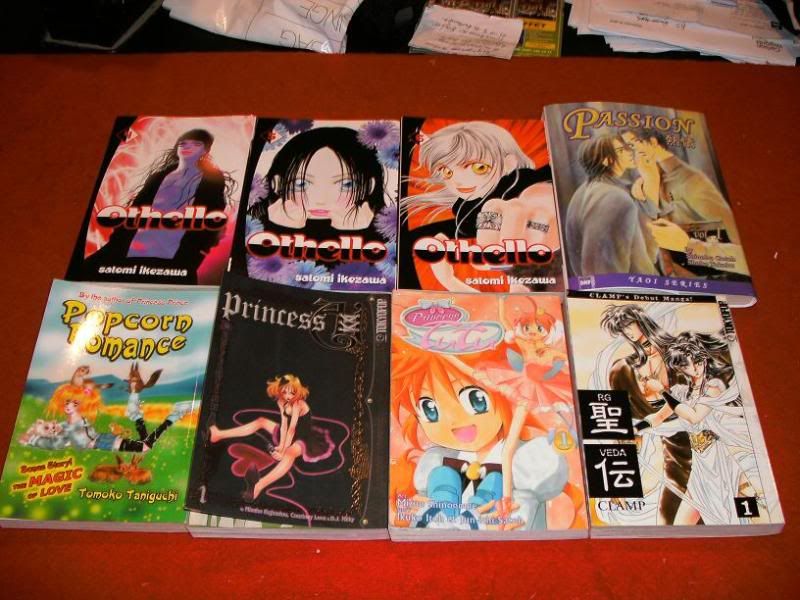 Othello 4-6, Passion 1 (shonen ai/yaoi), Popcorn Romance, Princess Ai 1, Princess Tutu 1 (this I'm selling for $1.50 due it to be in rough condition from buying it at a Half Price Books), RG Veda 1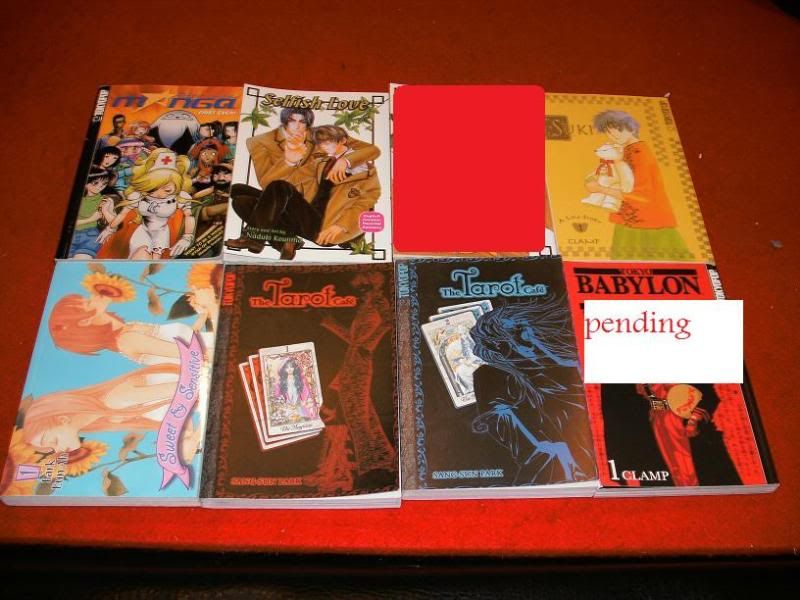 Rising Stars of Manga 1, Selfish Love 1 (yaoi), Suki 1, Sweet and Sensitive 1, The Tarot Cafe 1-2, Tokyo Babylon 1pending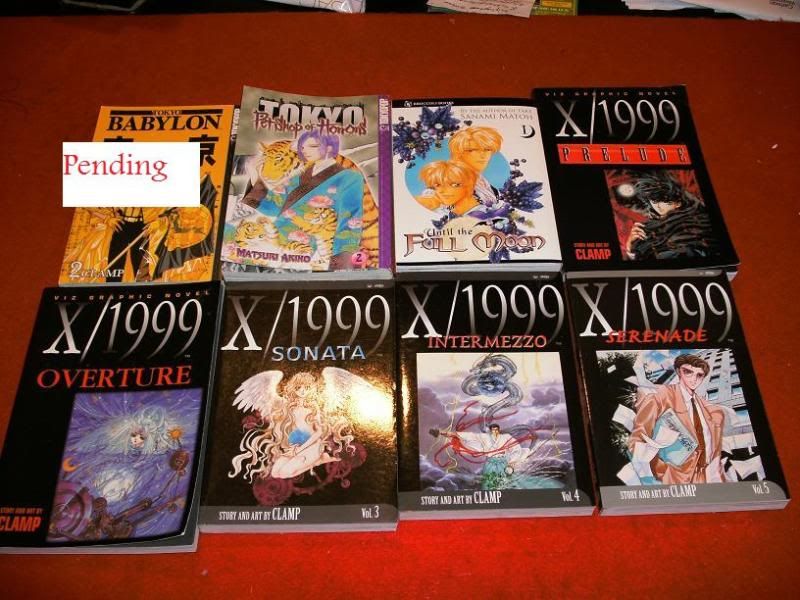 Tokyo Babylon 2pending, Tokyo Petshop of Horrors 1, Untill the Full Moon 1 (shonen ai/yaoi), X/1999 1-5 (1 and 2 are in the old large format, rest are in smaller format)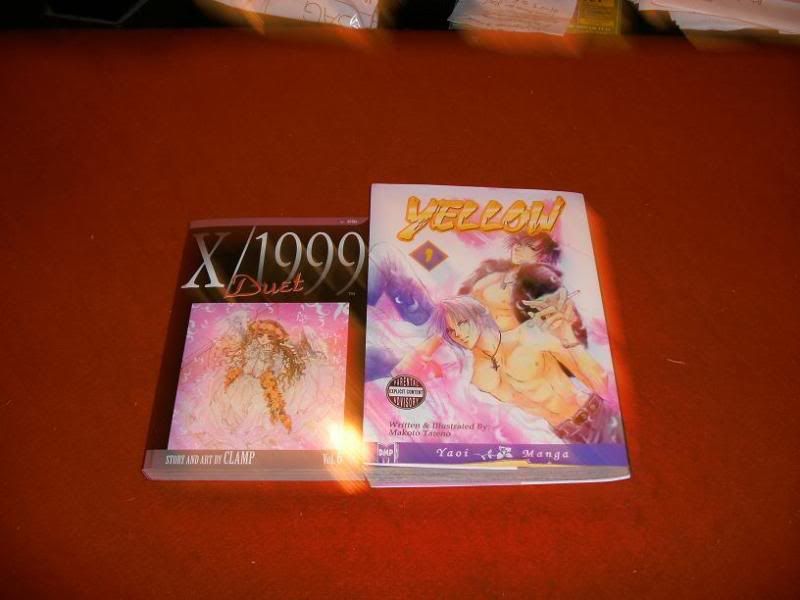 X/1999 6, Yellow 1 (shonen ai/yaoi)


Jrock
Cure Magazines $8, buy two get third free. Like above, this means magazine 1 and 2 are $8 each, 3 is free, 4 and 5 $8, 6 free, and so on. These will not come with posters or any other furoku, seeing as most of my posters got ruined and I can't remember what else they came with.



July '06, August '06, September '06, October '06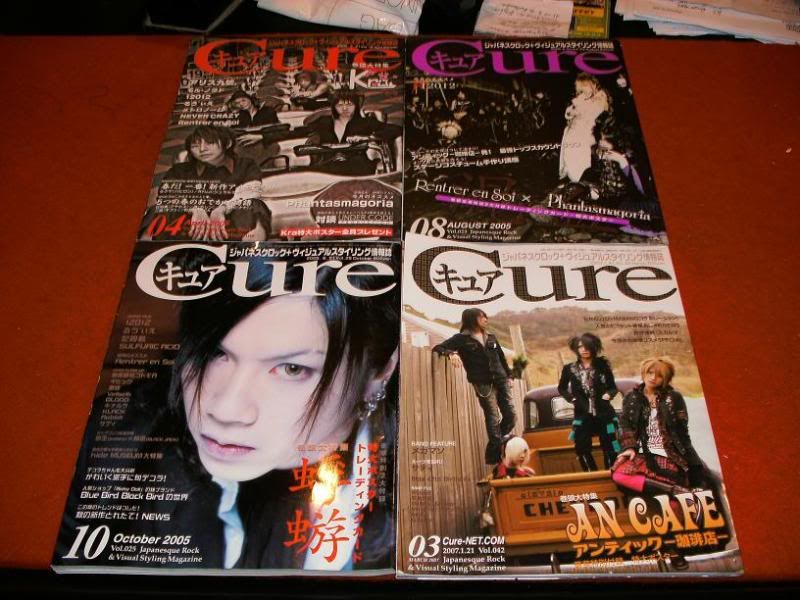 April '05, August '05, October '05, March '07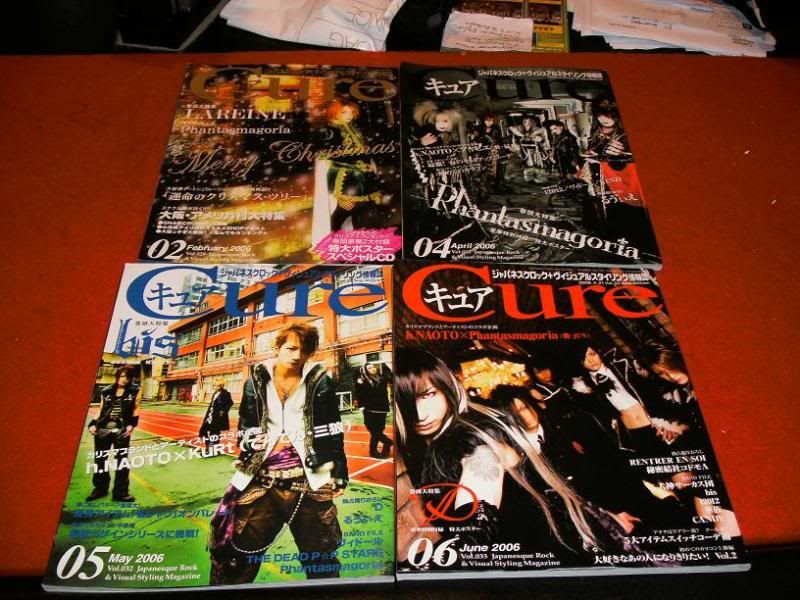 Febuary '06, April '06, May '06, June '06

Morning Mesume books. These both are copyrighted 2002. I don't know much about them, but I'd like to at least get part of what I bought them for. I'll sell them for $6 a piece.