Trying to get rid of some of my old manga.

Manga: - 3$ each
Black Cat 1
Hellsing 2
Hero Tales 1-2
YuGiOh GX 1

Yu-Gi-Oh! Manga Set - 25 volumes - 80$ (200 retail)
Yu-Gi-Oh 1-2, 4, 6
Yu-Gi-Oh Dual Masters 6-23
Yu-Gi-Oh! Millennium World 2, 3, 5

Novels:
Death Note - L : Change the World - 8$ hardcover

Shounen-ai manga:
07-Ghost 1-3 - 14$ set
Cross-x-Break 1 - 4$

Yaoi manga - Ayano Yamane:

Viewfinder 1(Ayano Yamane) ORIGINAL EDITION OUT OF PRINT - 50$ or best offer
A Foreign Love Affair (Ayano Yamane) ORIGINAL EDITION OUT OF PRINT - 20$
Crimson Spell 1 (Ayano Yamane) OUT OF PRINT - 12$
Crimson Spell 2 (Ayano Yamane) OUT OF PRINT, EXTREMELY RARE - 70$
** Latter two based off of Amazon prices.

Yaoi Manga - Other
S 1 (lite novel) - 5$
Hero Heel 1 (Makoto Tateno) - 5$
Jazz 2 - 5$
Madness 1 - 5$
Romantic Illusions (Reiichi Hiro) - 5$
Yellow (Makoto Tateno) 1-4 sold as set only - 24$




Like-new condition. None have been scanned, so the bindings are still very nice.

Togainu no Chi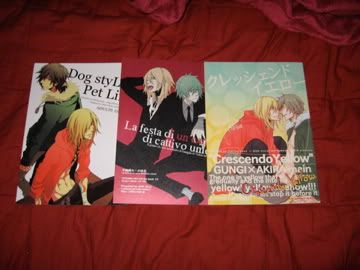 Name : Crescendo Yellow
Circle : DOG VILLE
Pairing: Gunji x Akira
Type / Rating: yaoi/gag, NC17
Pages: 20
Cost: 12$

Name : La festa di un cane di cttivo umore
Circle : DOG VILLE
Pairing: Gunji x Akira
Type / Rating: yaoi, NC17
Pages: 32
Cost: 12$

Name : Dog Style / Pet Life
Circle : DOG VILLE
Pairing: Gunji x Akira
Type / Rating: yaoi, NC17
Pages: 18
Cost: 12$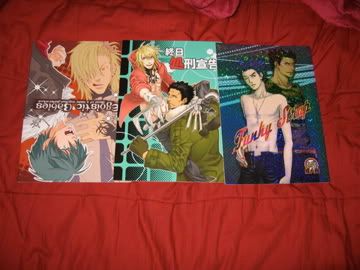 Name : Egoistic Babies
Circle : FamiCom
Pairing: Gunji x Akira, Kiriwar x Gunji
Type / Rating: Light yaoi, gag, PG15
Pages: 28
Cost: 8$

Name : Unknown
Circle : Ku*TEN
Pairing: Kiriwar x Gunji, Arbitro, Shiki, Inu
Type / Rating:
Pages: 36
Cost: 9$

Name : Funky Strap
Circle : CM-x
Pairing: Kiriwar x Takeru, Gunji x Akira
Type / Rating: hard yaoi, gag, R
Pages: 26
Cost: 9$

Lamento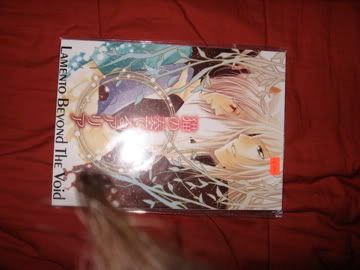 Name : Neko n Kanaderu Aria
Circle : Kushibirukara Sandonjuu
Pairing: Rai x Konoe
Type / Rating: Shounen-ai/soft yaoi, PG/PG13
Pages: 20
Cost: 6$

There may or may not be more coming. I have 3 more TnC ones I'm on the edge about keeping (Another Gunji x Akira, a Kiriwar x Gunji, and a Kiriwar x Takeru) IF YOU ARE INTERESTED, LET ME KNOW AND I WILL PUT THEM UP.



Negotiable prices: Yes. All prices are negotiable. However, don't be surprised if I turn down unreasonable low offers.
Trades: I often have people asking me if I would like to trade. The answer is no. The only way I will take trades is if you normally take art commissions.
Payment: Can take Paypal or MO.
Shipping: Shipping within the US/Canada will be quite cheap. Please let me know your zip code or country and I will send you the amount.