Still need money; still need space. Lots of new items added to see if there are any takers and new sale offer in effect! Please take a look - I really need to get rid of some of this stuff!

Most items are now 20-60% off the ORIGINAL ASKING PRICE! Additionally, I am offering the following sales through the first of the year (if not longer):
★10% off purchases of $20 or more
★20% off purchases of $40 or more
Percent taken off of item total, not shipping price. As usual, reasonable offers and negotiations are always welcome. However, percent discounts only apply to my listed prices. Any offers/negotiation accepted will be for the proposed price.

Payment and Shipping Information

Payment: I accept PayPal, US Money Orders, and Concealed Cash (In USD and at Sender's Own Responsibility. Anyone choosing to use PayPal will be asked to make up the fee difference. I will calculate it for you.

Shipping: Please comment with the name of the items(s)that you are interested in and your Zip Code (if located in the USA) or your Country and I can give you a shipping estimate.
- Delivery Confirmation is available in the USA for an additional $.80 - please let me know up front if you want this added on.
- I ship as cheap as possible, unless buyer requests different.
- Orders of two or more CDs/DVSs, or any combination of the two, will automatically be shipped Flat Rate Priority unless specifically requested.
- Over-estimates of $1 or more will be refunded via method of payment.
- Once a purchase is shipped, I am not responsible. I highly suggest Delivery Confirmation.


JRock/VK CDs, Singles, etc.

Aikawa Nanase



★Crimson --- $8
Condition: Very good. Case, disc, and booklet in very good condition. Comes with cardboard sleeve. No Obi.
★Foxtrot --- $8
Condition: Good to Very Good. Case and booklet in excellent condition. A few minor scratched on disc. No Obi.
Feature: Comes with an extra live mini single.
★ID --- $7
Condition: Good to Very Good. Booklet and disc in great condition. Case has some storage wear. No Obi.
★Paradox --- $7
Condition: Good. Disc has a few minor scratches and booklet has marks where it was inserted incorrectly (as for pics if interested). No Obi.
★Red --- $7
Condition: Good. Disc has a few minor scratches, booklet is slightly bent. No Obi.

Buy the lot for $33 (shipping not included)


Balzac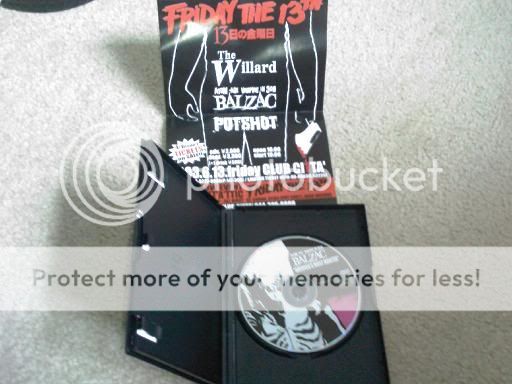 ★America's Most Wanted DVD --- $15 Or Best Offer
Condition: Very Good. Watched only once. Comes with flyer for live show.


Baroque



★Sukebe Boy Single --- $4
Condition: Good. On small scratch that does not affect play. No Obi.


Dir en grey



★KIMON (DVD) --- $30
Condition: Very Good. Has been watched very few times. Comes with Obi.
★Macabre (First Pressing with Beads and Etched Cover) --- $20 SOLD
★Sticker Set (2002 Tour) --- $10
Condition: Practically brand new. Have been kept in a plastic sleeve and never used.
★Haiiro no Ginka Vol.28; 2005 --- $18
Condition: Near Mint. Has been sitting on my shelf since I go it. Flipped through once or twice. Documents European tours.
★Hot Topic T-Shirt (Size SMALL) --- $15 or Best Offer
Condition: New. Was bought for me when they were being sold at Hot Topic and does not fit. Was only tried on once and has been stored with my other shirts in an air proof bag. Measurement available on request.
★Metal Hammer Magazine --- Price: Taking offers + shipping to wherever you are
Condition: New. Bought and looked through once. Still has plastic covering and comes with CD. Has a mini review of a Dir en grey live. Contact me for more info/pics.


hide


★Hide Your Face --- $10
★Psyence --- $8
★Ja, Zoo --- $8
Condition (of all hide CDs): Good. Each CD has a few scratches but they play fine. Cases and booklets are in good to very good condition. No obi for any.


NeiL



★MISERY --- $9
Condition: Very Good. Disc in great condition. Comes with Obi.


Raphael



★1999 Tour Book/Pamphlet --- $12
Description: 10 full color pages. About 12"x12".
Condition: Fair. Has some pencil marks on back cover and minimal wrinkles on the front. Could probably be remedied by flat storage. More pictures available on request.

Raphael NOTE: I also have a full collection of Raphael VHS music video clips as well as the Kazuki Memorial vid if anyone is interested :D Asking price would be $20 for each VHS - discount available for multiple purchases.


rice



★Rame/Mera - OOP --- $20
Condition: Good. Has one small scratch, but plays fine. With obi.
★f~forte~ --- OOP --- $10
Condition: Very Good. No scratches. With obi.
★Mei --- OOP --- $10
Condition: Very Good. No scratches. With obi.
★Heart is always... --- OOP --- $10
Condition: Very Good. No scratches. With obi.


Shulla



★Chabangeki Sono Ni --- $8
Condition: Very good. Some wear on the case and obi. Disk in great condition.


Sugizo



★Dear LIFE (Single) --- $4
Condition: Good. Obi included, but has a tear.
Feature: Comes with Postcard.


X Japan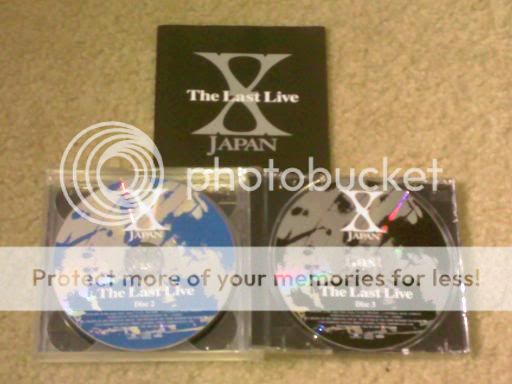 ★The Last Live --- $28
Condition: Good. Three disc set. Discs 1 and 2 have some scratched but they play perfectly. Booklet intact. No obi.


Sampler CD



★Danger Crue Records Sampler CD --- Free with other purchase or Best Offer
Condition: Very Good. Has songs from Mucc, Girugamesh, SID, ROACH, 176BIZ, Creature Creature, and acid android.


Visual Magazines (listed by cover artist)
I have a lot more older magazines that I may be willing to part with. Please ask if you are looking for something specific!

Alice Nine



★FOOL'S MATE - #335; Sept. 2009 --- $5
Condition: Very good. Kept in plastic. Was not sold with poster.
Features: Alice Nine, Acid Black Cherry, Kiyoharu, Nightmare, cali≠gari, etc.


Gackt



★UV - Vol. 71; 2001 --- $8
Condition: Good. Has some minimal wear around the corners. Comes with Poster.
Features: Gackt, SIAM SHADE, BUCK-TICK, Plastic Tree, Dir en grey, and more.


Janne da arc



★SHOXX - Vol. 97; 2001 --- $10
Condition: Very good. Kept in plastic. Very slight shelf wear. No poster.
Features: Janne da arc, LUNA SEA, Plastic Tree, Due le quartz, Kazuki (Raphael), etc.


Kagrra



★SHOXX - Vol. 169; 2007 --- $5
Condition: Good. Kept in plastic. No Poster.
Features: Kagrra, Nightmare, Alice Nine, The Gazette, MUCC, etc.


Kirito



★SHOXX - Vol. 93; 2000 --- $10
Condition: Very good. Kept in plastic. Very slight shelf wear - barely noticeable. No poster, but comes with Kamijo fold out.
Features: Kirito, hide, Lareine, Malice Mizer, Janne da arc, Due le quartz, etc.


MUCC



★Zy. - No.50;2010 --- $12
Contition: Brand new. Looked through once, and put in to heavier plastic covering.
Features: MUCC, Girugamesh, Ruki, Nightmare,etc. Comes with mint double-sided post (MUCC/Girugamesh), MUCC postcard, and CD/DVD extra disc.
★SHOXX - Vol. 159; 2006 --- $8
Condition: Very good. Kept in plastic. Almost no storage wear.
Features: MUCC, the Gazette, Arimura Ryutaro, Nightmare, D'espairsRay, Alice Nine, etc. Comes with large MUCC poster.


the GazettE



★SHOXX - Vol. 157; 2006 --- $5
Condition: Good. Kept in plastic. No Poster.
Features: The Gazette, MUCC, Miyavi, SID, Ayabie, etc.
★SHOXX - Vol. 172; 2007 --- $5 SOLD


SID



★WHAT's IN? - No. 273; 2010 --- $4
Condition: Good. Has some wear around the corners and a crease on the bottom right, front side.
Features: SID, Remioromen, Tokyo Jihen, and more.
★Shoxx - Vol. 166; 2006 --- $8
Condition: Very Good. Has some VERY light wear on the front cover.
Features: SID, the GazettE, Kagrra, Miyavi, and more. Comes with poster (used, but in very good condition).


Velvet Eden/Blam Honey


★Newgrave - Issue #5 --- $4 OBO
Condition: Good. Slight shelf-wear. Comes with poster of cover artist (not Velvet Eden or Blam Honey)
Features: 4 pages of Velvet Eden and 3 pages of Blam Honey interviews/pics.
Pictures of the actual pages available on request. Free with magazine purchase of $10 or more(shipping price may change).


Fliers *NEW*

A few that I found laying around in my collection. They have been carefully stored, but may have some bending around the edges. Asking $.50 for each. I also have handouts form Dir en grey, Gackt, and Do As Infinity concerts if anyone is interested. They would include goods fliers, questionnaires, etc.
★DieLa'vice
★LiZ
★Nightmare
★Danger Gang
★Brand Φ
Picture is here


JPop CDs, Singles, etc.

Morning Musume



★Go Girl ~Koi no Victory~ (Single) --- $4
Condition: Very Good. Obi included.
★SECOND MORNING --- $9
Condition: Very good. Comes in cardboard case with extra photo booklet. No Obi.


Natsukawa Rimi



★Singles Collection vol. 1 --- $8
Condition: Very Good. Comes with obi.


Onitsuka Chihiro



★Insomnia --- $9
Condition: Very Good. Comes with obi.


Soul'd Out



★LIVE AT NIPPON BUDOKAN ~ Tour 2007 "Single Collection" DVD~ --- $20 or Best Offer
Condition: Good - Very Good. Contains two discs, both in good condition. Booklet has some wear. Comes with stickers.


SPITZ



★RECYCLE Greatest Hits of SPITZ --- $9
Condition: Very good. Obi included.


Tokyo Jihen



★Education (Kyoiku) --- $8
Condition: Good. Some minor creases on booklet. No obi.


Tsuchiya Anna



★Rose (Single) --- $4
Condition: Good-Very Good. No Obi.


Japanese Horror Movies

Choose one movie FREE with purchase of $30 or more!!



★Reincarnation (輪廻) --- $8.50
Condition: Good.
Features: Part of "8 Films To Die For" collection. Japanese language with English and Spanish subtitles. Bonus features include: The Making of Reincarnation, Deleted Scenes with commentaries, Director interview, and Trailers.



★Audition --- $8.50
Condition: Good. Has some sticker residue on the front.
Features: Trailer, Interviews, Photo Gallery, English and Spanish Subtitles. Also includes linear notes.



★HUSH! --- $7.50
Condition: Very Good. Watched once.


Japanese Literary Books/Novels/Art Book (Newly added)

These are books that I used during my studies at UMass Amherst in the Japanese program. I am offering them much cheaper than the school charged. Pictures and descriptions available on request!
★The Bridegroom Was a Dog - Yoko Tawada --- $5
★Kitchen - Yoshimoto Banana --- $5
★The Dancing Girl of Izu - Yasunari Kawabata --- $5
★The Waiting years - Fumiko Enichi --- $7
★Be a Woman: Hayashi Fumiko and Moders Japanese Women's Literature - Joan E. Ericson ---$10



★Arts of Asia --- $6.00 (was originally $16)
Condition: Very good. Some shelf wear but has only been looked through a few times.
Features:Has just under 50 pages dedicated to Japanese art including textiles, woodblock, and more.


★Miyabe Miyuki - Yume ni mo Omowanai --- $4
★Hoshi Shinichi - various "short-short" compilations
①つねならぬ話 --- $3
②きまぐれ学間所 --- $2
③宇宙の声 --- $3
④たくさんのタブー --- $3
★Yoshimoto Banana - Tokage --- $4
***All Japanese books were bought used at BookOff. The outer covers show wear (hence the low prices), but the pages are fine.



The only items I am interested in at this time are Dir en grey (cover or back cover) magazines and back issues of Haiiro no Ginka Fan Club Magazines.
Items must be in Good-Very Good condition.
Message me with the information and (if you are looking to trade) the items that you want from me.
Right now, I need to be picky about what I buy, but if you have something you think I would like, certainly let me know :D


★Only serious inquiries please. If you ask me about and item, please have the courtesy to let me know if you are not interested after my reply. I can hold items for up to 3 DAYS. After that, they will be re-posted.★

I now have a feedback page for those that are interested :)

If you have any questions, please contact me.
Thank you!