If you have questions, please use my main email: jaejoongies@hotmail.com

I will not be shipping until after the New Years! I'm sorry for any inconvenience!

Shipping to USA is preferred, but I'll ship internationally if you abide to pay the shipping costs!

Shipping price is included for US only

The only form of payment I accept is Paypal

Prices are not fixed, you may offer something lower as long as it reasonable

Serious buyers only!

Once an item is shipped, I am not responsible for them

You do not have to pay the Paypal fees

My feedback: http://kari-buy.livejournal.com/2870.html








http://i1018.photobucket.com/albums/af309/Kari-buy/DSCN3012.jpg
http://i1018.photobucket.com/albums/af309/Kari-buy/DSCN3013.jpg
Cute salmon colored boots
Condition: Worn once but realized boots are not my thing AT ALL D=
Size: EUROPE 41 (US 11)
Price: $30 shipped





Angelic Pretty Wonder Cookie replica JSK
http://img821.imageshack.us/img821/3117/6240.jpg
Length: 34.2"
Bust: 28" - 37"
Waist: 24" - 32"
Shoulders: 16.5"
Condition: New w/ tags
Price: $70 $65 shipped




Offbrand socks
Condition: Never worn
Price: $7 shipped





Bodyline Heart Glasses
Price: $5 shipped





RTBU Frill tutu skirt
http://i1018.photobucket.com/albums/af309/Kari-buy/candyskirtP9.jpg
http://i1018.photobucket.com/albums/af309/Kari-buy/candyskirtP7.jpg
http://i1018.photobucket.com/albums/af309/Kari-buy/candyskirtP10.jpg
Condition: Tried on
Price: $30 shipped





RTBU My Little Pony top
http://i1018.photobucket.com/albums/af309/Kari-buy/ponyK3.jpg
http://i1018.photobucket.com/albums/af309/Kari-buy/ponyK9.jpg
http://i1018.photobucket.com/albums/af309/Kari-buy/ponyK10.jpg
shoulder: 14"
bust: 36"
back length: 24.5" (shorter side)
Condition: Worn a few times
Price: $30 shipped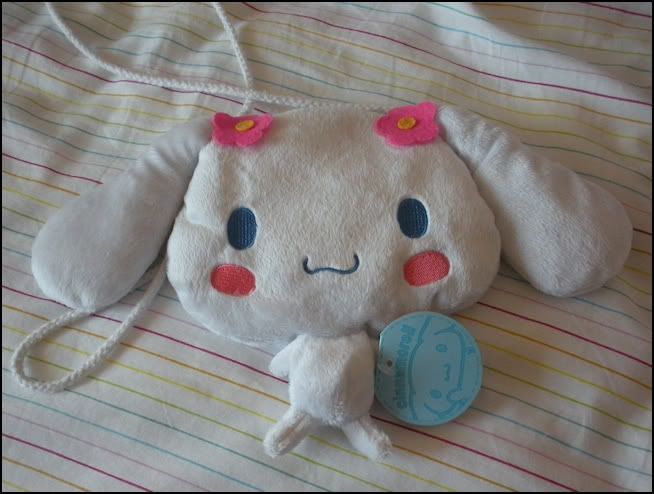 Cinnamoroll small bag
Condition: The left ear is detached, but is in perfect condition with the tag still attached
Price: $10 $7 shipped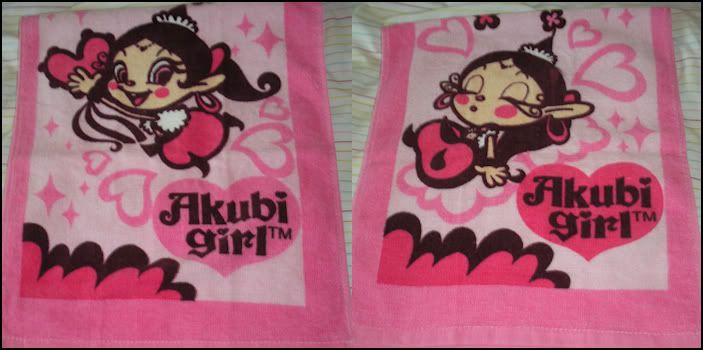 Lolita princess small towel
Condition: Great condition
Price: $7 shipped






Click Happy Face Top
http://img28.imageshack.us/img28/7325/ts8272.jpg
Length 26"
Bust 60"
Condition: Worn a few times but in perfect condition
Price: $20 shipped





YoungBaby Denim Shorts
http://i940.photobucket.com/albums/ad243/kagostore/Stock%20Photos/L_g8527199_4261140.jpg
http://i940.photobucket.com/albums/ad243/kagostore/Stock%20Photos/L_g8527208_4261140.jpg
http://i940.photobucket.com/albums/ad243/kagostore/Stock%20Photos/L_g8527202_4261140.jpg
http://i940.photobucket.com/albums/ad243/kagostore/Stock%20Photos/L_g8527207_4261140.jpg
Waist: 36"
Hips: 45"
Front Rise: 11"
Back Rise: 14"
Thigh: 25"
Leg Circumference: 25"
Total Length: 16.5"
Condition: Tried on
Price: $25 $22 $20 shipped






YoungBaby Plaid Denim Shorts with Sash
http://i940.photobucket.com/albums/ad243/kagostore/Stock%20Photos/L_g8527122_4261131.jpg
http://i940.photobucket.com/albums/ad243/kagostore/Stock%20Photos/L_g8527126_4261131.jpg
http://i940.photobucket.com/albums/ad243/kagostore/Stock%20Photos/L_g8527128_4261131.jpg
http://i940.photobucket.com/albums/ad243/kagostore/Stock%20Photos/L_g8527129_4261131.jpg
Waist: 36"
Hips: 45"
Front Rise: 11"
Back Rise: 14"
Thigh: 25"
Leg Circumference: 25"
Total Length: 16.5"
Condition: Tried on
Price: $25 $22 $20 shipped








Cute Plush "Let go" Top XL
Bust: 40"-42"
Waist: 33"-35"
Condition: Was worn once for 20 minutes and magically got small stains on the armpits (>_>). Hopefully they can come out
http://www.cute-plush.com/products/let-go-t-shirt-pink
Price: $22 $20 shipped




Cute Bunny shirt
Bust: 34"
Condition: Tried on once
Price: $10 shipped





Gmarket Brown Nerdy glasses
Price: $12 shipped





Cardcaptor Sakura pencil case w/ two layer
Size: 21 x 7 x 2.5 cm (8.2 x 2.6 x 1 inches)
Price: $7 shipped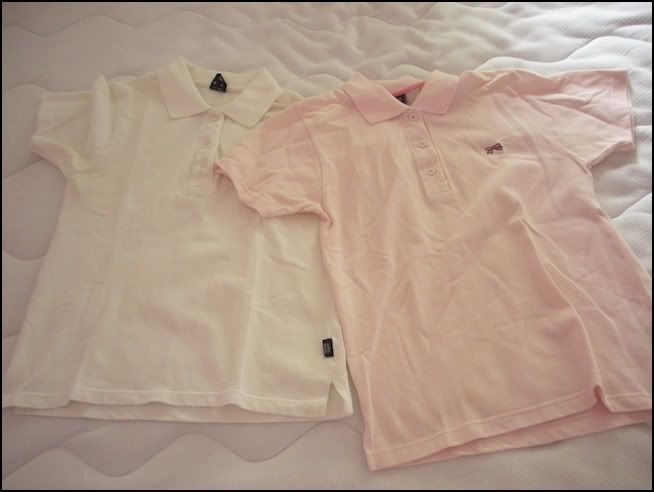 Pink Candy Land Polo Shirt
http://s940.photobucket.com/albums/ad243/kagostore/Stock%20Photos/shousai_polo_shirt.jpg
Length: 24"
Bust: 34"
Price: $20 $15 $7 shipped

White White Candy Land Polo Shirt http://s940.photobucket.com/albums/ad243/kagostore/Stock%20Photos/shousai_polo_shirt.jpg
Length: 24"
Bust: 34"
Price: $20 $15 $7 shipped





- How to Draw Manga vol. 8 Super Basics = $10 shipped
- How to Draw Manga Getting Started = $10




- Japanese phrase book = $5 shipped
- Japanese dictionary = $5 shipped *wrinkles in binding on side*
- Kanji power = $10 shipped
- Kanji de Manga = 20 shipped





- NEWS clear file folder = $7 shipped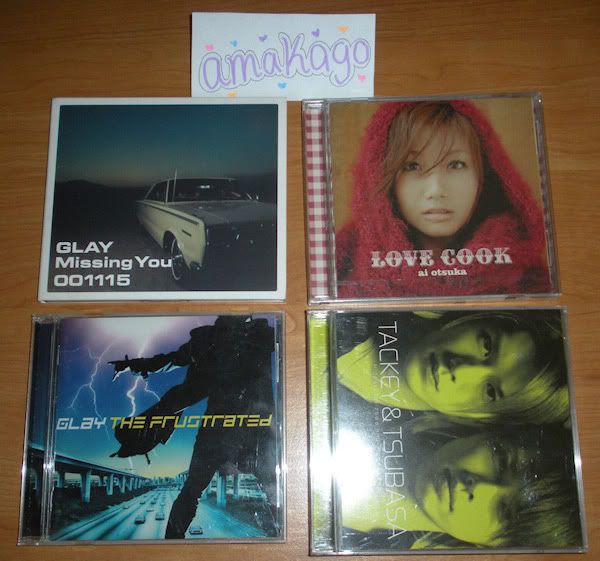 - Glay - Missing you single = $5 shipped
http://i940.photobucket.com/albums/ad243/kagostore/J-pop%20K-pop/015.jpg
http://i940.photobucket.com/albums/ad243/kagostore/J-pop%20K-pop/016.jpg

- Glay - THE FRUSTRATED Album = $10 shipped
http://i940.photobucket.com/albums/ad243/kagostore/J-pop%20K-pop/017.jpg
http://i940.photobucket.com/albums/ad243/kagostore/J-pop%20K-pop/018.jpg

- Ai Otsuka - Love Cook [Regular Edition] = $10
http://i940.photobucket.com/albums/ad243/kagostore/J-pop%20K-pop/023.jpg

- Tackey & Tsubasa - Kamen / Mirai Kokai [CD+DVD] = $8 shipped
http://i940.photobucket.com/albums/ad243/kagostore/J-pop%20K-pop/019.jpg
http://i940.photobucket.com/albums/ad243/kagostore/J-pop%20K-pop/022.jpg">[x]</a>








- Gokusen Special "Sayonara 3-nen D-gumi... Yankumi Namida no Sotsugyoshiki" (Japan Version) = $20 shipped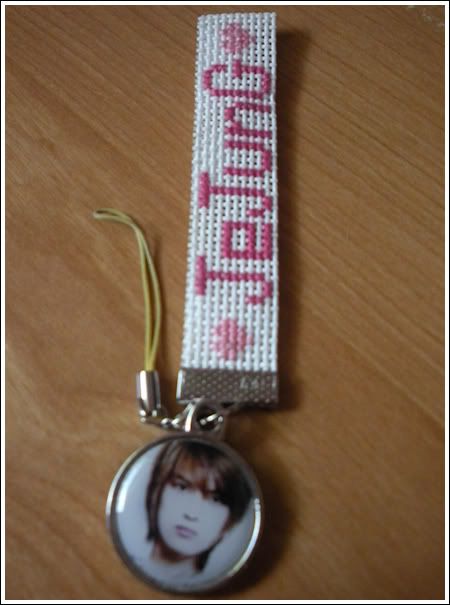 - Kim Jaejoong phone strap = $5 shipped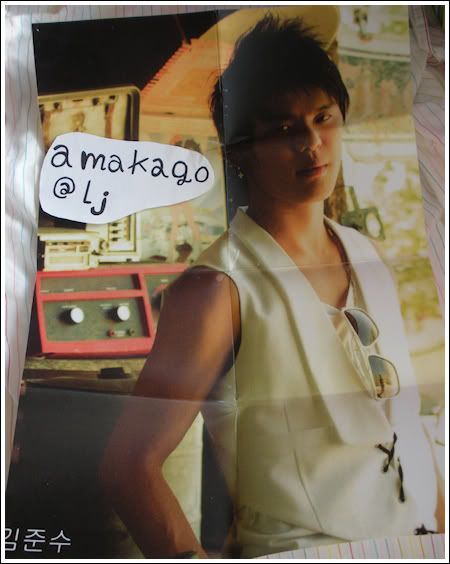 - 16 1/2" x 22 Junsu poster = $5 shipped
Has tac marks on 4 corners, but is in very good condition







- 16 1/2" x 22 DBSK poster set *Includes 3 posters* = <$10 shipped
http://i940.photobucket.com/albums/ad243/kagostore/J-pop%20K-pop/031.jpg
http://i940.photobucket.com/albums/ad243/kagostore/J-pop%20K-pop/030.jpg
http://i940.photobucket.com/albums/ad243/kagostore/J-pop%20K-pop/032.jpg
Has tac marks on 4 corners, but is in very good condition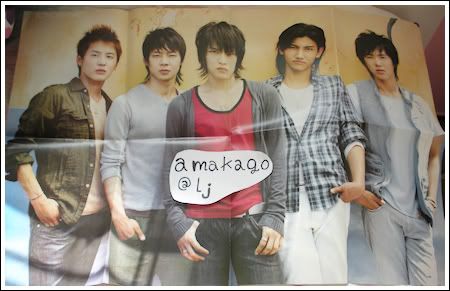 - 34" x 22" DBSK poster 1 = $5 shipped
Has tac marks on 4 corners, but is in very good conditon







- Chobits anime vol 2, 6 = $5 shipped each
- Spiral anime vol 1-3 = $5 shipped each
- Hana Kimi manga vol 1, 5 = $3 shipped each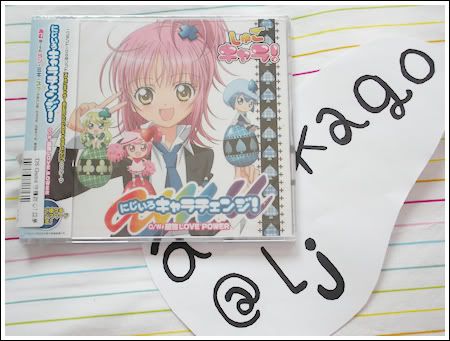 - DS Game Shugo Chara! Nijiro Chara Change (Japan Version) = $10 shipped
http://www.youtube.com/watch?v=HfUDVk9F8bs








http://i1018.photobucket.com/albums/af309/Kari-buy/DSCN2770.jpg
- Miki Fujimoto - Alo~Hello! = $25 shipped
- Morning Musume - Otome & Sakura Gumi Alo~Hello! = $25 shipped
- Ai Takahashi - Alo~Hello! = $25 shipped




http://i1018.photobucket.com/albums/af309/Kari-buy/DSCN2769.jpg
- 2004 Natsu First Concert Tour - W Stand By! Double You & Berryz Koubou = $25 shipped
- Aya Matsuura Concert Tour 2004 Aki - Matsu Crystal - Yoyogi Special = $25 shipped
- 2005 Nen Natsu W & Berryz Koubou Concert Tour - High Score! = $25 shipped
- Berryz Koubou Live Tour 2005 Shoka Hatsu Tandoku - Marugoto = $25 shipped
- Berryz Kobo Concert Tour 2005 Autumn Switch = $25 shipped




http://i1018.photobucket.com/albums/af309/Kari-buy/DSCN2768.jpg
- Morning Musume Concert Tour 2005 Haru - Dai 6kkan Hit Mankai = $25 shipped
- Hello! Project 2005 Natsu no Kayo Show - '05 Selection! Collection! = $25 shipped
- Morning Musume Concert Tour 2005 Natsuki Baribari Kyoushitsu Koharu-chan Irasshai = $25 shipped
- Hello!Project 2005 Winter Allstars Dairanbu - A Happy New Power! Kaori Iida Sotsugyo Special = $25 shipped
- Biyuden First Concert Tour 2005 Haru - Biyu Densetsu = $25 shipped
- Biyuden Live Tour 2005 Biyu Densetsu II Kurenai no Kisetsu = $25 shipped





http://i1018.photobucket.com/albums/af309/Kari-buy/DSCN2767.jpg
- Hello! Project Futarigoto Vol. 1 = $20 shipped
- Hello! Project Futarigoto Vol. 2 = $20 shipped
- Hello! Project Futarigoto -a close friend- Soushu-hen Vol.3 = $20 shipped
- Hello! Project Futarigoto -a close friend- Soushu-hen Vol. 4 = $20 shipped




http://i1018.photobucket.com/albums/af309/Kari-buy/DSCN2766.jpg
- The Lilliput Kingdom Vol.1 = $25 shipped
- The Lilliput Kingdom Vol.2 = $25 shipped
- The Lilliput Kingdom Vol.3 = $25 shipped
- The Lilliput Kingdom Vol.4 = $25 shipped
- The Lilliput Kingdom Vol.5 = $25 shipped




http://i1018.photobucket.com/albums/af309/Kari-buy/DSCN2765.jpg
- Morning Musume CONCERT TOUR 2003 - 15nin de NON STOP! = $25
- Hello! Project 2004 SUMMER - Natsu no Doon! = $25
- Hello! Project 2004 Winter - C'MON! Dance World = $25
- Aya Matsuura Concert Tour 2004 Haru - Watashi to Watashi to Anata = $25
- 2003-4 Nen Morning Musume Sakuragumi Hatsukoen - Sakura Saku = $25
- 2003-4 Nen Morning Musume Otomegumi Hatukoen - Otomechikku = $25
- Miki Fujimoto First Live Tour 2003 SPRING - MIKI(1) = $25



http://i1018.photobucket.com/albums/af309/Kari-buy/DSCN2764.jpg
- ZYX - Single V: Iku ZYX! Fly High = $6 shipped
- Sakura Mankai / Yuujou - Kokoro no busu niwa naranee! = $10 shipped
- Sakuragumi - Single V: Hare Ame nochi Suki = $6 shipped
- Morning Musume - Ai no Dai 6 Kan = $20 shipped
- Otomegumi - Single V: Ai no Sono - Touch My Heart! = $6 shipped
- Biyuden - Single V: Kacchoiize! Japan = $6 shipped
- Biyuden - Single V: Koi no Nukegara = $6 shipped
- Biyuden - Single V: Ajisai Ai Ai Monogatari = $6 shipped



http://i1018.photobucket.com/albums/af309/Kari-buy/DSCN2759.jpg
- W - Single V: Koi no Fuga = $6 shipped
- W - Single V: Ai no Imi wo Oshiete! = $6 shipped
- Minimoni - Single V: Crazy About You = $6 shipped
- W - Single V: Miss Love Tantei = $6 shipped
- W - Single V: Robo Kiss = $6 shipped
- Minimoni - Single V: Minimoni. Kazoe Uta - Ofuro Version / Date Version = $6 shipped
- Morning Musume - Single V: Iroppoi Jirettai = $6 shipped
- Morning Musume - Single V: Chokkan 2 - Nigashita Sakana wa Ookiizo! = $6 shipped
- Minimoni - Single V: Lucky Cha Cha Cha! = $6 shipped






http://i940.photobucket.com/albums/ad243/kagostore/J-pop%20K-pop/Hello007.jpg
- Aya Matsuura - Alo~Hello! = $10 shipped
http://i940.photobucket.com/albums/ad243/kagostore/Hello%20Project/9001.jpg
- Aya Matsuura - a = $12 shipped
http://i940.photobucket.com/albums/ad243/kagostore/Hello%20Project/8001.jpg
http://i940.photobucket.com/albums/ad243/kagostore/Hello%20Project/8002.jpg




http://i940.photobucket.com/albums/ad243/kagostore/J-pop%20K-pop/Hello004.jpg
- Miki Fujimoto - Mikitty = $10 shipped
http://i940.photobucket.com/albums/ad243/kagostore/Hello%20Project/2001.jpg
http://i940.photobucket.com/albums/ad243/kagostore/Hello%20Project/2002.jpg
- Miki Fujimoto - Alo~Hello! = $10 shipped
http://i940.photobucket.com/albums/ad243/kagostore/Hello%20Project/1001.jpg
http://i940.photobucket.com/albums/ad243/kagostore/Hello%20Project/1002.jpg




http://i940.photobucket.com/albums/ad243/kagostore/J-pop%20K-pop/Hello003.jpg
- Rika Ishikawa - I = $10 shipped
http://i940.photobucket.com/albums/ad243/kagostore/Hello%20Project/4001.jpg
http://i940.photobucket.com/albums/ad243/kagostore/Hello%20Project/4002.jpg
- Rika Ishikawa - hana-bi = $10 shipped
http://i940.photobucket.com/albums/ad243/kagostore/Hello%20Project/6002.jpg
http://i940.photobucket.com/albums/ad243/kagostore/Hello%20Project/6003.jpg




http://i940.photobucket.com/albums/ad243/kagostore/J-pop%20K-pop/Hello005.jpg
- v-u-den First Concert Tour 2005 = $8 shipped
http://i940.photobucket.com/albums/ad243/kagostore/Hello%20Project/5001.jpg
http://i940.photobucket.com/albums/ad243/kagostore/Hello%20Project/5002.jpg
- Natsumi Abe - Fu = $10 shipped
http://i940.photobucket.com/albums/ad243/kagostore/Hello%20Project/3001.jpg
http://i940.photobucket.com/albums/ad243/kagostore/Hello%20Project/3002.jpg




http://i940.photobucket.com/albums/ad243/kagostore/J-pop%20K-pop/Hello002.jpg
- Aya Matsuura - First Date concert = $7 shipped

- Hello! Project Scrapbook 2005 w/ stickers = $5 shipped
http://i940.photobucket.com/albums/ad243/kagostore/Hello%20Project/110001.jpg
http://i940.photobucket.com/albums/ad243/kagostore/Hello%20Project/110002.jpg"
Some missing stickers (price reflects this), has a small rip in the left corner, but is in overall mint condition




http://i940.photobucket.com/albums/ad243/kagostore/J-pop%20K-pop/Hello001.jpg
- Morning Musume History 2001~2005 = $5 shipped
http://i940.photobucket.com/albums/ad243/kagostore/Hello%20Project/130001.jpg
http://i940.photobucket.com/albums/ad243/kagostore/Hello%20Project/130002.jpg
- Ayaya ni naritai = $5 shipped
http://i940.photobucket.com/albums/ad243/kagostore/Hello%20Project/110001.jpg
http://i940.photobucket.com/albums/ad243/kagostore/Hello%20Project/110002.jpg



http://i940.photobucket.com/albums/ad243/kagostore/J-pop%20K-pop/Hello006.jpg
- Mini Moni Hello! Project summer concert 2003 = $8 shipped
- Miyu Sawai - Miyu = $10 = $10 shipped (not H!P, but it's here..haha..)




http://i940.photobucket.com/albums/ad243/kagostore/Hello%20Project/012.jpg
- Morning Musume ni Osowaru Futsuu Kawaii Menkyo Kaiden
http://i940.photobucket.com/albums/ad243/kagostore/Hello%20Project/scroll1.jpg
http://i940.photobucket.com/albums/ad243/kagostore/Hello%20Project/scroll2.jpg
http://i940.photobucket.com/albums/ad243/kagostore/Hello%20Project/scroll3.jpg
http://i940.photobucket.com/albums/ad243/kagostore/Hello%20Project/scroll4.jpg
An out of print official 59"(150cm) scroll that features many colorful pictures of the members of Morning Musume
$20 shipped






- Risa Niigaki and Reina Tanaka Official Pictures (Mari Yaguchi cards sold)http://i940.photobucket.com/albums/ad243/kagostore/Hello%20Project/014.jpg
http://i940.photobucket.com/albums/ad243/kagostore/Hello%20Project/015.jpg
http://i940.photobucket.com/albums/ad243/kagostore/Hello%20Project/016.jpg
$2 shipped each






- Aya Matsuura cards (75 cards)
Price: $10 shipped (sold as a whole)