Hello everyone. I have three art books I trying to sell/trade off.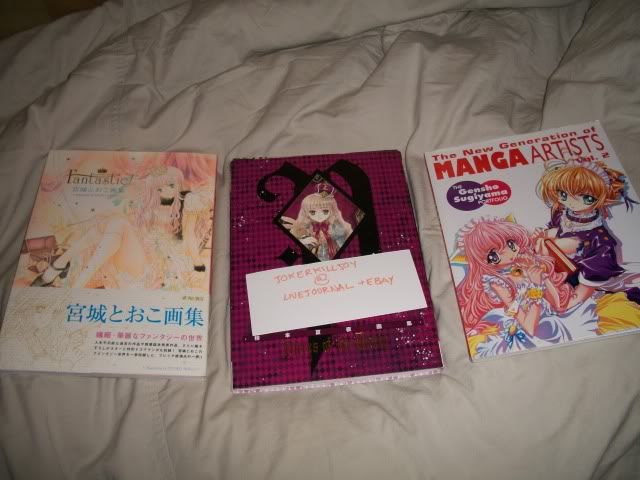 Tooko Miyagi FANTASTIC! Includes intact pull-out poster

. - NEW - I bought this a couple months ago, but it's not really my style. I flipped through it once or twice when it first arrived in the mail, but it's been sitting on my table in a plastic bag since then. - $22 + $3 S&H

Pieces of the World Kuramoto Art Book

- GOOD/GREAT - The cover and sleeve has some wear around the edges, but the book and pages themselves are undamaged. - $22 + $3 S&H -

3 DAY HOLD

The New Generation of Manga Artists Vol 2 Gensho Sugiyama

- Cover has some wear on the edges, pages are like new. - $7 + $3 S&H .

All Three

- $50 SHIPPED


If you happen to find these cheaper else where I'm willing to price match and -%20 of the price/haggle etc.

The shipping prices are for US media mail shipping, if you order more than then it'll be $4 shipping. I'm willing to ship international but you'll have to cover the S&H.

I prefer paypal, but I will take concealed cash as long as long as buyer takes responsibility if it is lost in the mail etc.

Artbooks I'm looking to trade for -
Yuhki Kamatani - Liricamente/Nabari no Ou Illustrations
KYMG
Pixiv 2010
Tenkon Kinkreet BG collections

Thanks for looking, if you have any questions/need clarification feel free to ask. (:
Also my Ebay Feedback just in case anyone wanted to check.