Hello and welcome to my sales!


Here's the link to my eglfeedback:
http://community.livejournal.com/eglfeedback/730469.html

My GSJ feedback:
community.livejournal.com/gsj_feedbacks/252555.html


Policy/General information
*I ship internationally
*All shipping within the United States comes with tracking (delivery confirmation) and shipping is usually done on a same day/next day basis, depending on the weather
*Payment: Paypal only
*If a supposed buyer does not pay within 24 hours, the item will go to the next person of interest
*I have one cat, he goes NOWHERE near my clothes, no worries.
*Please provide your feedback link if you have a feedback page.
*Shipping is NOT included in the prices below, please leave a comment including your zip-code and country, as well as your shipping preference, for estimates
*I'm willing to look at ALL offers, but please understand that I also have the right to say no, thank you.

Manga/Magazines
*All mangas = $4 each, unless sold as a set

Mangas available:
1. Gravitation manga vol. 1-10
2. Loveless vol. 1, 3, 4
3. Kill me, Kiss me vol.1
4. Skip Beat vol. 1 & 2
5. xxxHolic vol.1-4
6. I.N.V.U vol 1-2
Magazines: (Make offers)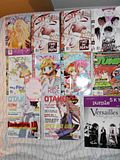 If interested in any of the above items, please contact me with information including your egl feedback page, country, and zipcode for shipping estimates! Thanks for looking!