Jrock, Manga, Anime, FREEBIES, fliers, promos, DVDs, VHS, posters, etc. I have the official Deathnote tea-cup set for sale!
I will ship anywhere in the world.



Free items - you pay shipping ONLY:
Any item can be added to the priced items list below this one.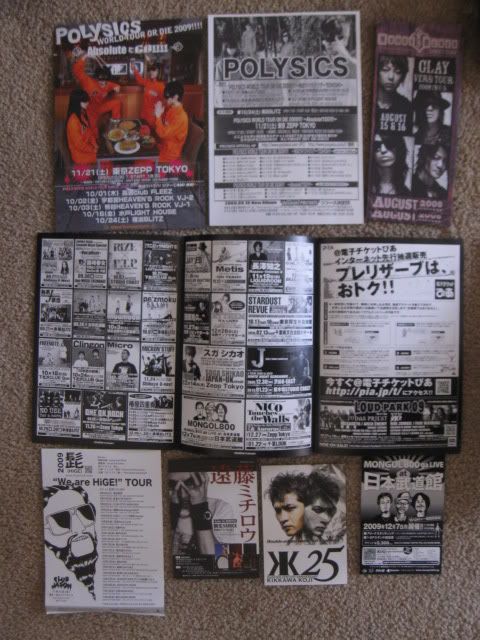 L->R, top -> bottom
1. Polysics tour fliers (sold together)[ON HOLD]
2. Flier for GLAY's 2008 live at the House of Blues in Los Angeles (2)
3. Sogo Tokyo Live & Information 10 2009: Uverworld, Acidman, aiko, J (LUNA SEA, solo), One Ok Rock, Nico Touches the Walls, etc.
4. HiGE tour flier
5. Endo Michirou tour flier (The Stalin, solo)
6. Kikkawa Koji flier (he was in Complex with Hotei, solo)
7. Mongol800 tour flier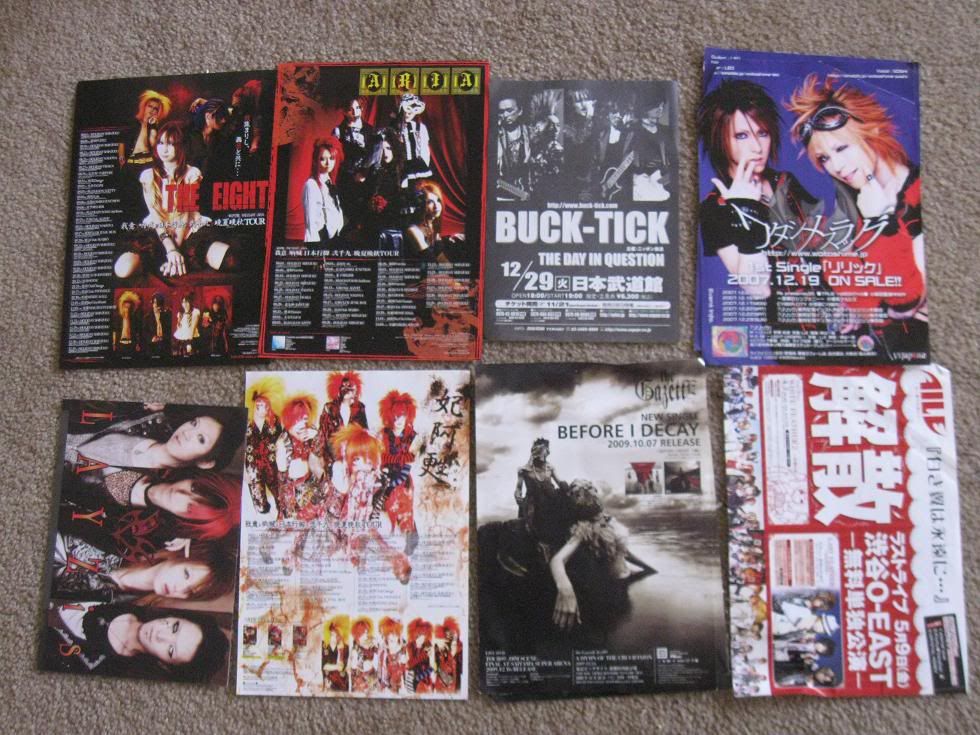 L->R, top -> bottom
8. The Eight 9. Aria 10. BUCK-TICK 11. Watashime (2) 12. LAYZIS 13. The Piass 14. The Gazette (2) 15. Aile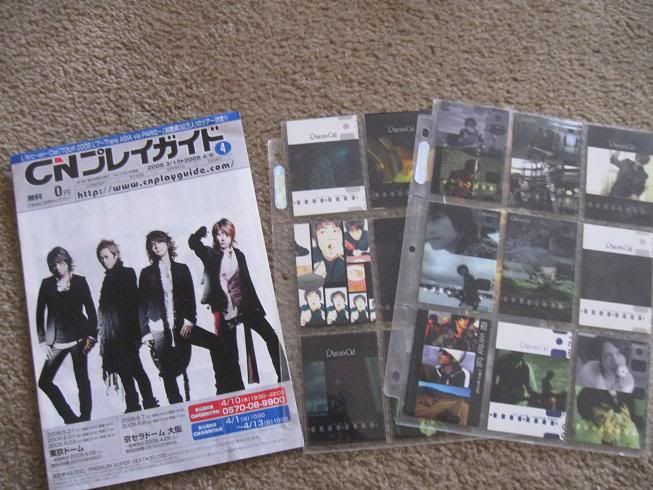 16. L'Arc~En~Ciel Set
L'Arc~en~Ciel front page ad on a 2008 CD Play Guide & two pages of authentic L'Arc trading cards with stills from PVs such as Dive to Blue and Winter fall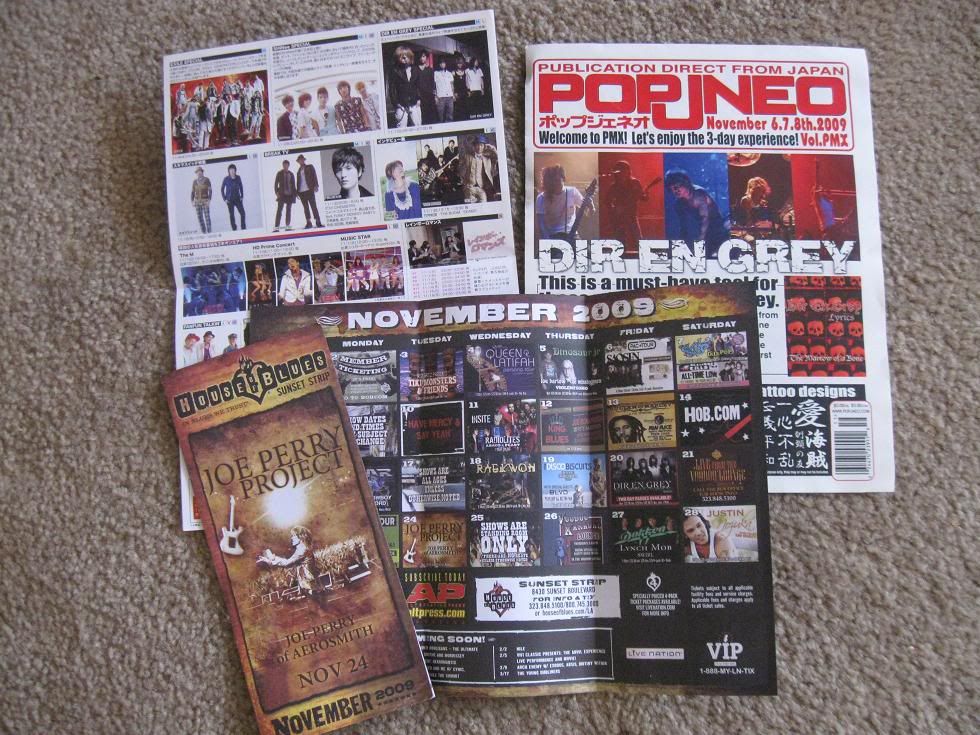 17. Dir en grey set
Music Japan TV ad (top right corner), Pop JNeo publication from PMX (in Los Angeles), calender flier from their House of Blues live in 2009 (2)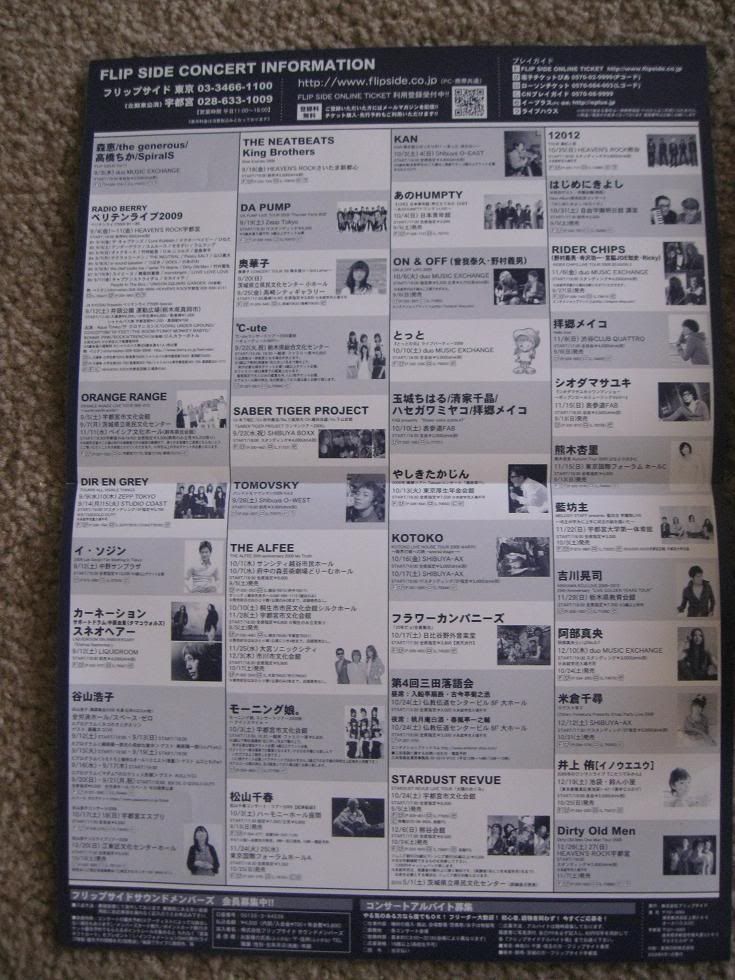 18. Flip Side Concert Information Flyer
Note: If you buy the Dir en grey set, I'll throw this in for free.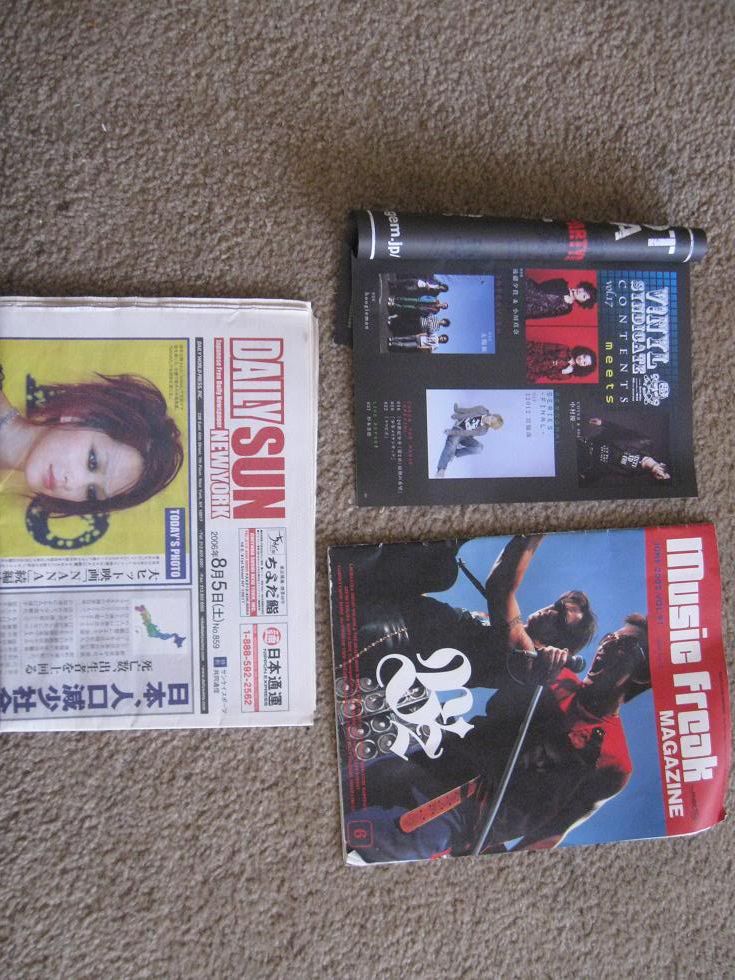 19. Vinyl Syndicate with boogieman and some people's name in kanji...Nakamura someone..
20. Music Freak Magazine featuring B'Z (Jp)
21. Daily Sun NYC Japanese language newspaper from New York City featuring the lead actress to play NANA in the upcoming live action film. I think it's Mika Nakashima.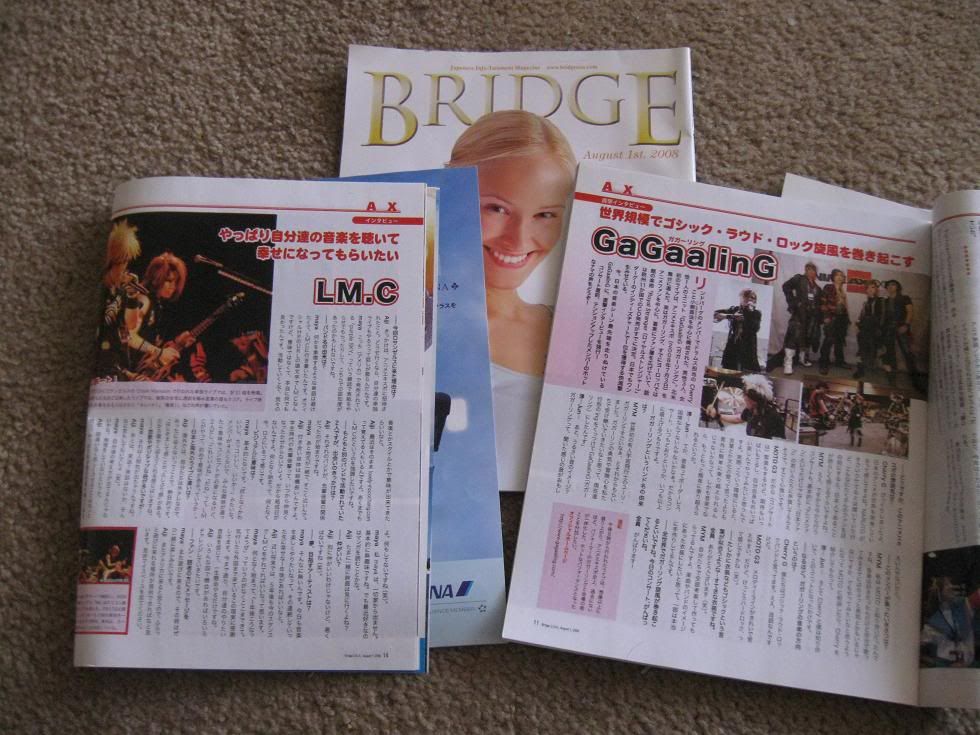 22. Bridge (a Los Angeles Japanese magazine) discussing LM.C and Gaagaling at Anime Expo 2008 (3)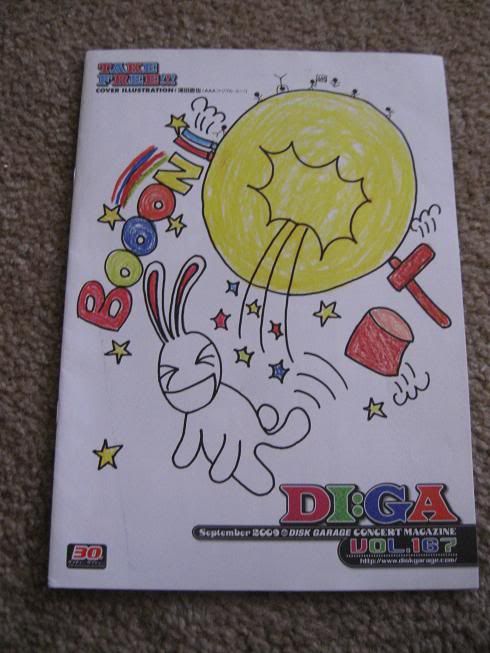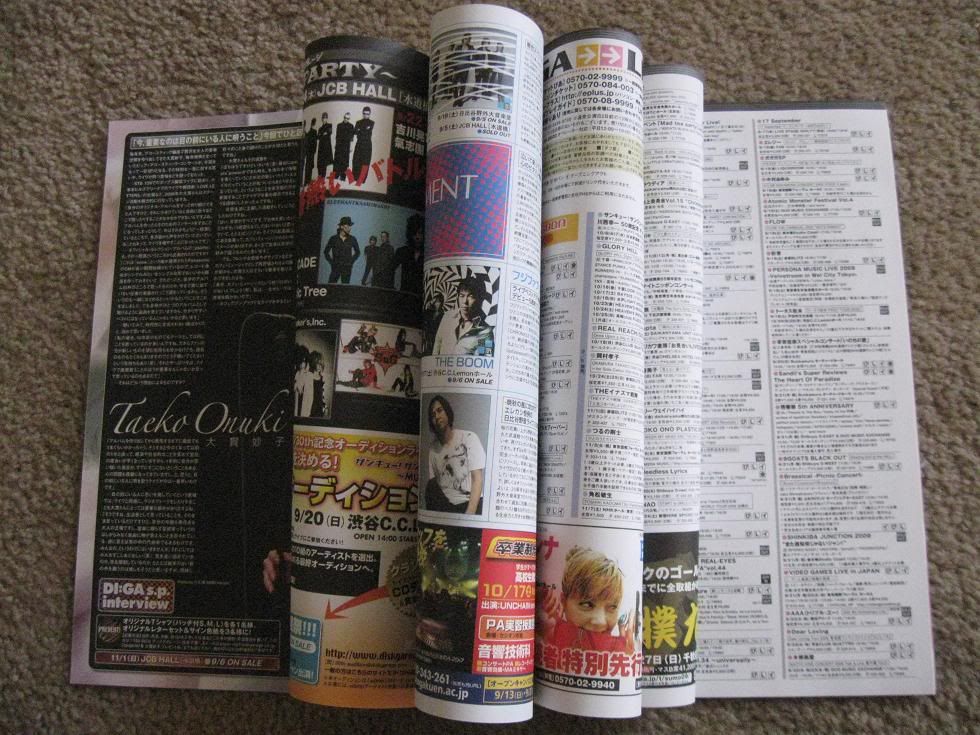 23. Disc Garage September 2009 with a cover drawn by a member of AAA. Features tour and release info for a TON of artists, from Irokui to Apogee.



39. Various VHS tapes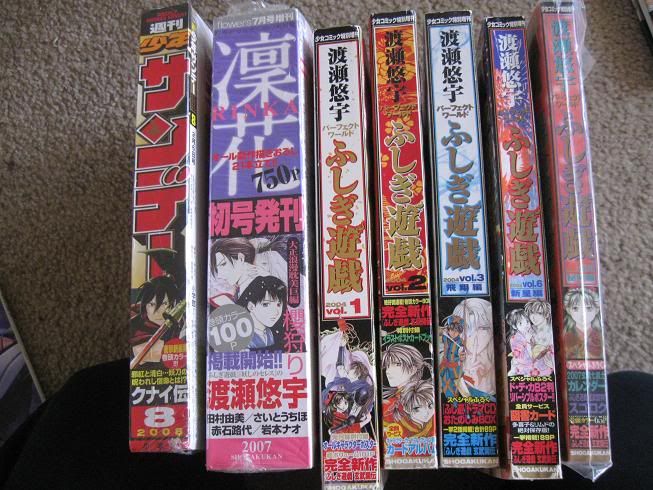 Watase Yuu phonebooks L->R
40. Shounen Sunday August 2008. Features a Watase Yuu one shot called Pandora's Cube
41. Rinka Flowers 2007. Features a chapter of Sakura Gari.
42-46. Perfect World 1,2,3,6,8. From a collector's home, with furoku.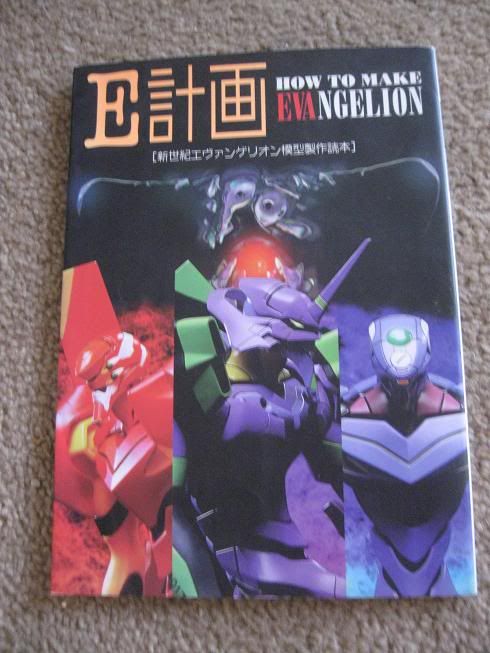 47. How to Make Evangelion model building book (Jp). I cannot seem to sell this...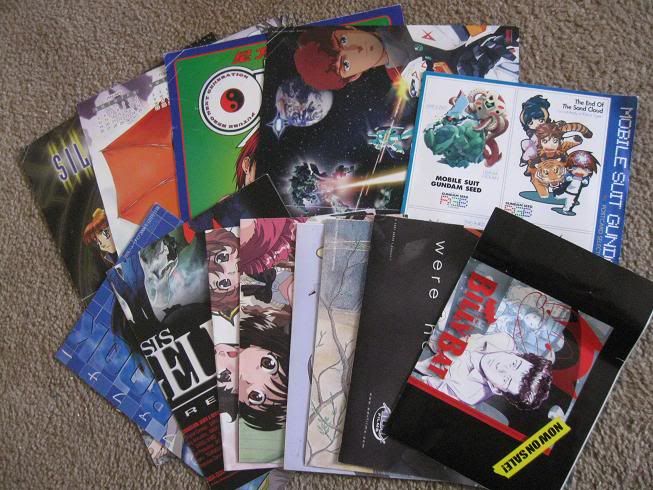 49. Posters [ALL OF IT ON HOLD ]
Silent Mobius, FLCL, Outlaw Star, Gundam Wing Char's Counter Attack, Mobile Suit Gundam postcards from Newtype, Sokyuu no Fafner booklet/poster, Neon Genesis Evangelion, Onegai Twins (one of them has Konominikukumo Utsukushii Sekai/This Ugly & Beautiful World) on the back, Five Star Stories, Zaion Wish You Were Here, Billy Bat flier poster (same guy who did Monster, Naoki Urasawa)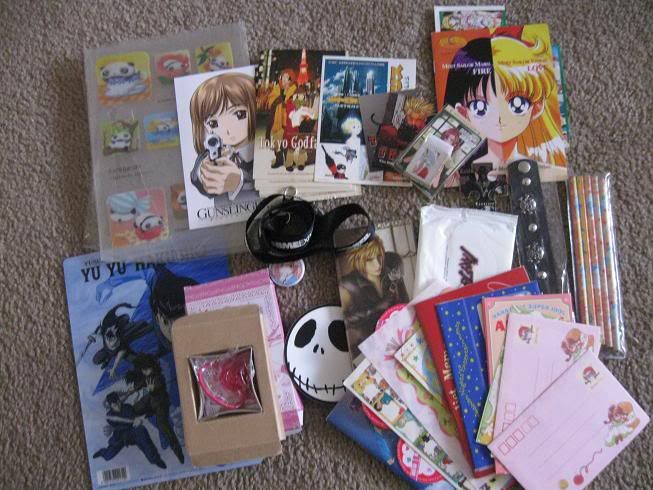 Misc. Stuff. These also can be added into any priced item below for free.
50. [ALL OF IT ON HOLD ] Tarepanda shitajiki, Yuu Yuu Hakusho doujinshi, Tokyo Godfather fliers, Metropolis stickers (Jp), Trigun trading cards (2), Onegai Teacher trading card, Sailor Moon promo booklet with random stickers (En), Secret Unrequited Love plastic rose ponytail holder, fanmade Final Fantasy address book, Ikkitousen wet wipes (may be dried out..), black faux leather skull bracelet, Anime Expo 2008 cloth lanyard with GIT:SAC logo on it, various stationary from Margaret and Ribon phonebook magazines, B-Wanted pencils, fanmade Tamaki pin (Ouran HS Club)


Priced items with shipping INCLUDED: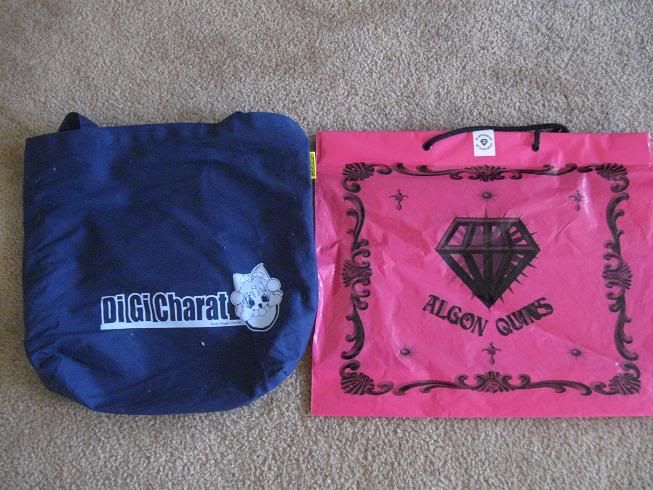 24. Promotional Digi Charat cloth tote bag from Anime Gamerz, their now defunct US branch ($10)
25. Plastic pink Algonquins bag from Japan ($8)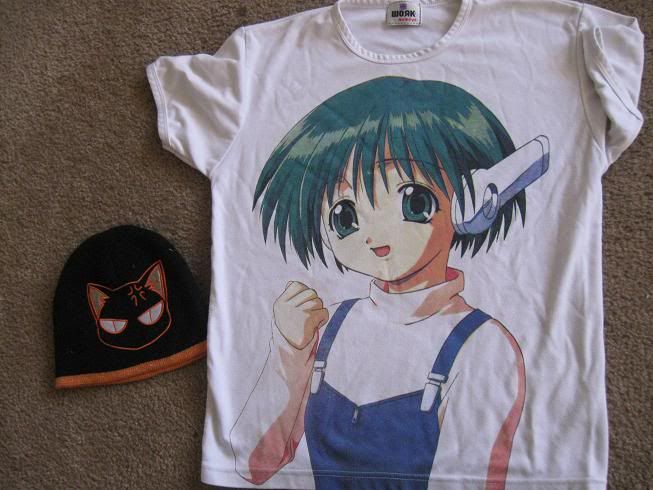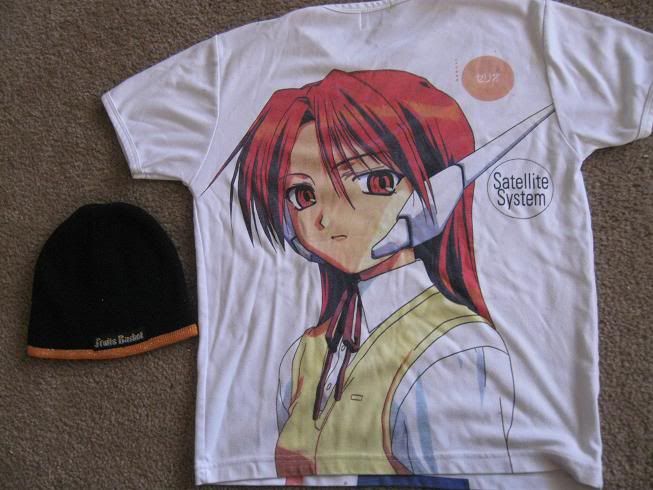 26. Fruits Basket Angry Kyo Ski Cap (it's quite stretchy) ($8)
27. "To Heart" (thanks Tooyama) T-shirt bought at a street fair in New York City. Tag says WORK by EAKSAK; the size is M. ($15)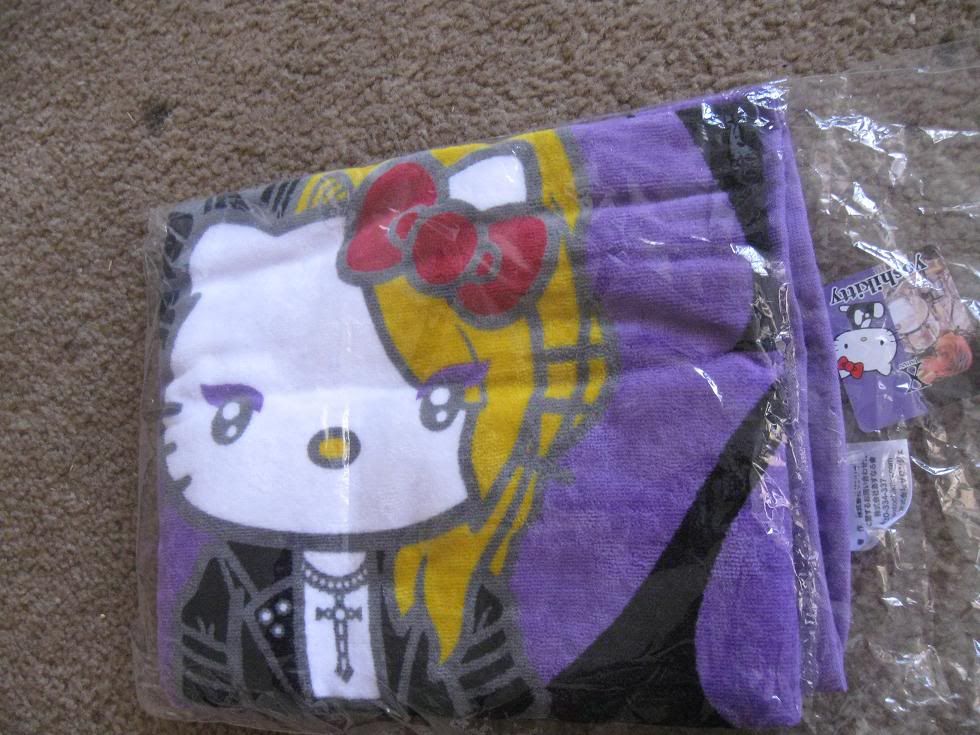 28. Official Yoshikitty beach towel with tags ($30) (I WANT THIS OUT OF MY APT!)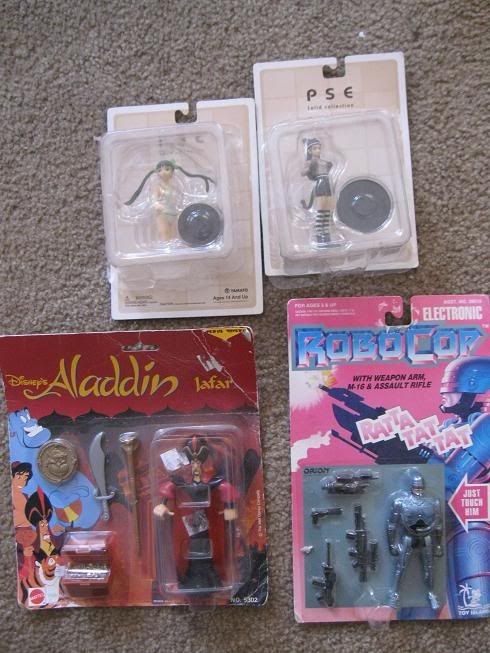 29. PSE Range Murata figurines with stands. The packaging is intact, they're just removed from the cardboard backing. ($15 for both)
[ON HOLD] 30. Aladdin Jafar play set, unopened. ($10)
[ON HOLD] 31. Robocop play set (unopened) ($10)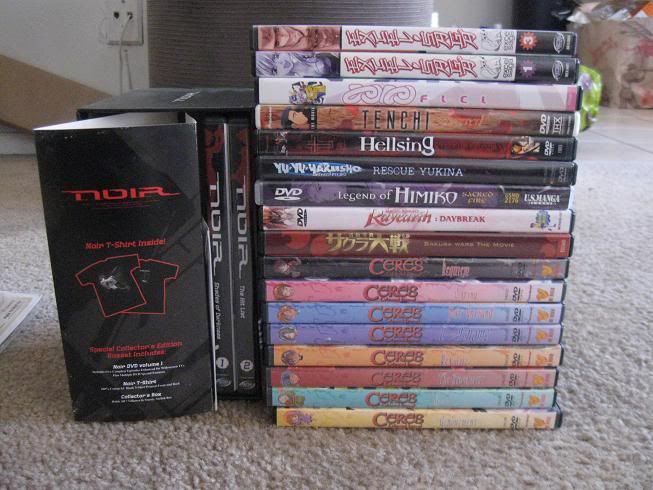 32. Various DVDs. That's the full set of Ayashi no Ceres [ON HOLD]. I think the FLCL is a bootleg, but it has English subtitles. The Noir set comes with a Newtype promo CD, but not the T-shirt cause it's really worn out (unless you want it..). (Make an offer for each DVD, will go low!)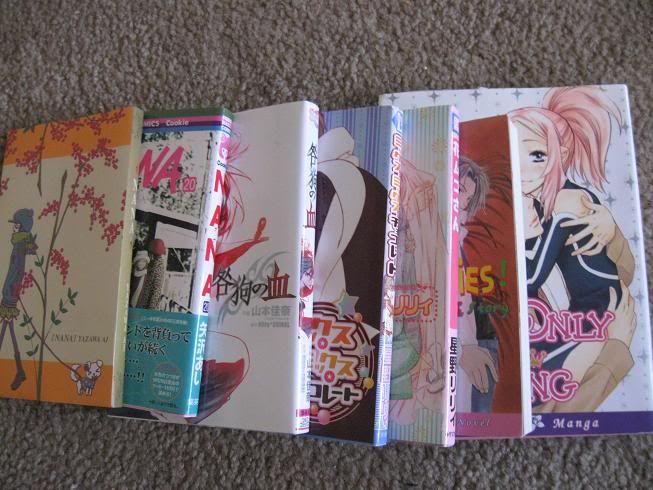 L->R
33. NANA Vol. 20 with free bookcover from Cookie Magazine by Yazawa Ai (jp) ($5)
34. Togainu no Chi (jp) ($5)
35. Mix Mix Chocolate by Lily Hoshino (Jp) ($5) soft yaoi
36. Hanamuko-san by Lily Hoshino (Jp) ($5) soft yaoi
37. Clear Skies! a yaoi novel (En) ($5)
38. My Only King by Lily Hoshino(En) ($8) soft yaoi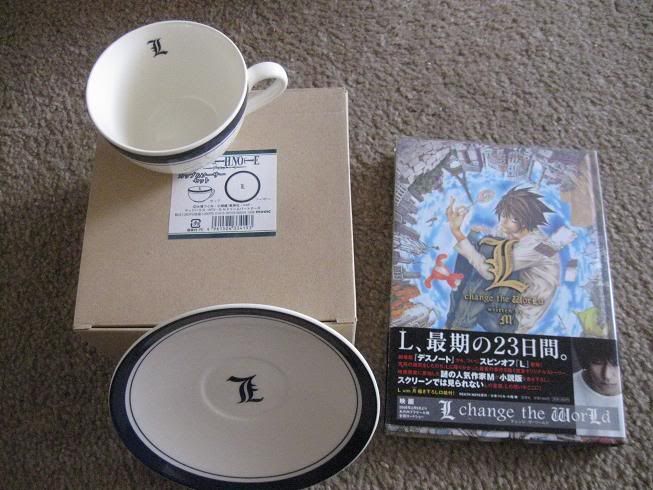 48.Deathnote Set ($50)
Includes official limited edition tea cup and saucer still in the original box PLUS a Japanese copy of L Change the World with a clear slipsleeve and obi


If you want an item, want to join items, or you want to make me an offer (I'm open to haggling!), please comment with your zip code or country. Serious buyers only. Items ship from Los Angeles, California. My feedback is here. Paypal, check, money order, and cash (at your own risk) is accepted. I am NOT responsible for items once shipped; I will keep a receipt on hand for your reference. Canadians, please remember that your customs is basically a black hole and items take a while to clear.

Anything not rehomed is going to be donated, recycled, or trashed. I can't keep this stuff anymore. Know anyone who needs a gift?