Hello and welcome to my sales! Here's the link to my feedback:
community.livejournal.com/eglfeedback/730469.html

community.livejournal.com/gsj_feedbacks/252555.html
Policy/General information

*I ship internationally
*All shipping within the United States comes with tracking (delivery confirmation) and shipping is usually done on a same day/next day basis, depending on the weather
*Payment: Paypal only
*If a supposed buyer does not pay within 24 hours, the item will go to the next person of interest
*I have one cat, he goes NOWHERE near my clothes, no worries.
*Please provide your feedback link if you have a feedback page.
*Shipping is NOT included in the prices below, please leave a comment including your zip-code and country, as well as your shipping preference, for estimates
*I'm willing to look at ALL offers, but please understand that I also have the right to say no, thank you.
*NO RETURNS or exchanges accepted
Condition: All lolita items are brand new without tags and have only been tried on
AATP Rose Jail Jsk in brown color-way with ivory bustle
$315 shipped in the US




Measurements:
Bust max: 36in
Waist max: 29in



BTSSB Halloween Under-bust JSK in black and gray

$177 shipped in the US





Measurement info: 92cm length, 34-38 inch bust, 25-28 inch waist; waist measures 64cm

Handmade Royal Seal Skirt

by
chiaki_ayumi
$70 shipped in the US


Waist: 28-32 inches comfortably
Length: 24inches
Skirt Length 21 inches



Punkrave top

(recommended for bust of 34 or smaller)

$20


Condition: Excellent



Red Offbrand Asian long blouse/dress $20




Condition: Excellent, worn a few times

Free size, max bust ~ 36 inches



Offbrand Asian blouse/dress $10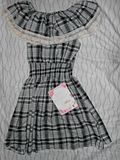 Free size
Brand new, never worn



Asian dragon dress $15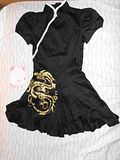 Max bust: 34
Max waist: 29
Brand new, never worn

Yukata $15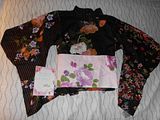 Brand new, never worn


Thanks for viewing!