Hi! I'm trying to make some extra last-minute cash before Christmas. Most items are Sailor Moon, Utena, Hello Kitty and EVA...with some misc.
Shipping is included
in all prices for US orders. For international shipping, just contact me. I accept non-credit card Paypal, money orders/cashier checks, and well-concealed cash.
No personal checks, please. *Paypal users add an extra 6% to cover fees.
If there's something you really want but think the price is too high, make me an offer and I'll see what I can do. If you have any questions, feel free to comment here or Email me at icarus.muse@gmail.com. Happy looking! :)
Posters are $7 for the first (to pay for the tube), and $3.50 for each after. All are hole-free, but may have tape residue on backside
PENDING
PENDING
PENDING
PENDING
PENDING
This Card Captor Sakura poster was a NewType insert. $2.50 PENDING
EVA Wallscroll $15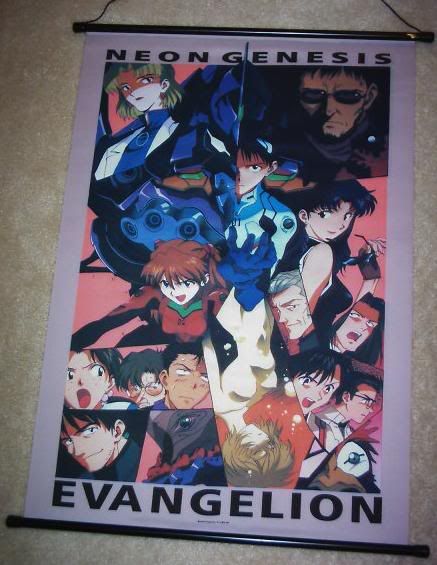 Sailor Moon Day Of Destiny (includes episodes "The Past Returns" and "Day of Destiny)-- $5
Sailor Moon Jupiter and Venus Arrive (includes episodes "Jupiter Comes Thundering In" and "Sailor Venus Makes the Scene") -- $5
Hello Kitty Mom Loves Me After All -- $5 PENDING
Hello Kitty Santa's Missing Hat -- $5 PENDING
Sailor Moon S Movie -- $8
Sailor Moon R Movie -- $8
EVA 0:3; Dubbed (Episodes 9-11) -- $7
EVA 0:12; Dubbed (Episodes 23-24) -- $7
Fushigi Yuugi; Dubbed (Episodes 1-4) --$7
Sakura Wars; Dubbed -- $7
Princess Rouge; Subtitled -- $7
Escaflowne; Subtitled (Episodes 1-4) -- $7
The Cosplay Encyclopedia; Subtitled -- $7
The Batman Superman Movie -- $5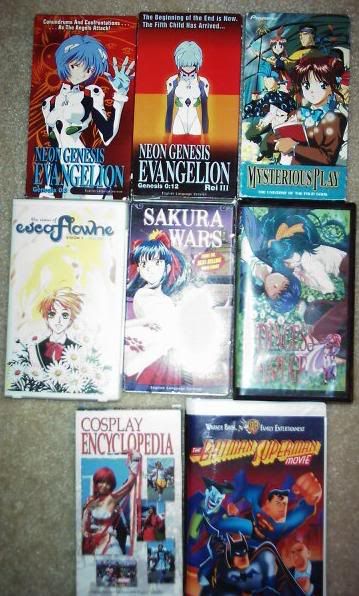 1999 August Nakayoshi including Card Captor Sakura -- $10
1998 June Ribon including Kamikaze Kaitou Jeanne, Kodomo No Omocha, and Mintna bokura --$10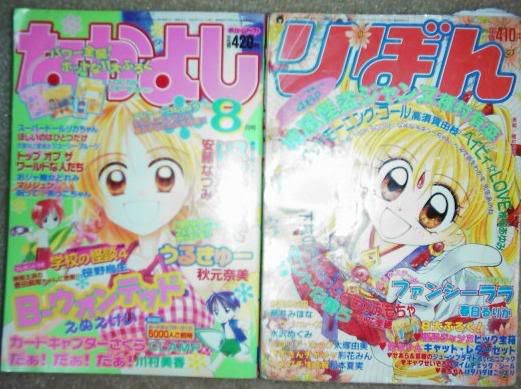 EVA Baby T (screen cracking slightly at bottom) Size S -- $5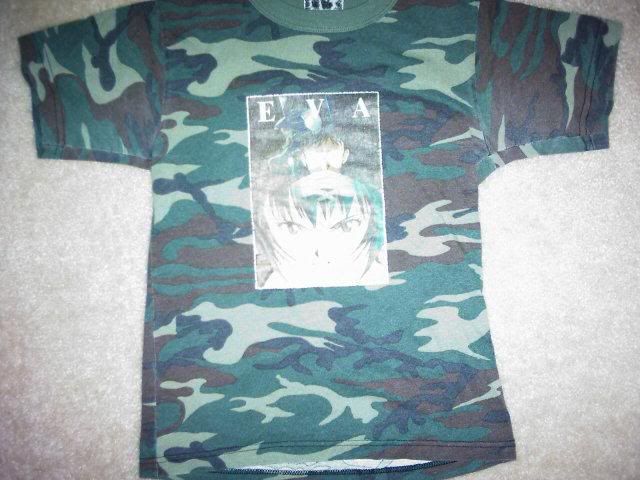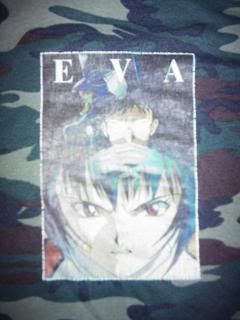 Pochacco T-shirt Size L -- $5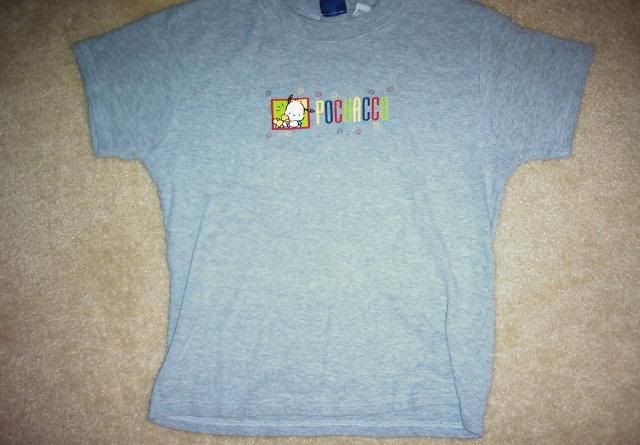 Rainbow Brite T-shirt Size XL -- $7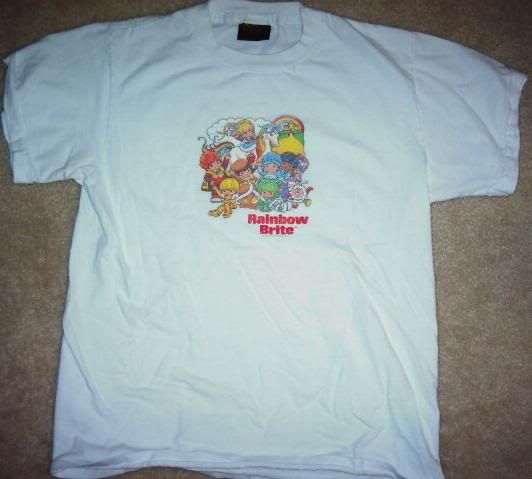 Sailor Moon T-shirt Size L -- $10
Winki Pinki Tin/Purse (like new!) -- $6
Sailor Moon Tin/Purse -- $10 (images front and back)
Sailor Moon Large Clear Bag -- $8 PENDING
Lucky Charms Bag/Purse -- $6 (front and back images)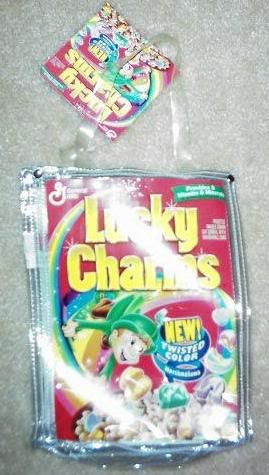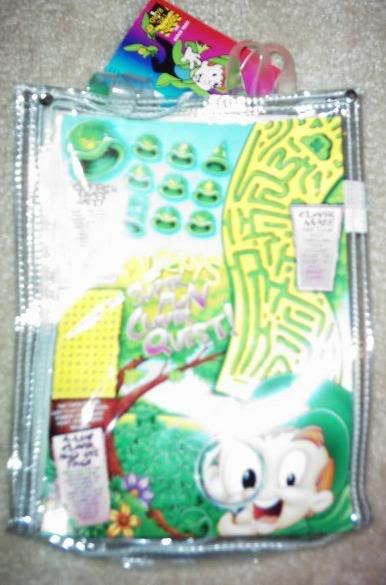 Bandai Sailor Moon Dolls -- $15 (Sold as a set)
Note: Jupiter is missing her Tiara and two wands are missing :(
Purple Hello Kitty Angel -- $6
Rare Irwin Luna Plushie -- $20 PENDING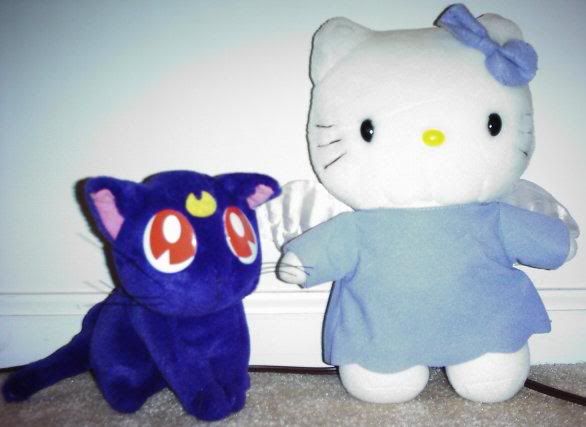 A stunning collectible. The perfect holiday gift for any Hello Kitty lover! $30 each or $55 together PENDING
Sailor Moon Play-A-Sound Book. Needs new batteries -- $7
Sailor Moon button -- $3
Sailor Jupiter keychain -- $5
Hello Kitty keychain -- $5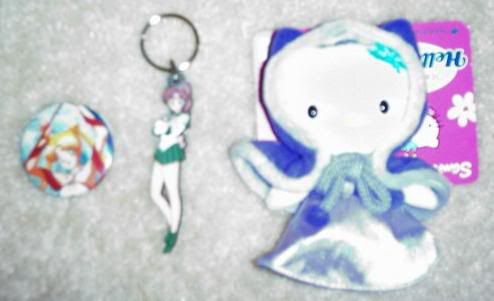 Baatz Maru playing cards -- $3
EVA playing cards -- $6
Card Captor Sakura playing cards -- $6 PENDING
Hello Kitty Angel wallet -- $6
Chibi Moon wand -- $15 PENDING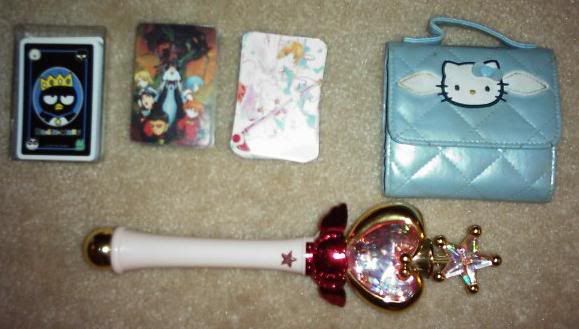 *edit
x-posted @
garagesalejapan