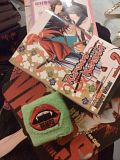 Manga, Magazines, Figures, Doujinshi, J-rock, lots of yaoi, and MORE! Prices REDUCED!! And still negotiable! BUY THIS STUFF.

SERIOUSLY. WE WANT IT ALL GONE. EVERYTHING'S DISCOUNTED AND NEGOTIABLE!

-NEW ITEMS ADDED.-

Complete Manga Series of Death Note
Sailor Moon ORIGINAL RELEASE English Comix (1 - 35, minus #23)
AkuRoku Doujinshi
VAMPs Merchandise
... and much more!

FIXED SHIPPING RATES IMPLEMENTED.