Cute Couple Penguin Keychain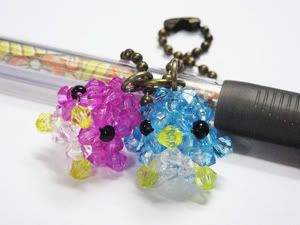 Cute "Couple Penguin Keychain" for your belonging, e.g. bag, mobile phone, key, etc.
Price:
3.99 USD
Size: 1 Penguin is about 2 cm x 2 cm x 2cm (using 4mm bead size), and the keychain is 7 cm. long
Available in 8 options,
P_001: Dark Pink and Dark Blue
P_002: Dark Green and Orange
P_003: Light Pink and Red
P_004: Purple and Orange
P_005: Purple and Dark Green
P_006: Black and Black (Original version)
P_007: Purple and Light Green
P_008: Dark Blue and Purple
Please follow the link to original post at my LJ for pictures of each option and more detail of ordering and shipping.
[sale] Couple Penguin Keychain
PS. Thanks for the space~