I messed up and accidentally ordered two instead of one, so I really
need to sell this or I'm going to starve to death this month. TTATT

This is an authentic official Hermione beaded handbag replica sold only in Japan,
and sold exclusively for the new Deathly Hollows Part2 Movie.

Brand new, never opened before.

Size:
Diameter= around 10cm
Height= around 20cm
Length of strings= 65cm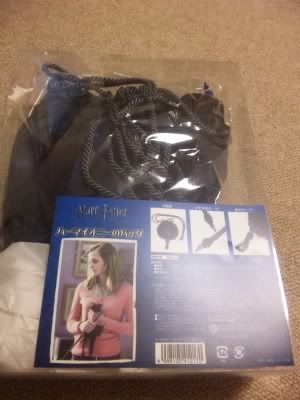 Official price and the price I bought for is 14,800 Japanese yen.
Which with the current currency would be 14,800.00 JPY = 187.200 USD

But since this is completely my mistake I'm willing to sell it for
$170 USD including shipping (that's 10% off original price with FREE SHIPPING).

YOU WILL NOT FIND THIS PRICE ANYWHERE ELSE.

Sorry I won't do trades for this item.
Payment by paypal only.
Please pm me if you're interested just in case if I miss any replies. Thanks.

Please buy this it would help me so much ;A; Thank you.