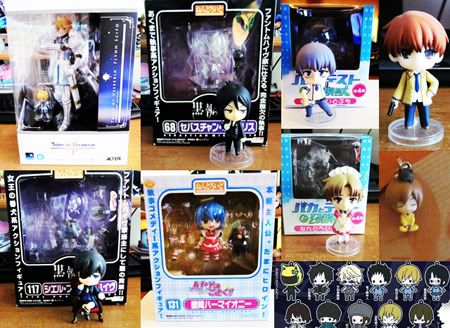 Bleach & Reborn Chara Fortunes
Reborn and D.Gray Man deformed figures
Straps:
Junjou Romantica, Code Geass, One Piece ~ etc
Durarara!! Rubber straps
KHR Doujinshi! Tons (mainly 1827) by circles such as 7men zippo, Negahyst...etc
Big Bang Merchandise & JE, w-inds.
Anime DVDS: Cardcaptors, FMA, .hack//sign, Saiyuki...
Manga:
Alice 19th, Angel Diary, BL manga, Bring it on, Chocolat, D.N. Angel, Kare First Love, Never Give up, Gravitation, Legal Drug, Wallflower, W and Juliet and more!
KHR items: Reborn stick posters, Hibari headphones and others...
Gundam 00 Haro Mascot
Nendoroid Petites:
Baka to Test Tsuchiya and Akhisa, Angel Beats Otonashi
Nendoroid:
Hayate no Gotoku, Kuroshitsuji Ciel, Kuroshitsuji Sebastian
More KHR doujinshis by 7menzippo
Hitman Reborn Chara Pos Collection 7
Chara Land ~ Starry Sky Sweets - Autumn Characters - Hoshizuki
Newly Added 8.27Yaoi Manga:
The Desert Prince
An Even More Beautiful Life
Warning! Whispers of Love
This Night's Everything
Sky Link
Many items have gotten price reduction! Please check it out!
Current Mood:
annoyed