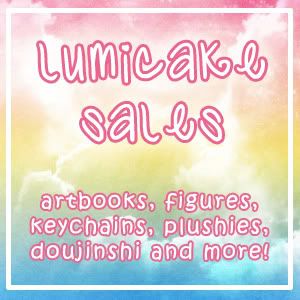 Hi guys! I'm moving soon and really need to get some things cleared out, so I'm selling a ton of stuff for cheap, both new and used items.

DVDs starting at $5, English-language manga starting at $2, doujinshi starting at $2 - lots of out of print or hard to find items! I'm also selling tons of figures, Japanese-language manga/books/magazines, plushies, keychains, some really nice COSPA t-shirts and more. Everything from Fate/Stay Night to Gundam, Evangelion to Totoro, and lots of other series too.

Please come check it out at
lumicake_sales!