BIG MOVING SALE!!

You'll never get items for that cheap again. Now's your only chance!
Everything must go
!
SPECIAL X-MAS DISCOUNT:
BUY 3 GET 1 FOR FOR FREE!!
Not only is it cheap, there's SO MANY items, that they don't fit in one entry!!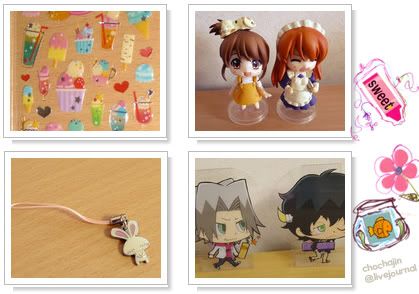 PART 1 - Doujinshi
(Bleach, Death Note, Naruto, Hitman, Dragonball, Sailor Moon, Yu Yu Hakusho, Prince of Tennis and more!)
PART 2 - Various
Johnny's (CDs, photos, magazines, posters) / Japanese study material / figures (anime and Pinky St.) / merchandising / stationary (notebooks, diaries, stickers) / traditional (lucky charms, fans, souvenirs) / clothes and household items
PART 3 - Books, Manga, Magazines
(Japanese manga, magazines, artbooks, photobooks, movie pamphlets, guidebooks, books)
Directly from Japan to all over the WORLD!
FEEDBACK ENTRY
Positive feedback from over 130 buyers so far!