((8-(*'-'*)ノHello!ヽ(*'-'*)-8)) 
HUGE MOVING SALE!!!
Only a few more days left, so hurry up!
You'll never get items SO INEXPENSIVE again!!

ALL DOUJINSHI for 1.99$!!
ALL ARTBOOKS, BOOKS and MANGA FOR EXTREMELY REDUCED PRICES!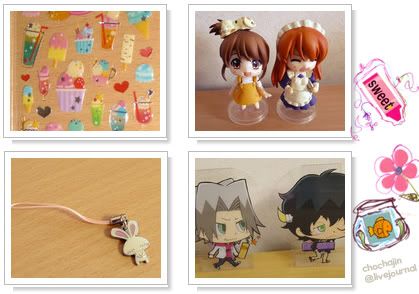 PART 1 - Doujinshi
(Bleach, Death Note, Naruto, Hitman, Dragonball, Sailor Moon, Yu Yu Hakusho, Prince of Tennis and more!)
PART 2 - Various
Johnny's (CDs, photos, magazines, posters) / Japanese study material / figures (anime and Pinky St.) / merchandising / stationary (notebooks, diaries, stickers) / traditional (lucky charms, fans, souvenirs) / clothes and household items
PART 3 - Books, Manga, Magazines
(Japanese manga, magazines, artbooks, photobooks, movie pamphlets, guidebooks, books)
Directly from Japan to all over the WORLD!
FEEDBACK ENTRY
Positive feedback from over 140 buyers so far!