-PAYPAL highly preferred (credit card ones ok. just tell me if you have it.) !!!! if you don't have it...i guess its ok to send it to me in concealed cash or money order...but you must do it ASAP. my email + paypal is oichen@yahoo.com
-IF MORE THAN ONE PERSON WANTS THE ITEM, HIGHEST OFFER WINS.
-If you think prices are too high, feel free to negotiate.
-However, if you agree to the prices that I have put up, I will include FREE SHIPPING, no matter where in the world you are.
-please excuse my camera's quality...it can't focus very well sometimes.
**prices are in US dollars.
you must be able to pay (almost immediately! maximum 5 days!!!!) after you contact me, or let me know otherwise.
[of course, this won't apply to money orders/concealed cash...but i highly recommend you send the payment out as soon as possible. if you have any other complications / need a couple days to deposit money, please let me know. my email, again, is oichen@yahoo.com ]
-i am very very pressed for money, so the faster you pay, the faster i will send the item out and the happier the both of us will be! :D
-please STATE THE FORM OF PAYMENT you are planning to pay by, and your EMAIL ADDRESS.

for any more questions, feel free to comment!
(there may be more updates on other items)

If you doubt my reliability, I have a positive feedback rating at garagesalejapan (scroll down the page to see my feedback)

thank you for your time~
======================================================
h.naoto skirt (H. Jelly - Dark Red Rum)



front (disregard the little yellow doorknob underneath the skirt)



close up of the waist area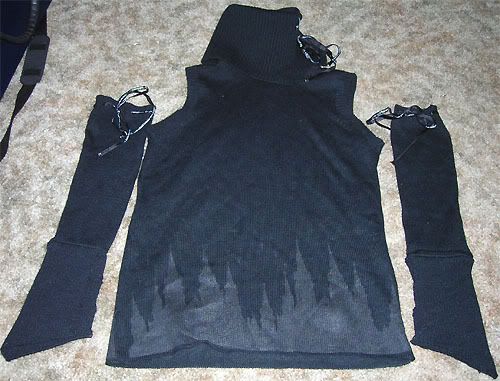 back



tag


This h.naoto skirt has more of a "deconstructed" feel to it, with purplish streaks, rips, and holes everywhere.
There are two layers, so it can keep your legs warm.
There is a zipper on the side.
I would normally keep such an awesome skirt, but I don't really have anything to match with it.
COMPLETELY NEW WITH TAGS.

Measurements:
waist: 28 inches (i'm 29~30 inches, and i can fit in it. any larger, you would have trouble fitting into it.)
hips: 44 inches max
length: 34 inches

Since this is completely brand new with tags, I think asking for $130 (or best offer!) is reasonable.
-----------------------
Please make me a reasonable offer if you think $130 is too much for you.
However, I will include FREE SHIPPING if you buy it at $130, and packaging and materials may be up to $10 if you are in the US (and more if its international).
Just comment to leave me a question or email me at oichen@yahoo.com
Thanks for your time.