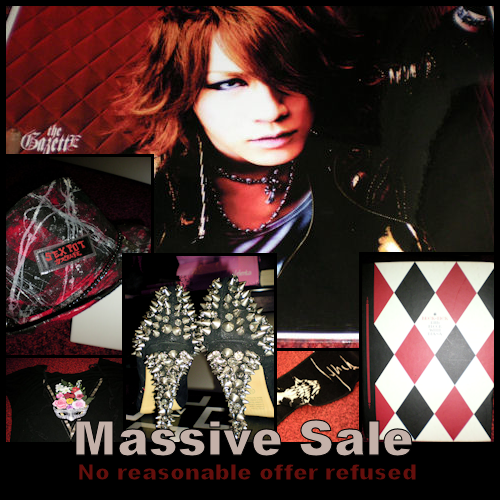 The Gazette
- photobooks
- RARE scarf
- Tokyo Dome notebook
- posters and magazines

MUCC
- T-shirt
- sweat band
- tote bag
- hand signed poster

Lynch.
- Rare tour shits
- tour towel

Buck-Tick
- 2 ultra-rare limited edition DVD's
- CDs

Other bands with merchandise include: Sel'm, 9goats black out, girugamesh, sadie, merry and many more. Tonnes of magazines and posters, all in excellent condition and lots of CDs and DVDs, most of which are first press limited editions.

Lots of KAT-TUN/Akanishi Jin stuff up for grabs including CDs, DVDs and Idol shop goodies as well as a whole JYJ collection.

Lots of Sex Pot Revenge items as well, plus random Japanese fashion and even some authentic Vivienne Westwood items.

Come have a look @
japan_treasures and feel free to make offers.