♥ G S J ♥________ ★! Garagesalejapan Buy & Sell
09 August 2012 @ 01:27 pm
LIMITED EDITIONS DVDS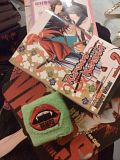 Manga, Magazines, Figures, Doujinshi, J-rock, lots of yaoi, and MORE! Prices REDUCED WITH SHIPPING INCLUDED FOR U.S. BUYERS!! And still negotiable! BUY THIS STUFF.

Gazette and Dir en grey items added.

~~~~~~~~~
AND
~~~~~~~~~

NEW: CLOTHES, BAGS, AND MORE! ALL NEW!

SERIOUSLY. WE WANT IT ALL GONE. EVERYTHING'S DISCOUNTED AND NEGOTIABLE!