I am taking pre-order for
KOSE HAPPY BATHDAY TO YOU
, new collections for year 2009 with our beloved
NEWS
as presenters again.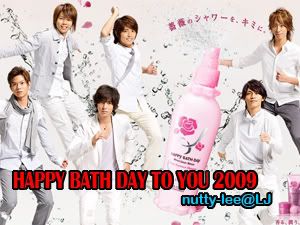 All the products and price list will base on
KOSE's Website
and weight of the product itself as I have to ask someone to carry from Japan to Thailand (Yep, all order will be shipped out from Thailand).
Also, since this is the pre-order and we have to search for the products, after placing order, it may take some time for me to get back to you for the exact date of having your order to ship out. However, I will keep you post for the status of your order.
Delivery is
not
included yet.
Payment method is
paypal
.
[pre-order] KOSE Happy Bath Day to You 2009 Products
KOSE Happy Bath Day 2008
products are still around as well, you can find more products by following the link below to my other post~
[pre-order] KOSE Happy Bath Day 2008 products
PS. Thanks for the space and X-post to some other communities~