♥ G S J ♥________ ★! Garagesalejapan Buy & Sell
28 October 2010 @ 12:13 am
28 October 2010 @ 01:28 am
28 October 2010 @ 10:38 am
NEW STUFF 11/03/10:
YOU HIGIRI (JEWEL) & FINAL FANTASY ADVENT CHILDREN ARTBOOKS, LEATHER MINI SKIRT, RARE TRINITY BLOOD & KYO KARA MAOH! POSTERS, MORE!!
TONS OF NEW ARTBOOKS ADDED!!!!!!!
MESSIAH (YAOI), KYO KARA MAOH!, BERSERK, ICE-COLD DEMON'S TALE, WEISS KREUZ, INUYASHA, FUSHIGI YUUGI, AQUARION, SHAMAN KING, MORE!!!
ENGLISH MANGA:
OURAN HIGH SCHOOL HOST CLUB VOL. 11
OTOMEN VOL. 1
A CAPABLE MAN (YAOI)
BLANK SLATE VOLS. 1-2
TEA FOR TWO (YAOI) VOL 1
SHIN MEGAMI TENSEI KAHN VOL 1
PLUS: FUNKY & KAWAII JEWELRY, CHOBITS POSTCARDS, KAWAII TOYS, RARE HELL BUNNY PETTICOAT SKIRT, DRAGONBALL Z VEGETA BUTTON-DOWN CLUB SHIRT, INUYASHA & POKEMON KEYCHAINS
RECENTLY ADDED:
GOTHIC/LOLITA FASHION (BLACK WOOL GOTHIC CLOAK, PINK HIGHTOPS, MORE), SHOES, AND ACCESSORIES!
TOYS, PLUSH, & PUPPETS!
RIN! (YAOI) POSTER
JAPANESE PORCELAIN GINGER JAR
SHOUJO FUROKU: PENCIL CASES, BAGS, PENS, STATIONERY, TINS, ETC! HANA KIMI, W JULIET, PARFAIT TIC, GAKUEN ALICE, SECRET SWEETHEARTS, KAMICHAMA KARIN, KIRARIN REVOLUTION, LOVE BERRISH, VAMPIRE KNIGHT, ROCKIN' HEAVEN, SKIP BEAT, I LOVE BABY, TEARS OF SHEEP, LOTS MORE!
RARE MERCHANDISE ALSO AVAILABLE FROM:
HANA KIMI, LOVE DROPS, GETBACKERS, DN ANGEL, GUNDAM SEED, DETECTIVE LOKI, PANDA-Z FIGURES, PRINCE OF TENNIS, YU-GI-OH!, RUROUNI KENSHIN, ST. LICENSE, HIKARU NO GO, DEATH NOTE, HUNTER x HUNTER, BLEACH, E'S, INUYASHA, SAMURAI DEEPER KYO, KODOCHA, HELLSING, TOKYO BABYLON, BERSERK, KYO KARA MAOH!, NIGHTMARE BEFORE CHRISTMAS, REBORN!, MIRAGE OF BLAZE, SPEED RACER, POKEMON, TOGAINU NO CHI, JUNJO ROMANTICA, DRAGONBALL GT, TRINITY BLOOD, GRANRODEO, GURREN LAGANN, PANDORA HEARTS, CLAMP, SHONEN ONMYOJI, DETECTIVE CONAN, CODE GEASS & MORE!
KEYCHAINS, FIGURES, FUROKU, CLEAR FILES, CALENDARS, PINS, PLUSHIES, SHITAJIKI, POSTERS, FIGURES, FLYERS, SCHOOL SUPPLIES, TRADING CARDS, AND MORE!
ENGLISH MANGA & NOVELS:
APOTHECARIUS ARGENTUM, HOSHIN ENGI, FLAT EARTH EXCHANGE, ANGEL'S COFFIN, HUNTER X HUNTER, LOTS MORE!
PLUS BJD WIGS/EYES, BAGS & MORE!
CLICK BELOW FOR ALL THE DETAILS! THANKS FOR LOOKING!
(
Read more...
Collapse
)
28 October 2010 @ 11:50 am
Hi!!

I'm looking for Kuroshitsuji Black Record in good condition with good price shipping to mexico.

Thanks!
28 October 2010 @ 03:44 pm
★Doujinshi Sale★
Selling bunch of doujinshis!
Please click above link for more information!
Doujinshis from CC Spark(10/10/10) have been added as I got the just today!
The following DRRR/Reborn Doujinshi Titles are my second copies, which I really want them to be taken!!
Loveless Loveliness (Izaya Uke Anthology)

Psychedelic Pink Screen (Tsugaru x Psyche)

Sweets Jack!! (Shizuo x Izaya)

However, it's beloved, isn't it? (Kasuka x Shizuo)
Bad Habit Bell (Akabayashi x Shiki x Izaya)
幸福論 (Shizuo x Akane)
Gift (Mukuro x Tsuna + Chrome)
Prices have been lowered for most doujinshis :)
Negotiation is acceptable if buying more than 1 doujinshis XD
I've also opened
Korean NT/Light Novel & Manwha ordering service!

If anyone is interest at getting the Korean version books but can't find a way, please feel free to ask!
It's mostly for Countries outside of Asia.(Items will be shipped from US)
Please click the
HERE
for more information!
28 October 2010 @ 04:03 pm
This might be a long shot but doesn't anyone know of a pick-up service for the upcoming M3 event?
I know it's in a few days but I can pay right away.

Thanks.
28 October 2010 @ 05:01 pm
I KNOW THIS POST IS PROBABLY GOING TO ANNOY PEOPLE.. Sorry...
let me know NICELY in a comment..

Manga
13. PeaceMaker Kurogane Vol 1
14. Socrates In Love
15. Kill Me, Kiss Me Vol 2
16. X *in Japanese* Vol 3,46,8,9
DVD
(
cut
Collapse
)
Robotech eps 37-42 $3
VHS
1. Neon Genesis Evangelion Vol 1-6
2. Cowboy Bebop *All but 1 Vol*
3. Escaflowne *Complete*
4. Sailor Moon The Movies *All 3 movies*
6. Devil Hunter Yohko
7. Nadia Vol 10
8. Nadia The Movie
9. Tenchi Forever The Movie
10. Tenchi The Movie 2: Daughter of Darkness
11. Tenchi Muyo: Trouble Hatches
12. Tenchi Muyo: Zero Hour
13. Orphen: Super-Natural Powers
SANRIO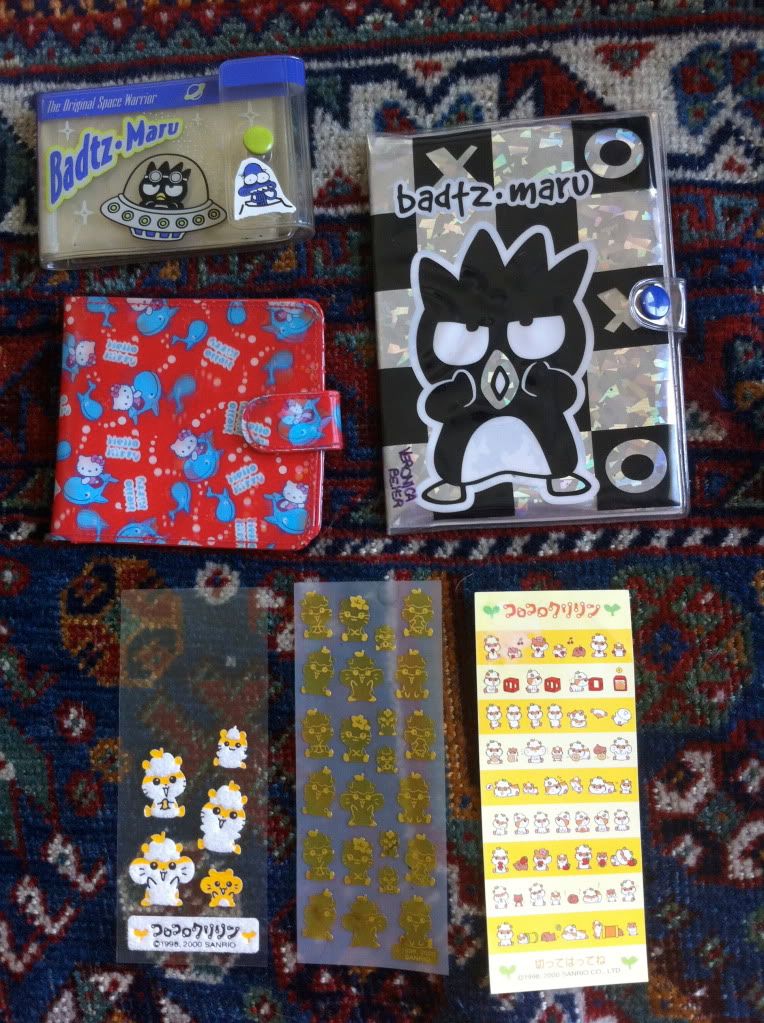 1.badtz maru card holder $4
2. badtz maru stationery holder $6
3. hello kitty holographic wallet $6
4. Hamster stickers. $1.50, $3, $2 or $5 together
WARNING IMAGE HEAVY

All prices are negotiable. Items have been rightfully priced according to brand and condition, therefore are not refundable since prices are not inflated and affordable AND condition is pictured or stated. Feel free to ask questions and shipping will always be $3(plus a dollar if its a heavy jacket or shoes). Thank you!!


CLOTHING
Costume/Cosplay
(
cut
Collapse
)
Tops
(
cut
Collapse
)
T-Shirts
(
cut
Collapse
)
Jackets, Pullovers, Cardigans, Hoodies
(
cut
Collapse
)
Dresses and Skirts
(
dresses and skirts
Collapse
)
JEWELRY & ACCESSORIES
(
cut
Collapse
)
(
cut
Collapse
)
PURSES, WALLETS, HANDBAGS
(
cut
Collapse
)
28 October 2010 @ 05:04 pm
Info!
- First person to leave their Paypal address and can pay immediately gets the item!
- I have 100% positive feedback in my journal (+17) and on eglfeedback. (+16).
- I accept Paypal.
- I ship from GA, USA.
- Prices do not include shipping or PP fees.
- International buyers, please tell me your country so I can look up the shipping cost for you.
- I am open to trades -- just show me whatcha got!
- Please no deadbeats!

All offers will be considered, of course!

Thank you everyone who helped! :D
☆☆☆☆☆☆☆☆☆☆☆☆☆☆☆

Manga - $1 each
Beyblade 01
Chobits 01
Hands Off! 01-03
Hellsing 01
Inuyasha 01
Legal Drug 01
Naruto 01,03,09
Offbeat 01
One Piece 01-03
Reborn 02
Rurouni Kenshin 01
XXX Holic 01
Yuyu Hakusho 01-05
Magazine -

$3

each or

all for $20 shipped


Shounen Jump November 2003
Shounen Jump November 2006

Newtype USA December 2006
Newtype USA November 2007
Otaku USA April 2008
Otaku USA June 2008

DVDs -

$3

each
Card Captor Sakura 04

$5

Chobits 01
Fushigi Yugi 01
Love Hina 01 & 02
Korea's Culture & Heritage

Games

[DS] Pokemon Heart Gold

$30 (+$5 for pokewalker)

OBO

[GBC] Barbie Fashion Pack

$3


[Game Cube] Road Trip: The Arcade Edition

$5
[XBOX] Terminator 3: Redemption $6
[PS2] Shadow of the Colossus
$20
OBO
[PS2] The Simpsons: Road Rage

$5
[PS2] Super Car Street Challenge $3

Cosplay

both for $45 shipped


Lucky Star Konata Winter Uniform cosplay

$30



♥
♥
♥
scarf is adjustable; XS - exact measurements on request
Long curly wig (salmon pink)

$10



♥
♥


Toys
Hello Kitty "Rose" plush

$6



♥
11 inches tall
Gundam 00 MSIA: Exia $15

♥
Never opened!
I Choose You! Pikachu

$25



♥
♥
Mouth/ears move, cheeks light up, says Pikachu in a variety of ways

Etc
DS Action Replay

$30

OBO

Shin Hyesung "The Beginning, New Days..." concert goods

♥
Set:

$13

; Charm:

$8

& glowlights:

$5 each


Sanrio Bundle

$5



♥
Cinnamoroll screen cleaning charm

♥
HK stickers (1 used), Tenorikuma vanilla scented stickers

Gundam gachapon

$3
♥
28 October 2010 @ 06:33 pm
NEW ITEMS !!
All items and prices are listed here.
www.cosplay.com/marketplace/showcat.php/cat/500/ppuser/9343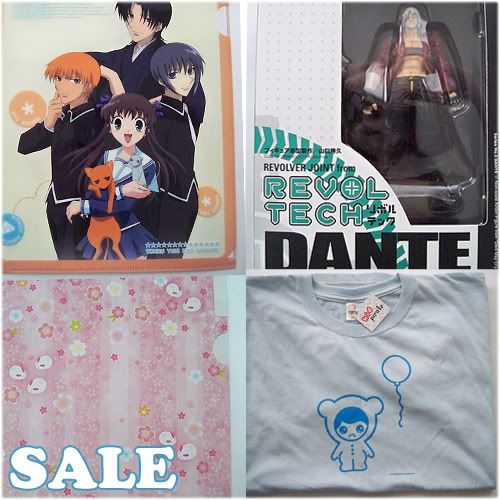 New items include- (prices do not include shipping)

$5-NEW fruits basket (human form shown above) clear file folder
$5-NEW fruits basket zodiac form clear file folder
$4-NEW Pink Bunny and cherry blossom folder
$15-NEW Dante Revoltech
$13-NEW Cute light blue XL t-shirt silkscreen of boy in bear costume w/ balloon

If you see something you like either comment here or you can contact me on cosplay . com !

28 October 2010 @ 06:49 pm

Selling Japanese goods. Pouches, cute erasers, memos, notebooks, japanese candy, accessories, etc. Everything brand new and never used.
Also selling Dojinshi! All of them unopened & brand new! D.gray-man, Naruto, Prince of Tennis, Gankutsuou, Reborn!, Hikaru no Go, etc.
(
Cresdolls@LJ!
)
28 October 2010 @ 08:42 pm
A GIANT sale of Yaoi, Out of Print, Shoujo, Shonen sets, most complete or up to date. HURRY, half will be gone by Halloween! This is the last big sale I will have. Viz Signature Manga, Drama Queen, Blu, 801 Media, DMP, Netcomics, Del Rey, Tokyopop, Yen Press, ADV, Go!comi, Onecomic and more. Go to sale click: HERE


Titles with illustration at my journal HERE
Yaoi:
Let Dai 1-15 NEW OOP, Love is Like a Hurricane 2-5 OOP, Kiss Your Hair NEW Duo Brand, In the Walnut 1-2 (NEW), Just Around the Corner NEW, Love Circumstances NEW, Electric Hands NEW, Love Knot BLU NEW, Madness 1-2 NEW COMPLETE, Love/Knot June NEW, Physical Attraction NEW, Reversible NEW, Shards of Affection Duo Brand NEW, Love Control NEW&SEALED, Scarlet NEW BLU, Future Lovers 1-2 NEW, Ruff Love NEW, Yakuza in Love 1-3 NEW COMPLETE, Awaken Forest
The Wanderer Full Moon 1-2 COMPLETE OOP
New Series:
Deadman Wonderland 1-3 NEW COMPLETE, Flower in a Storm 1-2 NEW COMPLETE, 13
th
Boy 1-5 NEW COMPLETE, Hellsing 1-9, This Ugly Yet Beautiful World 1-3 NEW COMPLETE, Raiders 1-3 NEW COMPLETE, Alice in the Country of Hearts 1-3 NEW, Tsubasa Those With Wings 1-3 NEW COMPLETE, Takeru Opera Susanah Sword of the Devil 1-4 NEW COMPLETE, Lucky Star 1-5 NEW COMPLETE, Bokurano Ours 1-2 NEW COMPLETE Viz Signature
Netcomics: OOP
Can't Lose You 1-6 New complete (oop, selling $200), June 1-2 complete, 0/6 Zero/Six 1-2 NEW, In the Starlight 1-2 NEW OOP, Narration of Love at 17 1-4 OOP NEW COMPLETE, Pine Kiss 1-2 NEW, Dokebi Bride 1-4 NEW
Yen Press:
Hero Tales 1-3 NEW COMPLETE, Goong 1-9 NEW COMPLETE, You're So Cool 1-6 NEW COMPLETE OOP, Welcome to Wakaba-soh 1-2 NEW COMPLETE, Sunshine Sketch 1-4 New Complete, Black God 1-3 new
OOP and Complete:
Oyayubihime Infinity 1-6 NEW, Yggdrasil 1-2 complete NEW, Full Metal Panic 1-9, Crossroads 1-7 NEW COMPLETE OOP, Juvenile Orion 1-5 NEW COMPLETE OOP, Forbidden Dance 1-4 NEW COMPLETE OOP, Les Bijoux 1-5 NEW COMPLETE OOP, Wolf's Rain 1-2 NEW COMPLETE OOP, Junk Force 1-3 NEW OOP Complete, Couple 1-3 NEW COMPLETE OOP
Rare:
GOTH NEW & SEALED, Welcome to the NHK 1-8 NEW COMPLETE, Doors of Chaos 1-2 NEW COMPLETE, Basara 1-9 NEW CULT, Harlem Beat 1-9 VG, Rebound 1-6 NEW OOP, Black Jack 1-2 NEW, Jyu-Oh-Sei! 1-3 NEW COMPLETE, Initial D 1-14 VG OOP, Bow Wow Wata 1-2 NEW COMPLETE, Suzuka 1-5 NEW, The Good Witch of the West 1-5 NEW
28 October 2010 @ 09:31 pm
Selling yaoi manga Love Pistols SET 1-5 rare OOP
SET of Yugioh God cards, mint condition, Ra, Slifer and Oblesik
Junjou Romantica, Wolf God, Yokai's Hunger and Love Pistols
Go to
http://shop.ebay.com.au/ragefaith/m.html?_nkw=&_armrs=1&_from=&_ipg=25
if interested =)
Also selling manga SET Demon Diary 1-7 complete
SET of Kiss All the Boys yaoi manga 1-3
Saiyuki DVDs 1-3
Please comment if interested! Thanks!
28 October 2010 @ 11:51 pm
Selling off some on my anime cel collection and some bjds and maybe some other stuff later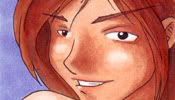 Please look