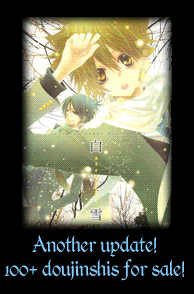 Doujinshi: DRRR
, Katekyo Hitman Reborn
, Hetalia
, Angel Beats, Kuroko's Basket, Inazuma Eleven
Manga: Chibi-san Date, Cristo, Flat
Merchandise/Misc/Magazine: Durarara(Fan Made/DVD), Angel Beats, Katekyo Hitman Reborn, Shakugan no Shana, Gundam 00, To aru Kagaku no Rilgun, Seiyu, 07 Ghost, Inazuma Eleven, Hakuouki, Sengoku Basara, Macross F, Letter Bee, Fate Stay Night, Kyo Kara Maoh, Animage, Animedia, Newtype G's Magazine, Bleach, TRC, Pokemon, Inuyasha

Selling Limited Edition DVDs for Durarara here as well!

I've added tons of new Doujinshis for DRRR, KHR, and APH!
They were just added a few hours ago :D
Please take a look!