♥ G S J ♥________ ★! Garagesalejapan Buy & Sell
21 December 2011 @ 01:05 am
21 December 2011 @ 02:25 am
★ Hello everyone! I'm having a special holiday sale
December 15th to December 31st (Midnight)
and more discounts to help clear out the rest of my inventory for the year.
I
will ship the next business day
and ship the least expensive method unless requested otherwise. ★
Newtype USA magazines, Kamen Rider, and more!
Selling lots of stuff from various popular fandoms including manga, collectibles, and much more. Very low prices starting at only
1 USD
.
I ship worldwide and accept Paypal or check by mail (only if you're in the US) and ship as soon as I can after the payment is made.
I accept trades!
I am especially willing to trade
next to
anything
in my sales for a
Cattleya and Rana Stick Poster
and/or
Cattleya and Melpha Stick Poster
. Trading for multiple items is always welcome. Check out my journal for more info and my wishlist.
My feedback:
eBay
and
GSJ Feedback Page
(click the header to go to my sales or go to
http://hskeleton.livejournal.com
Current Mood:
excited
21 December 2011 @ 07:38 am
Hey, everybody! I really need to clear out some space and make some extra cash. Almost everything I have is posted now, so please take a look! I am adding some Dir en grey photobooks to my journal, as well as a few random tour goods, etc. Please take a look, and if something isn't listed yet, feel free to ask!
Complete list of items can be found at
My Journal
, including:
- JROCK CDs/DVDs/Tour Goods:
(Aikawa Nanase, Balzac, Baroque, Dir en grey, hide, Raphael, Sugizo, X Japan, and more) **New DIR EN GREY Official Trading Cards and Master of Monster Tour Book/Postcars Set, Photobooks (XX, Shikaku) Added**
- JRock Magazines/Fliers:
(Dir en grey (NEW), Janne da arc, Kagrra, MUCC, The GazettE and many more for the fliers)**New Items**
- JPop:
( Morning Musume, Natsukawa Rimi, Onitsuka Chihiro, SPITZ, Tsuchiya Anna)
- Clothing:
(VK fashion items)
- JHorror Movies- Books:
(English Language Fiction, Japanese Language Yaoi Manga, Books for School/University) Pictures added for all books!
- New Item (Updated 10/15/11) --- Japanese Folding Fan (Sensu) With Cute Purple Rabbit Design!
...And lots of other random Japanese things (Stationery, Tamagotchi, freebies) :D
Feel free to jump right over to
My eBay page
to see items for sale directly. Any items here are still up for grabs if they don't sell. If you are interested, leave a comment - I will then offer you the item at the end of the auction :)
Thanks for looking and please feel free to message me with any questions! I really just need this stuff GONE! Most everything is make an offer now. If there is a price and you don't like it, make me an offer anyway :D
My feedback is
HERE
Thanks!
21 December 2011 @ 10:12 am
21 December 2011 @ 01:01 pm
LOTS OF NEW ITEMS ADDED! NO REASONABLE OFFER REFUSED!! <3
If you don't like the price, feel free to haggle. Going to be going overseas in April, and I need to drum up money asap. I have plenty of good feedback to provide. Prices do not include shipping, and additional shipping material costs. Items have been kept in a pet friendly home, but non smoking. It will be an image heavy post <3
What I'm selling:Figures/Dolls/Gashapon:
Gundam Wing, Cardcaptor Sakura, BOME, The Melancholy of Haruhi Suzumiya, Fullmetal Alchemist, Dark Stalkers, Ranma 1/2, Lucky Star, Cowboy Bebop, Revolutionary Girl Utena, Hellsing, Bleach, etc.
Doujinshi:
FFVII, Rurouni Kenshin, Bleach, Death Note, Fullmetal Alchemist, LoTR
Sailor Moon:
plush, doll, candy figure
Keychains/Straps:
Lucky Star, Melancholy of Haruhi Suzumiya, Rozen Maiden, Hayate the Combat Butler
Art Books:
Gundam Wing, Magic Knight Rayearth, Weiss Kreuz
CD's and DVD's:
Lucky Star, Cardcaptor Sakura, El Cazador de la Bruja, Gundam 00
Misc. other items
(
Read more...
Collapse
)
21 December 2011 @ 01:30 pm
I have the complete box DVD set of Samurai Champloo and 2 books. Also the Inuyasha complete dvd box set, 4 movies and 2 big books with 6 stories in each book. If you want to see pixs. let me know.
21 December 2011 @ 01:56 pm
Selling some JRock items :
Many items discounted!!
♫

autograph's: Nega, Velbet, v(neu), D=out, hurts, -OZ-, Rentrer en Soi, ALSDEAD, ScReW, SuG, an Cafe, DuelJewel, Eccentric agent, R-shitei, Ayabie, Kiryu, Megaromania, Vistlip, Sadie, Chariots, Ruvie, 12012, Kra, Orochi, Lolita23Q

♫

photoset's : Alice nine, D=out, the GazettE, Irokui , Kichiku Ikka

♫

CD

's

/

comment CD's: Juliette,Jakura

/

Dolly, ScReW
☼
guitar pick's
:
ViViD, SuG, Versailles, Miyavi , Alice nine, Janne Da Arc, The GazettE, DELUHI, D, Dir en Grey, Nightmare, VAMPS, LM.C, Vidoll, Kagrra, D'espairsray, SID, Galneryus, Sugizo, Sex machineguns, L'arc en ciel, Buck - Tick
Wanted
: Autographs from : depain, dali, BugLug, zoro, Luzmelt, Xodiack, Virgenow, Anli pollicino
21 December 2011 @ 02:23 pm
I'm open to trades & negotiations, feel free to haggle if the price is reasonable. Prices includes shipping within the USA. Prices are negotiable and will give discounts on multiple items. Pictures available upon request. Thank you. ♥
Anime
Dragonball GT: Affliction, Proliferation, & Calculations $10
Rurouni Kenshin: Faces Of Evil $6

Books
Picture Letters From The Commander In Chief: Letters From Iwo Jima FREE WITH ANY PURCHASE OF $10 OR MORE
Cafe Kichijouji De Illustrations Artbook (Has slight damage; please inquire about it) $20
Hana Temari Hana Illustration Artbook $24
Minako Iwasaki Artworks Artbook (Has a couple of stains on the back dust jacket; perfect condition otherwise) $30

CD's
L'Arc~en~Ciel KISS Album (Korea Tour Edition) $12
Michael Jackson "King Of Pop" (The Korean Limited Edition Album) $20
Doujinshi
Eternal Arcadia Anthurium. (Gilder/Vyse) Reprint Doujinshi $40
Final Fantasy VII - Tseng + Reeve and others To Your Friends And Allies $15


Final Fantasy VII - Tseng + Reeve and others

Second Mission by CHERRY BLOSSOMS $15
Final Fantasy VII - Tseng + Reeve Syunisupe 2 by CHERRY BLOSSOMS $15


Gankutsuou - Fernand/The Count + Albert

堕天の刻印 by DUO BRAND $10
Gundam Seed Destiny Ultimate Powers Overdoser 4 Reprint Doujinshi $22
Lord Of The Rings

私を抱いて、そしてキスして。

(Aragorn/Frodo) $17
Naruto Bed Time Eyes (Asuma/Kakashi) $12
One Piece - Doflamingo/Sir Crocodile
未満 by Terious $11
Tiger & Bunny
僕のおじさん
Anthology by Varous Circles (TEC, Daytri, Omega 2-D, etc.) $26
Tiger & Bunny
虎徹さんを性的にどうにかしたくてしょうがない
by TEC $15
Manga
Peacemaker Kurogane vol. 1 - 3 $13
Trigun: Deep Space Planet Future Gun Action vol. 1 - 2 $10

Misc
HEROX Engine Sentai Go-Onger Sousuke $5
Peacemaker Kurogane Shitajiki $6
21 December 2011 @ 03:32 pm
Wanted items related to:
I'm looking for
any
of the LOVE Bunny stuff, it can be anything from the keychains to the large stuffed ones. It can be any size, and can be with anything like the image or it can be with something else. But they need to be the soft stuffed ones, not the plastic ones. I'm not really looking for anything super expensive but a decent to cheap price range. And I'd like the toys to be good condition. Thanks!
Stuff for Sale -
Doujinshi
: Katekyo hitman reborn, Bleach, D.Gray Man, Suikoden, Fullmetal Alchemist, The melancholy of Haruhi Suzumiya, Kuroshitsugi, and Tales of Vesperia. Most doujinshi are on sale of buy 1, get the 2nd one 50% off. Can be used multiple times
Yaoi Manga
: Jazz v1-3, Alcohol shirt and kisses, Lover's Flat, Stolen Hearts, Invisible boy v1-2, Cold Sleep, Desire, Sunflower, Yellow v1-4, Love Training, Love Bus Stop, Freefall Romance, Loveholic, buy 1, get 2 50% off, I've added some new ones that might not be on the sales page. Just let me know and I can tell you about it

Manga: Shamen King v1-2, Samurai Deep Kyo, Desert Coral, Chrono Crusade V1-5, Immortal Rain v1-5, Fullmetal Alchemist various, buy 1, get 2nd 50% off
Figurines/dolls/plush
: KHR - Tsunayoshi, KH - Demyx, Bleach - Hollow Ichigo, Xanxus from KHRAll the figurines are currently available. There are some doubles as well. Sale post for these figurines only can be found here. Other items that are being offered below can be found in a different post here
Posters
: 2 Bleach(Ulquiorra, Grimmjow), Katekyo hitman reborn from the seasonal sets and chara pos 7, 6, 5 set, Karau, Gurren Lagoon, Xenosaga, Jinki:Entend. Victoria Frances posters, The wallerflower poster, Innocent Venus poster, Gackt and Hyde posters, Echostream posters, Kine in Aqua poster

There is a sale on all posters where they are buy 1, get the 2nd one 50% off. Can be used multiple times

YuGiOh cards for sale here. From Ultra rare to common! Like Dark Paladin and Cyber Harpie Lady
Others
: various anime DVDs, different types jewelry, 3 video games, gothic boots, teddy bear, 9 Newtype magazines, Final fantasy postcards, and Katekyo hitman reborn, Bleach, and Pandora Hearts photos, 22 Jump magazines from January 2004 to November 2005, AntmaTMundi which is a yaoi PC game, and many many more.
I ship from U.S. and will ship international. You're welcome to negotiate for a price that fits your range if bought in bulk. If you see anything that interests you, please don't hesitate to comment. Please take a look. My feedback page is here so you'll know its safe to buy from me. Thanks!
Individual/Direct Order Service
here
for Japanese stores for doujinshi, food, etc.
21 December 2011 @ 04:24 pm
Here's the complete list below - shipping is from the states.
Shoujo Manga
Bride of the Water God 1,2,3,6 - $5 each
Black Bird 5 - $5
Vampire Knight 9 - $5
Shounen Manga
Claymore 15,16,17 - $5 each
Kekkaishi 9,14,15- $5 each
Vampire Hunter D Volume 3 - $8
Novels:
Vampire Hunter D Volume 7 - Mysterious Journey to the North Sea Part 1 - $5
Vampire Hunter D Volume 13 - Twin-Shadowed Knight - $8
Please see link below for more pics:
http://yeulih.livejournal.com/5447.html
21 December 2011 @ 07:03 pm
NEW ITEMS ADDED AND PRICES REDUCED - WANT TO SELL! NOTHING OVER $25! MOST ITEMS UNDER $15.
(
Click here for the cuteness.
Collapse
)
21 December 2011 @ 07:36 pm
Lowered prices!
Click here or on the picture~
21 December 2011 @ 10:59 pm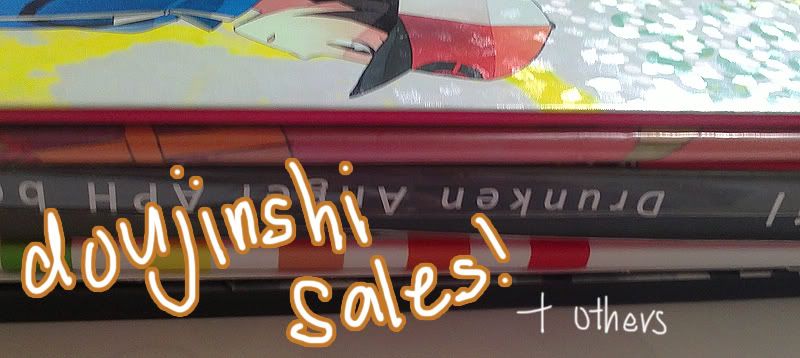 updated my journal with more doujinshis and art books!
[last updated 21/12!]
Items include:
- Huke's doujinshi art book
- Heise's fourth art book
- Hakuouki art book
- A durarara anthology
- Hetalia doujinshis(
prices reduced!
), etc
i really need all these gone so prices are negotiable! discounts will be given you buy more than one item! :D
i'm also selling three of my nendoroids namely, Yoshika Miyafuji, Gumako and Miku. PM me/comment here if you're interested! ^W^
click here for the hetalia doujinshis
click here for the Durarara and Kuroshitsuji doujinshis, etc
click here for the two Tiger&Bunny doujinshis