♥ G S J ♥________ ★! Garagesalejapan Buy & Sell
Sales!!! Added plushies and clothes! With a pair of sexy steampunk boots!
(Click here to get to my sales!)
Updated sales! Includes Nendoroids, new plush, figures, manga, DVDs! From series such as Fate/Stay Night, Kuroshitsuji, Fullmetal Alchemist, InuYasha, Death Note, Gurren Lagann, Togainu no Chi, etc.! Just click the picture or here to go:
http://wutastic.livejournal.com/3857.html
SERIOUS BUYERS

ONLY!!!
please pay attention to this because I ran into another bad buyer on the 12th of this month :(


(No deadbeats, please...)



I really need some money to pay off my bills so any sale at all would really help!


I am also taking reasonable offers on all books, if anyone is interested.


You are free to make reasonable offers on any of my items so long are you are genuinely interested.

I have also added LARGE DISCOUNTS for BULK ORDERS. PLEASE TAKE A LOOK IN MY

JOURNAL

.



I will be very grateful if anyone would be kind enough to buy and give my items a good home.


DOUJINSHI AND MORE - added some Rurouni Kenshin and Trigun doujinshi, as well as some shitajiki

ARTBOOKS + MANGA
(click link for more) -

selling remaining artbooks in the SUMMER 2011 SALE for $10 each + shipping


Manga (all in new condition):
Blood+ vols.1-5 complete - $48 SHIPPED or BEST OFFER
Natsume Yuujinchou 1-6 - $65 SHIPPED or BEST OFFER
Black Cat vols.1-4 - $20 SHIPPED


NENDOROIDS
(might sell Rin nendoroid for $58 + shipping)
I have 2 giant rilakkuma plush for sale
1. Rilakkuma 40 inch tall
2. korillakumma 26 inch tall
let me know if anyone is interested it
please check the image in my ebay account
http://myworld.ebay.com/fukujun123
Hi! I have a few things left for sale to make room in our little place. I really need to make room, so
all prices are entirely open for negotiation!
-I ship from Illinois to any location in the US or internationally (postal laws permitting).
-Smoke free home.
-PayPal payments only. Trades are also good!
shipping, payment, and trade information
feedback post
Japanese Language Manga, Novels, and Art Books
:
Busou Renkin 1-7
Dragon Quest 1
Jungle Tantei Leo (by Tezuka Osamu) 1
Naruto 3
SD Gundam Eiyuuden 1 (includes card)
Slayers 1
Star Wars: A New Hope 1 & 2
Toriyama Akira manga: Toriyama Akira Maru Sakugekijou 1, Kajika, Sand Land
Pokemon manga: Golden Boys 3, Pokemon Movie 1 comic (full color), Pokemon Getto Daze! 4 & 5
RahXephon novels 4 & 5
Art books: Capcom Design Works Early Days; The Art of Metal Gear Solid by Yoji Shinkawa ver.1.5
CDs
:
Last Exile OST 1
Sweet Junction 1 (radio/talk CD featuring Sugita Tomokazu, Morita Masakazu, and Morikubo Shoutarou)
Silent Hill: Shattered Memories limited OST
Hosting a group order for Are you Alice? Metal Charms :D
Please click the picture for information and available slots!
==Personal Sales==
Buy 2 and get 3rd 50% off!!
-Applicable to Doujinshis only
Doujinshi: Durarara
- Izaya x Shizuo x Izaya, Heiwajima Brothers, Chikage(Rotchi) x Kadota, Shizuo x Vorona, Tom x Shizuo, Izaya Uke, Cover Charas, etc
- Hummel, Inumog, World Box, Ikebukuro Now, Okujo Kantarera, and More!(Japanese & Korean!)
Doujinshi: Reborn, Hetalia, Angel Beats, Inazuma Eleven, Ao no Exorcist, Yu-Gi-Oh!, Tiger&Bunny, Hakuouki, Magi
- Mukuro x Tsuna, Dino x Hibari, US x UK, UK x Spain, Akuyuu, Hinata x Otonashi, Gouenji x Fubuki, Endo x Kazemaru, Hiroto x Endo, Fire Dragon, Okumura Brothers, Kaiba x Yami, Saito x Chizuru, etc
- Tiger&Bunny Full Color Anthology(

Price Drop!!!

)
- Dragon Rider's Hetalia Reprint Prime is available!!
- Kine in Aqua Artbook available!
Manga/Manwha/Novel
- Cristo,
Flat, Kyo kara Mao, Star Driver, Dragon Ball(complete), Durarara, .hack// The legend of Twilight, Demon Diary, Lagoon Engine, etc.
- Japanese & Korean & English!
- Ao no Exorcist Color Bible/Archive, Magi, Arcana(Zero Sum Anthology), Goulart Knights
Merchandise/Misc
- Fanmade(Durarara, Reborn, etc), Durarara&Madomagi&Hetalia Straps/Keychains, Star Driver Figures, Shitajikis, Clear Files,
Rin Nendoroid, Hetalia Keychains, T&B Straps, Durarara&Shonen Onmyouji DVDs, and More!
- Ao no Exorcist Character Fortune Straps
- Kimi to Boku chrams
- Umineko no Naku koro ni(PS3), Devil May Cry, Gakuen Hetalia Portable, Durarara 3way standoff, Fire Emblem Sacred Stones, etc.
Anime/Manga Posters
- Puella Magi Madoka Magica, Gintama, Goulart Knights, Hetalia, Inazuma Eleven, Durarara, Kuroshitsuji, No.6, UtaPri, Ao no Exorcist, etc
Feedback
Hello everyone! :D

I'm looking for Wedding Peach dolls~!

I would love it if they came boxed, but they don't have to be! Loose is just fine~

I'd really love a Wedding Peach/Momoko doll, but I might be interested in the other two, Lily and Daisy! <3 :)

Message or comment me, thank you so much!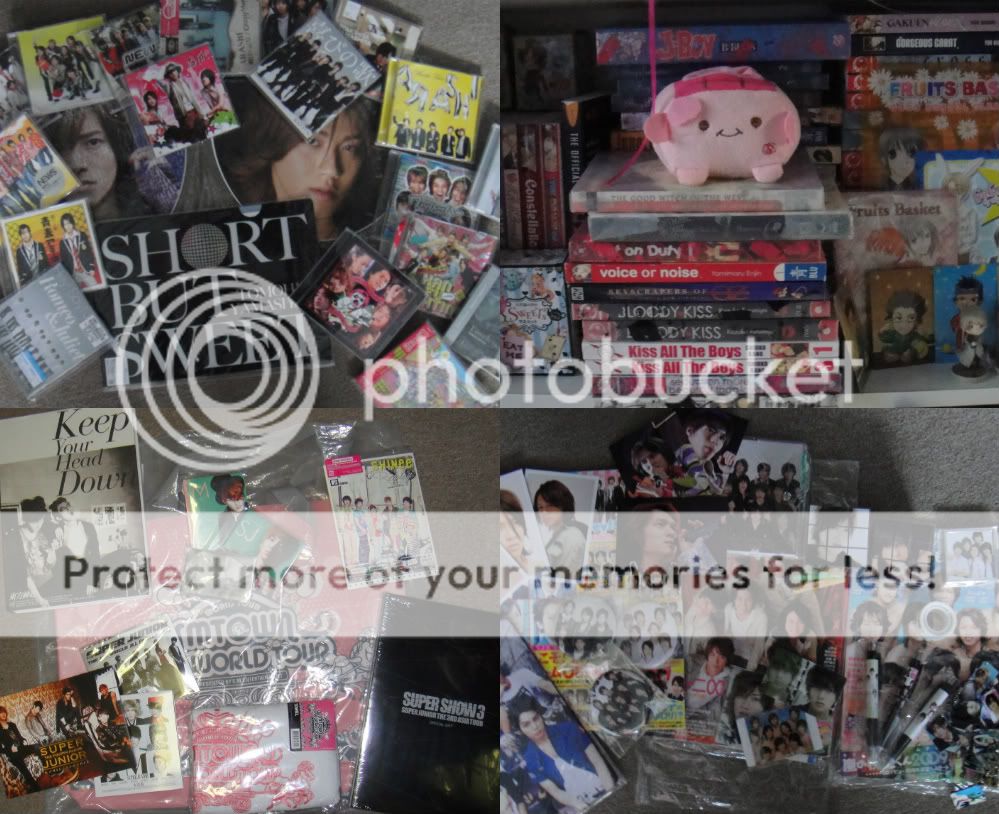 Figures here
Cardcaptor Sakura, Code Geass, Death Note, Final Fantasy, Fullmetal Alchemist, Haruhi Suzumiya, Hetalia, Kyo Kara Maou, Vocaloid.
Some don't have prices attached, make a offer on these.
All figures --> 2nd item 25% off
Manga and manga/anime merchandise here
Lot of manga's, including Vampire Knight, Tsubasa Chronicle and xxxHolic. Also got a bunch of
yaoi
manga's listed.
Whole bunch of merchandise, including Hetalia, Code Geass
,
Fruits Basket, Gravitation, Kuroshitsuji, Kyo Kara Maou, Ouran High School Host Club, Pokemon, Prince of Tennis, Rilakkuma, Tokidoki plushes, Vampire Knight and other random stuff, like hand-craft items, stationary, lots of keychains and phonestraps
All items --> 2nd item 75% off
Fashion
Nail-art, nail glue, cute tops, skirts, shoes and
NEW
Mix-style headphonesAll items --> 2nd item 50% off
Lolita items here
JSK's, skirts,
bags, shoes, wigs, blouses, accessories and more
No special discounts, but willing to haggle and give discount on more item than 1 purchased
Visual Kei, Johnny's Entertainment, SMEntertainment and other kpop items here
Includes cd's, concert merchandise and other official merchandise
Visual Kei:
An Cafe, D=out, Dir en Grey, Gackt, Gazette, Hide, Miyavi, Moi dix Mois, Rentrer en soi, Versailles
Johnny's Entertainment: --> All items, 2nd item 75% off
Arashi, Hey!Say!JUMP, Kanjani8, KAT-TUN,
NEWS, Tegomasu
Kpop: --> All items, 2nd 50% off
Dae Guk Nam Ah/Daikoku Danji, DBSK/TVXQ, Shinee (Maypole tees + posters, shopping bags, SMtown postcards), Super Junior, SMTown
items not photographed, Infinite, Mblaq,Shinee posters, Super Junior posters

Special promotion:
All anime/manga merch, 2nd item 75% off (off of the lowest value)
All fashion items, 2nd item 50% off (off of the lowest value)
All JE items, 2nd item 75% off (off of the lowest value)
All Kpop items, 2nd item 50% off (off of the lowest value, excluding newly listed item)