♥ G S J ♥________ ★! Garagesalejapan Buy & Sell


NEW DIRECT SALE ITEMS & MASSIVE PRICE REDUCTIONS ON LOTS OF ITEMS!

NEW!! RARE INUYASHA PENCIL BOARDS & NOTEBOOK!

RARE YAOI GOODS! YOUKA NITTA, TEMARI MATSUMOTO, NO MONEY!, HAKUOKI, KUROSHITSUJI, MORE!

REBIRTH MANGA VOLS 1-10 SET!




ALSO POSTERS, MANGA, SHOUJO FUROKU & KAWAII CLEAR FILES, PREMIUM YAOI PENCIL BOARDS, LOTS MORE! LOTS OF OTHER CLEAR FILES, FUROKU, KEYCHAINS, TRINKETS, SHITAJIKI, ETC! SHOUJO, SHONEN, YAOI - I'VE GOT A LITTLE BIT OF IT ALL!

CODE GEASS, REBORN, SAIYUKI, PRINCE OF TENNIS, HANA KIMI, KYO KARA MAOH!, LA CORDA D'ORO, S.A., YAMI NO MATSUEI, CHOBITS, OURAN HIGH SCHOOL, SAIYUKI, BASARA, FUSHIGI YUGI, HARUKANARU, COWBOY BEBOP, TRIGUN, VAMPIRE HUNTER D, SLAYERS, FINAL FANTASY, TONS MORE SERIES!

CLICK BELOW FOR ALL THE DETAILS! THANKS FOR LOOKING!


(
Read more...
Collapse
)
I'm open to trades & negotiations, feel free to haggle if the price is reasonable. Shipping within the USA is free! Pictures available upon request. I accept Paypal or concealed cash as payments. If you have any additional questions, feel free to ask. Thank you. ♥
Anime
Dragonball GT: Affliction, Proliferation, & Calculations set $10
Rurouni Kenshin: Faces Of Evil $6

Books
Cafe Kichijouji De Illustrations Artbook (Has slight tear on the back of the dust jacket) $20
Monthly Shonen GanGan (08/2011) $10
CD's
L'Arc~en~Ciel KISS Album (Korea Tour Edition) $12
Michael Jackson "King Of Pop" (The Korean Limited Edition Album) $15
Doujinshi
DC (Superman/Batman) Sweet Dreams by Hai-Ning $18
DC (Superman/Batman) Immolato [I] by Hai-Ning (Hand singed by Hai-Ning) $22
DC (Superman/Batman) Immolato [II] by Hai-Ning (Hand singed by Hai-Ning) $22
Eternal Arcadia Anthurium. (Gilder/Vyse) Reprint Doujinshi $38
Eternal Arcadia - Gilder/Vyse
四畳半生活。2011夏号
by
刑法第60条 $18
Gankutsuou - Fernand/The Count + Albert

堕天の刻印 by DUO BRAND $9
Lord Of The Rings

私を抱いて、そしてキスして。

(Aragorn/Frodo) $17
One Piece - Doflamingo/Sir Crocodile
未満 by Terious $9
Manga
Peacemaker Kurogane vol. 1 - 3 $13
Misc
HEROX Engine Sentai Go-Onger Sousuke $5
K-On! Double Sided Clearfile $8
Video Games
Final Fantasy Crystal Chronicles: Rings of Fates (DS)

$12


Mario Kart (Wii) (Comes with everything) $35
Prices as low as I'll go!
(not even breaking even...)
Kuroshitsuji Mini Note Set

Tour 2007-2008 Stacked Rubbish Grand Finale [Repeated Countless Error] In Kokuritsu Yoyogi
Kyogiba Daiichi Taiikukan [Limited Edition] $95.00

Hibiya On★The★O New Sekai First Press $65.00

An Cafe Summer Drive 2008 $60.00

Rockstar Volume 1 including Gackt | the GazettE | Antic Cafe | Furukawa Yuta
*please note they factor in current exchange rates and international shipping*
(
Take a peak~
Collapse
)
INFO
Hello! Guten Morgen! Selamat Pagi~!

It's been a while but I'm back with even more items and deals to pass onto you!
How do you like the new logo? A website is on the way and now I am taking requests! Go here to make your request. If there is anything you are looking for and it is not listed here, Let me know and I will see if I can find it for you! As always, all prices are negotiable and large orders may be subject to deals. Happy shopping!

[SPRING SALE]


To celebrate the warm weather, and to clean out some of my stock to
make room for summer, I am offering sales on every item in my store!
Buy now while the sale lasts!
-----



NEW ITEMS ADDED: Tiger &Bunny, Madoka Magica, Blue Exorcist, Hetalia, Sengoku BASARA, K-ON!, Uta no Prince-Sama, VOCALOID, Yu-Gi-Oh!, DRRR!!, Kuroshitsuji, ETC.


(Figures, plushies, posters, games, toys, headphones, stationary, etc. below the Fake cut!)

--+--
| | |
| --- | --- |
| | Shipping and handling is determined by weight, distance, and packaging. Please include your zipcode in the post so I can give you an acurate estimate of postage. Shipping is from the USA and I will ship internationally. |
If you want insurance added to your shipping, please tell me to do so, but this will add an extra fee. Will be shipped in bend proof packaging as soon as I receive your payment! If you are interested, comment here for fast service. I accept payments via Paypal / Money Order / Check / (Cash).

--+--
(Figures, plushies, posters, games, toys, headphones, stationary, etc. below the Fake cut!)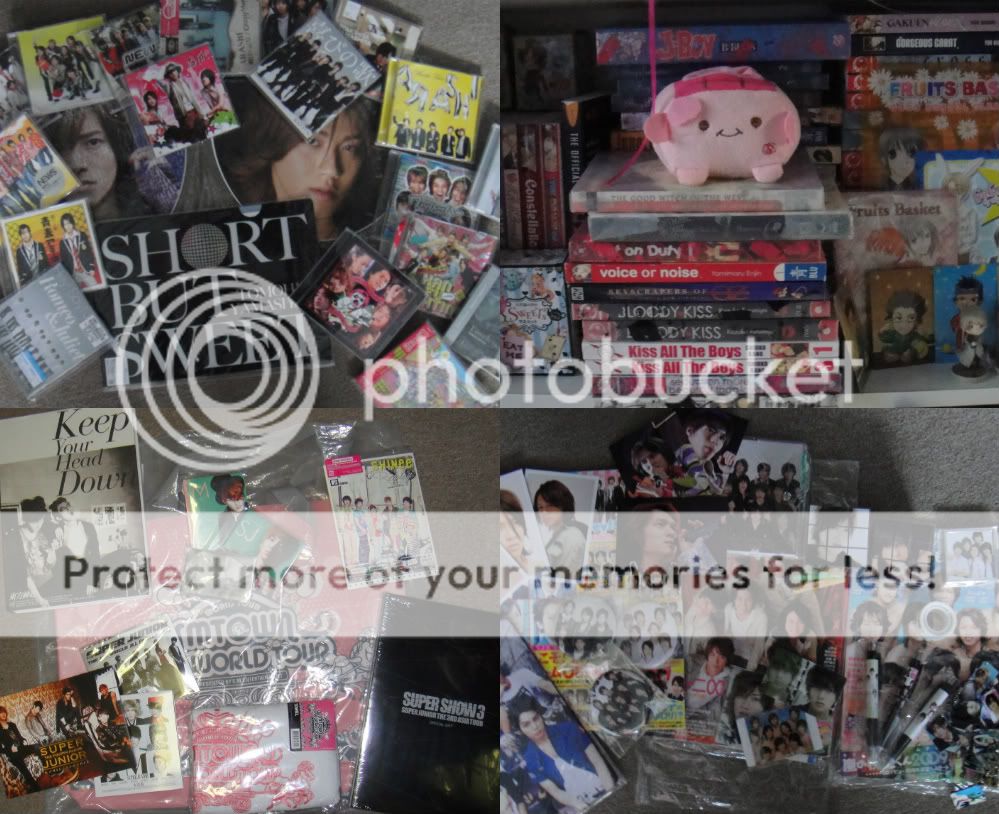 Figures here
Cardcaptor Sakura, Code Geass, Death Note, Final Fantasy, Fullmetal Alchemist, Haruhi Suzumiya, Hetalia, Kyo Kara Maou, Vocaloid.
Some don't have prices attached, make a offer on these.
All figures --> 2nd item 25% off
Manga and manga/anime merchandise here
Lot of manga's, including Vampire Knight, Tsubasa Chronicle and xxxHolic. Also got a bunch of
yaoi
manga's listed.
Whole bunch of merchandise, including Hetalia, Code Geass
,
Fruits Basket, Gravitation, Kuroshitsuji, Kyo Kara Maou, Ouran High School Host Club, Pokemon, Prince of Tennis, Rilakkuma, Tokidoki plushes, Vampire Knight and other random stuff, like hand-craft items, stationary, lots of keychains and phonestraps
All items --> 2nd item 75% off
Fashion
Nail-art, nail glue, cute tops, skirts, shoes and
NEW
Mix-style headphonesAll items --> 2nd item 50% off
Lolita items here
JSK's, skirts,
bags, shoes, wigs, blouses, accessories and more
No special discounts, but willing to haggle and give discount on more item than 1 purchased
Selected items will be half price if bought with another item
Visual Kei, Johnny's Entertainment, SMEntertainment and other kpop items here
Includes cd's, concert merchandise and other official merchandise
Visual Kei:
An Cafe, D=out, Dir en Grey, Gackt, Gazette, Hide, Miyavi, Moi dix Mois, Rentrer en soi, Versailles
Johnny's Entertainment: --> All items, buy 2 or more, get 50% off of your whole order (excl. shipping cost)
Arashi, Hey!Say!JUMP, Kanjani8, KAT-TUN,
NEWS, Tegomasu
Kpop: --> All items, 2nd 50% off
Dae Guk Nam Ah/Daikoku Danji, DBSK/TVXQ, NEW Infinite Seoul Second Invasion Free note set (consist of 3 notebooks) - Can sell notebooks seperately, Shinee (Maypole tees + posters, shopping bags, SMtown postcards), Super Junior, SMTown
items not photographed, Infinite, Mblaq,Shinee posters, Super Junior posters

Special promotion:
All anime/manga merch, 2nd item 75% off (off of the lowest value)
All fashion items, 2nd item 50% off (off of the lowest value)
All JE items, 2nd item 75% off (off of the lowest value)
All Kpop items, 2nd item 50% off (off of the lowest value, excluding newly listed item)
Instock:

Doraemon DORAYAKI squishy, pens

, Mameshiba Popping Beans Keychain, Hello Kitty Re-Ment Pens
Cute Korean Stickers

Finger Sticky Notes

San-X Cellphone Charms

and more!
ALL ITEMS SOLD.

THANKS FOR LOOKING =D